SHADOWS ON THE WALL | REVIEWS | NEWS | FESTIVAL | AWARDS | Q&A | ABOUT | TALKBACK

Shadows off the beaten path
Indies, foreigns, docs, videos, revivals and shorts...
On this page: BELLAMY | THE BONE MAN
FLAME & CITRON | HUMAN ZOO
< < F O R E I G N > >
last update 5.Mar.09
See also: SHADOWS FILM FESTIVAL

R E V I E W B Y R I C H C L I N E
Bellamy


dir Claude Chabrol
scr Odile Barski, Claude Chabrol
with Gérard Depardieu, Clovis Cornillac, Marie Bunel, Jacques Gamblin, Vahina Giocante, Marie Matheron, Adrienne Pauly, Yves Verhoeven, Bruno Abraham-Kremer, Rodolphe Pauly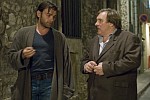 release Fr 25.Feb.09
09/France 1h40

---



Playful and intriguing, but too word-bound to make the central mystery work on screen, Chabrol's oddly lightweight film is most effective when it's examining the fascinatingly stubborn central character, played to comical perfection by Depardieu.

On his annual summer holiday in Nimes, police commissioner Bellamy (Depardieu) just can't stop working, much to the annoyance of his longsuffering wife Francoise (Bunel). The case at hand centres on a creepy stranger (Gamblin) who thinks he may have killed someone and is now on the run from both his wife (Matheron) and his mistress (Giocante). Bellamy, who is obsessed with wordplay, is intrigued mainly by this man's double life, and starts unravelling the mystery just as his opportunistic brother Jacques (Cornillac) arrives to upset Francoise even further.

Bellamy is such a great character (even his name is a play on words) that we actively wish the film was more entertaining. Depardieu brings a wonderful bluster to the role, throwing around synonyms and homonyms as he tries to resist being drawn into the mystery, but can't. His interaction with Cornillac and Bunel is similarly witty, with affection underlying the snappy dialog and attitude-filled glances.

So it's a shame that the film's plot feels so plodding. The mystery itself isn't very involving, although we can see why Bellamy would be drawn to it. Scenes mainly consist of Depardieu ambling around sunny locations asking indirect questions and having conversations that ramble off in every conceivable direction. It's funny and often very dark, and it's nice that we can't see where either the mystery or the family drama are going, although we don't really care.

Of course, Chabrol fills every scene with innuendo and suggestion, playing with the sound mix and the musical score to draw suspense out of the most innocuous shots and loading the story with irony. But it's extremely dialog-heavy, and many scenes feel like they go in circles without getting anywhere. In the end, the film is perhaps more about Bellamy confronting his own guilt than anything else, and this is beautifully portrayed by Depardieu. Bellamy is a man who realises that he has had a lucky life, but he also knows that he doesn't deserve it. And this is where the film really resonates.
15 themes, language, violence
---
7.Feb.09 bff

R E V I E W B Y R I C H C L I N E
The Bone Man


Der Knochenmann
dir Wolfgang Murnberger
scr Wolf Haas, Josef Hader, Wolfgang Murnberger
with Josef Hader, Birgit Minichmayr, Josef Bierbichler, Christoph Luser, Simon Schwarz, Pia Hierzegger, Dorka Gryllus, Stipe Erceg, Ivan Shvedoff, Edita Malovcic, Gerti Drassi, Martina Zinner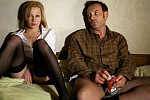 release Aut 6.Mar.09
09/Austria 1h57
---


One of the most entertaining mystery thrillers in recent memory, this black comedy is populated by characters who all have secrets to reveal as the story pushes them in increasingly outrageous dirctions.

Brenner (Hader) is sick of his job as a repo-man. His latest assignment is to collect a car from an isolated roadside inn. But everyone there is acting suspicious: the innkeeper (Bierbichler) is battling his spoiled son (Luser) for control of the business, and he's also mixed up with a blackmailing Russian (Shvedoff). The waitress (Hierzegger) clearly knows more than she's letting on. And while he figures out what's up, Brenner begins to fall for the manager (Minichmayr), who happens to be the owner's daughter-in-law.

Director Murnberger establishes the sardonic-suspenseful tone with opening shots of a machine grinding up meat and bones (we learn that this is the inn's way of recycling chicken bones), which of course suggests something much more gruesome. Sure enough, the film gets extremely grisly as the body count rises in a way that playfully references Sweeney Todd.

But this is a thoroughly character-based story, as we follow Brenner's interaction with the people he meets, and then we spin off and see what they're up to as well. Each person is a bundle of secrets and nerves, and they're all brilliantly well-played by the talented cast. There's not a false note between them; the interaction is spiky and often hilarious, while the continual grisliness is played for stomach-churning laughs.

This is a sharply well-shot and edited film with a twisted sense of humour. The action scenes have a warped realism to them, such as a car chase on a frozen road or a freaky fight with a cleaver. And even the climactic masquerade ball has a deranged genius to it. This is also the third in a series, based on cowriter Haas' novels, directed by Murnberger and starring Hader as Brenner. Surely, Hollywood will snap this up as a franchise, then water down the dark irony and cruel humour. So try to see this one if at all possible. (I know I'll be seeking out the previous two.)
18 themes, strong violence, language, sexuality
---
9.Feb.09 bff

R E V I E W B Y R I C H C L I N E
Flame & Citron


Flammen & Citronen
dir Ole Christian Madsen
scr Lars K Andersen, Ole Christian Madsen
with Thure Lindhardt, Mads Mikkelsen, Stine Stengade, Peter Mygind, Christian Berkel, Mille Hoffmeyer Lehfeldt, Hanns Zischler, Flemming Enevold, Jesper Christensen, Thomas Voss, Martin Greis, Malene Schwartz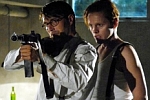 release Den 28.Mar.08,
UK 6.Mar.09, US 31.Jul.09
08/Denmark Nimbus 2h10
---
TORONTO FILM FEST


Based on a true story, this Danish Nazi-occupation thriller has a slightly too-stylised tone to be believable, and it's also too dense to be truly gripping. But it's visually fascinating, and full of solid performances.

In the Danish resistance, the top hitman is the redheaded 23-year-old Svend (Lindhardt), better known as Flame, who always works with his more grizzled driver-sidekick Jorgen (Mikkelsen), nicknamed Citron. Their job is to eliminate double agents, the Danes who are cooperating with Nazis. But the powers that be won't let them kill their primary nemesis, the head of the Denmark Gestapo (Berkel). Then things start to get murky, and they're not sure who to trust, from their handler Winther (Mygind) to the sexy Ketty (Stengade), who falls for Flame.

The film's setting--both time and place--is what makes it vitally important, as it really captures the sense of a country that has been invaded by a vicious villain who is not only engaged in wholesale murder but is also infiltrating the minds of the residents, turning them against their own people. Into this come the single-minded Flame and Citron, who are determined to set things right. But forming a resistance in this kind of situation is very tricky, as they learn the hard way.

Lindhardt and Mikkelsen are terrific actors who really engage our interest on screen; this is a vivid, compelling duo that, with their iconic looks and personalities, feels almost like a comic book superhero double-act. And as they start to wonder whose work they're really doing, the moral complexity becomes extremely powerful. The whole city may have joined in the resistance, but they don't have a clue where to start cleaning up the mess.

This depth of interest makes up for the film's dark and brutal but extremely dry style, which looks terrific but flattens the emotions. The steely camera work, accompanied by a pretentious script full of rasping narration and declarative dialog, leaves the story feeling rather superficial. It's still worth seeing for the raw strength of the premise and characters, but would have packed a more potent punch if the filmmakers had used a lighter touch.
15 themes, violence, language, sexuality
---
15.Oct.08 lff

R E V I E W B Y R I C H C L I N E
Human Zoo


dir-scr Rie Rasmussen
with Rie Rasmussen, Nick Corey, Nikola Djuricko, Vojin Cetkovic, Hiam Abbass, Said Amadis, Branislav Lecic, Ivan Jevtovic, Jean-Pierre Sanchez, Cyril Raffaelli, Daphne Hacquart, Jean-Luc Boucherot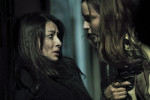 release Fr 1.Apr.09
09/France 1h40

---


Danish actress Rasmussen (Angel-A) makes her feature writing-directing debut with a multi-national dramatic thriller that digs intriguingly into some very serious issues. It's scruffy and a bit chaotic, but also fearless and engaging.

In Marseilles, Adria (Rasmussen) is a troubled woman trying to keep to herself while being pestered by Shawn (Corey), a bouncy American who finally cracks through her hard surface. The problem is that Shawn is reminding her of her horrible past in Kosovo, and her life during the war with Srdjan (Djuricko), a hot-headed soldier who rescued her and slowly became her soulmate during a time of unspeakable violence. As these old emotions and feelings come back, Adria must confront her past. And help Shawn deal with it too.

The spirit of Rasmussen's mentor Luc Besson hangs heavily over this film, with its violence-solves-violence tendencies and populist approach to a dark story, but Rasmussen makes it her own with a fiercely feminist attitude that observes rampant machismo with an acidic stare. The Serbian and French sequences parallel each other cleverly, and both are directed with skill and style (a long, silent, single-take sex scene is especially effective). Through this runs a fascinating examination of national identity, as all of the characters struggle to define who they are and where they belong.

The cast is extremely natural (although Corey overdoes the goofy-romantic shtick), and it's interesting to see the parallels between these two strong, unapologetic, somewhat idealised men. Both are irresistible to Adria: Srdjan's villainous charmer embowers her resilience, while Nick's soppy hero awakens her humanity. And as neighbours with their own compelling story, Abbas and Amadis give the film an even stronger resonance.

This definitely marks Rasmussen as a filmmaker to watch, with her inventive use of colours, settings, transitions and, most of all, such a variety of characters. In several scenes, she dares to provocatively question political correctness ("Why is killing a family in person any worse than dropping a bomb on their house?") even as she falls back on a Taxi Driver-like climax. But with touches of grim nastiness and frequently ironic gags, we see signs that she is breaking away from the Besson formula. And that can only be good news for what she turns to next.
15 themes, language, violence, sexuality
---
6.Feb.09 bff


< < F O R E I G N > >
See also: SHADOWS FILM FESTIVAL

© 2009 by Rich Cline, Shadows on the Wall


HOME | REVIEWS | NEWS | FESTIVAL | AWARDS | Q&A | ABOUT | TALKBACK