SHADOWS ON THE WALL | REVIEWS | NEWS | FESTIVAL | AWARDS | Q&A | ABOUT | TALKBACK

Shadows off the beaten path
Indies, foreigns, docs, videos, revivals and shorts...
On this page: BIG RIVER MAN | THE SEPTEMBER ISSUE
SHOOTING ROBERT KING | SOUL POWER
< < D O C S > >
last update 19.Aug.09
See also: SHADOWS FILM FESTIVAL

R E V I E W B Y R I C H C L I N E
Big River Man


MUST

SEE
dir John Maringouin
prd Maria Florio, Molly Hassell, Molly Lynch, John Maringouin, Roger M Mayer, Kevin Ragsdale
with Martin Strel, Borut Strel, Matt Mohlke, Alfredo Chavez, Rifat Latifi, Mateja de Leonni Stanonik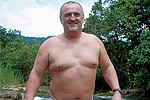 release US 16.Jan.09 sff,
UK 4.Sep.09
09/UK 1h40

---
SUNDANCE FILM FEST



Director Maringouin says he set out to make a documentary with an environmental message, "but that message got eclipsed by insanity." This is one of the most entertaining, riveting docs you'll ever see.

At age 53, Martin Strel decided to swim the length of the Amazon, eclipsing the world record he already held for swimming the Yangtze (he previously conquered the Danube and Mississippi). In his home in Ljubljana, Martin starts training with the help of his son Borut, who's also his publicist and who narrates this film. After months of preparation, they head to the launch point in Peru, but over the next 66 days, Martin's obsessive personality and stubborn alcoholism create challenges even greater than the river itself.

At first, the dangers of this stunt seem obvious: crocodiles, piranhas, insects and those evil candiru fish. These are on the Strels' minds during the film's pre-swim section in Slovenia, where Martin is a national hero immune to drunk-driving laws. You could never invent a character like Martin. Before his fame, he taught flamenco guitar (cue the Deliverance theme) and earned a living as a professional gambler. He continually laughs at everything, has a mounted piranha on top of his TV and uses a secret government cave for endurance training.

The details go on and on, and it becomes clear that Maringouin had to leave out quite a bit. But what's here is so hilariously random and absurd that it wins us over long before Martin jumps into the Amazon, refusing to rehydrate himself while chugging on hard liquor. And the film takes on an almost thriller-like tone, as Borut tries to help his father survive the increasingly surreal swim, during which their navigator Mohlke also seems to lose his mind.

All of this is artfully shot and edited by Maringouin and his crew, who remarkably are never caught on camera. In many ways, it feels more narrative than documentary, with a spectacularly lush setting that adds to the increasingly hallucinatory story. And the people on screen are all vividly engaging. All of this makes the film outrageously gripping, often very funny and unnerving as we wonder what could possibly happen next. Yes, there is a strong environmental message, but the real story is about the tenacity of the human spirit.
15 themes, language, nudity
---
18.Jun.09 eiff

R E V I E W B Y R I C H C L I N E
The September Issue


dir RJ Cutler
with Anna Wintour, Grace Coddington, Andre Leon Tally, Thakoon, Sienna Miller, Mario Testino, Jean Paul Gaultier, Isobel Toledo, Oscar De La Renta, Stefano Pilati, Tom Florio, Bee Shaffer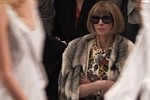 release US/UK 11.Sep.09
09/US 1h28

---
SUNDANCE FILM FEST


Both a documentary about the production of an issue of Vogue magazine and a profile of its editor Anna Wintour, this film struggles a bit to find some focus. But the people around Wintour are so colourful that we never want it to end.

The September 2007 issue of Vogue was the magazine's biggest issue ever, and the filmmakers follow the incredibly hands-on Wintour through the process, from brainstorming the concepts to deciding which clothes to feature, planning photo shoots and ultimately choosing what images will make it in. Known as a demanding tyrant (one editor calls her "the pope of fashion"), Wintour also gives us a glimpse of her childhood in London and the family pressures that fuel her perfectionism.

If the film was only about this icy woman, it would be a rather clinical experience. And this is the fun side of putting a magazine together; there isn't a single mention about story planning, writing, subbing or proofreading. She may reveal some of her inner insecurities, but Wintour isn't hugely likeable (although her black sense of humour is hilarious). Instead, the heart of the film is her creative director, the ex-model Grace Coddington, who happens to be an artistic genius. She also wears her feelings on her sleeve and speaks openly, with sardonic humour, about her ongoing clashes with Wintour.

This tension between these powerful, brilliant women makes the film grippingly entertaining. We follow them to Paris, London and Rome (for a riotous cover shoot with Testino and Miller), and through the intricacies of photo spreads and editorial decision-making. Their stubbornness is wonderful to watch, and is balanced by the colourful people around them, most notably the drama queen Tally and a series of designers both young (Thakoon) and well-established (Gaultier).

The cameras follow both Wintour and Coddington so closely that we really get a sense of their personal feelings, their private lives and their daily interaction, which is a fascinating combination of admiration and stubborn will. Filmmaker Cutler captures this with superbly elegant photography and smart editing that shows the photos to great effect--even the ones that don't make the cut. And the film is packed with terrific, telling moments. Forget The Devil Wears Prada and Ugly Betty, this is the real deal.
12 themes, language
---
1.Jun.09

R E V I E W B Y R I C H C L I N E
Shooting Robert King


aka Blood Trail
dir Richard Parry
prd Richard Parry, Vaughan Smith
with Robert King, Vaughan Smith, Olga King, John King, Steve Lehman, Jeff Chagrin, Maggie O'Kane, Jason Eskenazi, Gary Knight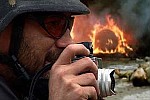 release US Mar.09 sxsw,
UK 21.Aug.09
08/UK Frontline 1h19

---
TORONTO FILM FEST

Journalists will love this striking exploration of warzones over the past 15 years, following a photojournalist as he moves from naive and hungry to cynical and reflective by way of Bosnia, Chechnya, Rwanda, Kosovo, Afghanistan and Iraq.

While on a hunting trip near his home in Memphis in 2007, 38-year-old photographer Robert King looks back at his career, starting with his first trip as a cocky freelance in Bosnia at age 24, confident he'd win a Pulitzer. Over the next decade and a half, the cameras follow King in Chechnya and Iraq, and we also see photos he shot for magazines and newspapers around the world. He still hasn't won that Pulitzer, but he's now settled in Tennessee with his Russian wife and their son.

The footage in this film is expertly shot by professional cameramen in some of the most harrowing places on earth. And it captures life within a hotspot in a fresh and revealing way, mainly because we're watching the journalists themselves as they react to horrific carnage. Much of this warzone footage was actually taken by director Parry and producer Smith, who appears on screen through the years, including the hunting trip.

The parallel between hunting deer and capturing a good photo may feel forced, but each sequence is packed with telling details about life on the front line. This approach vividly catches the humour and edginess of life in such dangerous places. We clearly see how these men cope with the situation, waiting for something to happen, frantically scrabbling to stay alive, then relieving the tension through alcohol and sex. At one point, after covering the war in Chechnya, King moved to Moscow to document the wild party scene and nearly lost himself in it.

Most revealing is the contrast he notes between Bosnia, where he befriended Muslims, and Iraq, where Muslims are greeted by US troops' bullets while he's kept away from the action and only allowed to photograph staged events like giving footballs to kids. These kinds of subtle observations make the amazing footage and stills even more meaningful. This is a thoughtful and provocative film unlike anything we've seen. It's also vitally important.
15 themes, violence, grisly imagery, language
---
18.Aug.09

R E V I E W B Y R I C H C L I N E
Soul Power


MUST

SEE
dir Jeffrey Levy-Hinte
with Muhammad Ali, James Brown, BB King, Miriam Makeba, Bill Withers, Celia Cruz, Don King, Alan Pariser, Stewart Levine, Keith Bradshaw, Bill McManus, George Plimpton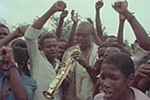 release US/UK 10.Jul.09
08/US 1h33

---
TORONTO FILM FEST



Shot at the same time as the award-winning doc When We Were Kings, this companion film is even better. In linking the legendary 1974 Rumble in the Jungle with the music festival that ran alongside it, we get a remarkable glimpse of the day's racial and political issues.

President Mobuto himself provided the venue for the three-day music festival, although Don King concentrated on the Ali-Foreman main event. A Liberian investment group funded both the festival and the documentary, which goes some way in explaining why it took 35 years to edit together footage that covers everything from the Zaire-bound plane flights to the amazing performances. The best moments are when the participants land in Africa, seeing the home of their ancestors for the first time and interacting with the community around them.

It takes about half an hour for Levy-Hinte to finally show us the concert, but what we see before is so engaging that we don't mind at all. There are terrific scenes of the artists making music with kids in the streets, and several sequences in which Ali once again shows us his iconic charisma. His rapid-fire chatter is fantastic, including comments about how amazed he was to have an African pilot on the flight, and later he gives an incredibly tough and provocative speech about injustice against blacks by whites in America.

These clips make the film an invaluable archive, capturing a moment in history when everything was truly starting to shift. It's incredibly emotional, and these deep currents run through the musical scenes as well, with James Brown at the peak of his powers on stage (and off). The all-access coverage is expertly shot by ace documentarians Albert Maysles, Paul Goldsmith, Kevin Keating and Roderick Young, and the footage has been gorgeously restored for this release, including a goosebump-inducing soundtrack.

Far from just a concert film, Levy-Hinte balances the music perfectly with the politics, the boxing match and local life, capturing first impressions and strong attitudes, plus a real sense that the musicians feel like they've come "back home". These are people with larger-than-life personalities, and the film captures them in all their glory, from good-natured banter to raw emotions. It even allows the Godfather of Soul to have the last word. Not that the filmmakers had a choice.
12 themes, language
---
3.Jun.09


< < D O C S > >
See also: SHADOWS FILM FESTIVAL

© 2009 by Rich Cline, Shadows on the Wall


HOME | REVIEWS | NEWS | FESTIVAL | AWARDS | Q&A | ABOUT | TALKBACK