R E V I E W B Y R I C H C L I N E
dir-scr Tamara Jenkins
with Laura Linney, Philip Seymour Hoffman, Philip Bosco, Peter Friedman, Gbenga Akinnagbe, David Zayas, Margo Martindale, Cara Seymour, Sidné Anderson, Michael Blackson, Guy Boyd, Debra Monk
release US 30.Nov.07, UK 25.Jan.08
07/US Fox 1h54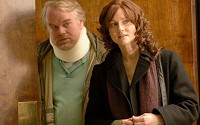 Family crisis: Hoffman and Linney




Linney and Hoffman deliver two more creatively textured performances in this story about the strain and comfort of family relationships. It's an astute film that really gets under the skin.

Wendy Savage (Linney) works menial jobs in New York City while trying to get a play produced; her brother Jon (Hoffman) is a university professor in Buffalo. They've completely lost touch with their father (Bosco), who finds himself homeless in Arizona after his long-time girlfriend dies. He also suffers from dementia and will need constant nursing care. Even though relationships are so deeply estranged, Wendy is consumed with guilt over putting her father in a home. And all three of them are discovering their family for the first time.

The central idea is bracingly simple: a father who never took care of his kids forces them to find the ability to care for him. And the damage inflicted over the years is pretty severe. There are job issues, communication issues and, of course, relational issues as Wendy continues to see a married boyfriend (Friedman) while Jon won't marry his long-time Polish girlfriend (Seymour), even though her visa has expired and she'll have to return to Europe.

As a writer-director, Jenkins examines these serious issues with mordant humour and hilariously brittle interaction. Even though these three people are family, they don't know each other at all. And they don't really want to, but they must work together to make some extremely difficult decisions. All of this is impeccably observed by the filmmaker, from sunny Arizona to snowy New York, with tiny details of introspection and human dignity.

These roles are perfect for Linney and Hoffman, who bring out the ugliest aspects of their characters' personalities while still remaining engaging and sympathetic. When Wendy sighs, "We are horrible people!" we have to agree with her, even as we know they're doing the best they can do with their personal fears and obsessions while facing up to hard truths. Small encounters along the way lend each character a raw humanity we can identify with, and ultimately give us hope that maybe we can get through our own crises, no matter how much of a mess we make along the way.
| | | |
| --- | --- | --- |
| | themes, language, sexuality | 3.Oct.07 |