R E V I E W B Y R I C H C L I N E
dir-scr Joel Coen, Ethan Coen
with Tommy Lee Jones, Javier Bardem, Josh Brolin, Woody Harrelson, Kelly Macdonald, Garret Dillahunt, Tess Harper, Barry Corbin, Stephen Root, Beth Grant, Rodger Boyce, Ana Reeder
release US 9.Nov.07, UK 18.Jan.08
07/US Paramount-Miramax 2h02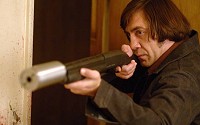 Relentless: Bardem





• TOP 5 FILM
• BEST SCREENPLAY
CANNES FILM FEST
TORONTO FILM FEST



The Coen Brothers return to the thematic world of Fargo, but a very different setting, as they adapt Cormac McCarthy's novel into one of the year's most gripping and bracing films.

Llewelyn Moss (Brolin) is a loser who, while out hunting in rural Texas, stumbles onto the scene of a drug deal gone violently wrong. He grabs the money, unaware that the merciless killer Chigurh (Bardem) is already on his trail. As Moss sends his wife (Macdonald) into hiding and hits the road, he's never more that a step ahead of Chigurh and the bounty hunter (Harrelson) right behind him. Meanwhile, Sheriff Ed Tom Bell (Jones) is quietly tracking the case as well, realising that maybe he's too old to cope with this kind of viciousness.

The story is straight out of the Wild West, transferred to the modern day effortlessly (it couldn't be anywhere but Texas, really). Roger Deakins' cinematography captures the expansive bleached countryside as the Coens use the setting expertly to tell the story without any frills. From the moment it starts, the film has a sharp tone that's absolutely riveting, and often terrifying, all interlaced with dry wit and extreme nastiness.

These people are locked in a life-and-death struggle that can't end well. Bell's deputy (Dillahunt), always one to speak the obvious, says, "It's a mess, ain't it?" To which Bell replies, "If it ain't, it'll do till the mess gets here." These characters are defined in the smallest details, and this includes the bit players. The result is a range of marvellously underplayed performances that bring out the best in the cast members; Jones, Bardem and Brolin are utterly unforgettable. They may be playing three iconic Western characters, but they bring them to life in surprising ways we can identify with. Even when we don't want to.

As it progresses, the Coens load the film with realistic touches that add grit and meaning to the almost mythical plot. The bullet wounds are intensely grisly, as are the methods these guys use to patch themselves back together. And as the film progresses, the tension becomes almost unbearable, without ever twisting it into fake movie mode. This is magnificent filmmaking on every level. Unmissable.
| | | |
| --- | --- | --- |
| | themes, strong violence, language | 12.Nov.07 |


NYBairn, NYC:

"Massive. Just as you watch, let's say Fargo, and want to watch it again for the bits you missed - so with this. Not a wasted line in the whole movie. Brilliantly acted, written and directed. Pure Class. Miss at your own peril. Reason for the half mark shy of a perfect five will become apparent once you've seen the movie. And odd casting with Kelly McDonald as the wife of male lead. Just odd, not bad, just odd." (3.Dec.07)