R E V I E W B Y R I C H C L I N E
dir Alejandro González Iñárritu
scr Guillermo Arriaga
with Brad Pitt, Cate Blanchett, Gael García Bernal, Adriana Barraza, Rinko Kikuchi, Kôji Yakusho, Boubker Ait El Caid, Said Tarchini, Mohamed Akhzam, Sfia Ait Benboullah, Yuko Murata, Satoshi Nikaido, Nathan Gamble, Elle Fanning, Clifton Collins Jr, Michael Peña
release US 27.Oct.06,
UK 19.Jan.07
06/US Paramount 2h22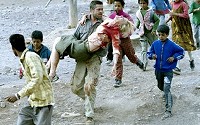 Somebody help me: Pitt, Blanchett and Moroccan villagers



Best director: CANNES FEST
TORONTO FILM FEST



Iñárritu and Arriaga continue their three-pronged approach with this powerfully moving drama about parents and children, and potentially tragic miscommunication.

In Morocco, two brothers (El Caid and Tarchini) are playing with their dad's new rifle when they shoot a passing tour bus. The bullet hits Susan (Blanchett), and her husband Richard (Pitt) must find help in this isolated place. Back in San Diego, nanny Amelia (Barraza) takes her charges (Fanning and Gamble) to her son's wedding across the border in Mexico. On the way home, her nephew (Bernal) might be over the drink-driving limit. And in Tokyo, a surly deaf teen Chieko (Kikuchi) and her widowed dad (Yakusho) have let their grief drive them apart.

The three strands are linked specifically and thematically, and all are strong stories with vivid, compelling characters we really grow to feel for, especially as they all face astonishingly harrowing events. From the raucous laughter of a Mexican wedding to the kinetic bounce of a Japanese disco, the film continually shifts gears into much darker, more terrifying places.

The entire cast is raw and authentic. Blanchett has the most challenging role, as she's stressed from the start, then quickly pushed over the brink, while never losing her vitality. And Pitt is remarkable in a draining role that allows him to actually look and act his age. The standout is Barraza, giving a heart-rending performance in what's possibly the film's most distressing journey.

For these people, the problem generally boils down to an inability to communicate, which is where the title comes in. People are quick to judge, to misconstrue, to assume they understand. And the film is full of gorgeous moments when two souls connect, however tentatively. Most touching is the incredibly awkward meeting between Cheiko and a young cop (Nikaido). Most hopeful is a subtle friendship between Richard and his tour guide (Akhzam).

Although both aloof and somewhat overserious, this is an expertly written and directed film, shot and edited with remarkable skill. It shakes us to the core, confronting our simplistic view of the world with the cosmopolitan jumble it really is. And challenges us to see through different eyes.
| | | |
| --- | --- | --- |
| | themes, language, violence, sexuality | 26.Oct.06 |


Stephanie Gilleland, London:

"Personally I think this film was overrated along with Crash. I'm just a bit tired of these 'we are the world' themes. Apparently they aren't having the effect on the masses that the writers are hoping for because have you actually seen the world lately? Global warming, increased random acts of violence, we're still in Iraq killing innocent people for some hidden reason/agenda set forth by the governments, and cancer is still eating us all alive because some rich pharmaceutical companies want to ensure they get every little cent they can for the cure. Maybe we need to stop attempting to use films as a channel for promoting unity/world peace and just enjoy them for what they are: entertainment. The last thing I want to think about when I sit down to watch a film is 'how am I going to make a difference?' Instead I like to lie back and take a vacation from the downward spiral we call life. Call me pessimistic, call me apathetic, call me what you will - it's just my opinion." (29.May.07)