R E V I E W B Y R I C H C L I N E
dir-scr Lars von Trier
with Bryce Dallas Howard, Isaach De Bankolé, Willem Dafoe, Danny Glover, Ginny Holder, Emmanuel Idowu, Javone Prince, Llewella Gideon, Joseph Mydell, Lauren Bacall, Zeljko Ivanek, Jeremy Davies, Jean-Marc Barr, Udo Kier, Chloë Sevigny, John Hurt
release Den 3.Jun.05,
US 27.Jan.06, UK 3.Mar.06
05/Denmark Zentropa 2h19


Who's the boss: Howard and De Bankolé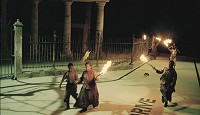 See also: DOGVILLE (2003)
---
CANNES FILM FEST
TORONTO FILM FEST
LONDON FILM FEST

Von Trier's sequel to Dogville is equally strong stuff, addressing a new issue (racism and oppression) potently enough to actually redefine the first film. It's a slow-burning, deeply disturbing fable that needs to be seen and discussed.

After leaving Dogville, Grace and her father (now played by Howard and Dafoe) drive to Alabama, where Grace assumes the task of bringing freedom to the Manderlay plantation. Don't they know slavery was abolished 70 years earlier? With the matriarch (Bacall) out of the way and a couple of Daddy's goons holding big guns, she enslaves the whites and sets about giving the former slaves a firm start in life. But relationships, culture and even nature conspire against her.

Von Trier continues the Dogville style, with floor markings on a stage, partial sets, theatrical-sounding dialog and telling narration (by Hurt). But this time the floor is white, the sky is black, and spots of light isolate scenes and characters in handheld close-up. The result is a much more personal story centring on Grace's interaction with the ex-slaves, specifically Glover's wise old houseboy and De Bankole's muscly loner. These and other significant characters are impeccably played by the cast with a gut-wrenching intensity that draws out raucous humour and aching sorrow, deeply held bitterness and utter confusion at the way their world is shifting.

The central theme is whether freedom may actually be a dangerous thing--what does oppression truly do to people, how far can you impose democracy? This is profound, provocative filmmaking, as the characters continually turn the tables on each other, highlighting old hierarchies, new uncertainties and the truth about what is actually going on in society, regardless of what we tell ourselves. The film also dares to focus on those who strive to do good, but only out of a sense of moral obligation.

Along the way it's funny and terrifying, lusty and monstrous. It's also technically brilliant, artistically thrilling and dramatically devastating. And most importantly, for all his obvious schematic posturing, Von Trier isn't actually preaching: he's asking us to examine something we continue to ignore. Is the world really ready for equality?
| | | |
| --- | --- | --- |
| | themes, language, sexuality, violence, nudity | 25.Oct.05 lff |