---
Big Boys
Review by Rich Cline |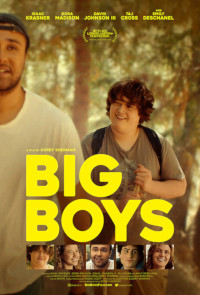 dir-scr Corey Sherman
prd Allison Tate, Corey Sherman
with Isaac Krasner, Dora Madison, David Johnson III, Taj Cross, Emily Deschanel, Marion Van Cuyck, Emma Broz, Jack De Sanz, Homer Marrs, Mike Briggs, Beahr Gerheim, Chris Cortese
release UK Mar.23 flare
23/US 1h28

---

---
Is it streaming?

---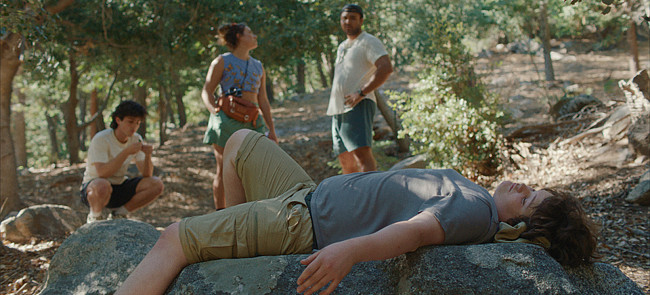 There's an internalised, autobiographical tone to this warm comedy-drama about a young teen on a journey of self-discovery. Writer-director Corey Sherman knowingly observes small details and larger themes, which helps the audience resonate strongly with this witty, sometimes sexy odyssey. This is a story about a boy realising that it's time for him to come out to those closest to him. And taking that first step is terrifying.
---
At 14, the bear-like Jamie (Krasner) is looking forward to a weekend camping trip with snarky big brother Will (Cross) and favourite cousin Allie (Madison). So he's annoyed that she's brings her boyfriend Dan (Johnson). Then he and Dan develop a surprisingly close friendship. Jamie knows he's not very interested in girls, but is confused by feelings of attraction toward this burly man. How can he talk to anyone about this? And when he and Dan get lost in the woods, Jamie begins to understand that he needs to be confident in who he is.
---
Sherman has a terrific observational eye, catching amusingly awkward interaction as Jamie navigates a slightly more grown-up world and confusing feelings. Will hasn't a clue how stinging his unknowingly homophobic comments are. For example, he pushes Jamie to hook up with a girl (Van Cuyck) on the next campsite, and casually comments that if Jamie's gay he'll need a separate tent. So a fantasy sequence in which Jamie imagines himself as an older man (De Sanz) is remarkably powerful.

Characters are unusually relaxed and realistic, easily finding both comical and dramatic textures in their dialog, which lets the subtext emerge in unexpected places. Krasner has terrific presence at the centre of the film, as everything is seen through his eyes, reflecting his yearnings and curiosity. His scenes with Cross, Madison and Johnson ripple with meaning that only Jamie is able to see. Their kind comments may sometimes feel like knives in his heart, simply because he hasn't told them how he feels.

Skilfully avoiding even a hint of melodrama, Sherman digs deeply into this situation, exploring Jamie's self-image as defined by both his secret sexuality and his larger size. His embarrassments and clumsy comments are easy to identify with, and when he finally musters up the nerve to say something, it's an act of real courage. This makes the film a story audiences of all ages and orientations can identify with, encouraging each of us to speak our truth and find strength in being honest with ourselves and those we care about.
| | | |
| --- | --- | --- |
| | themes, language, violence | 18.Mar.23 flare |
---
Egghead & Twinkie
Review by Rich Cline |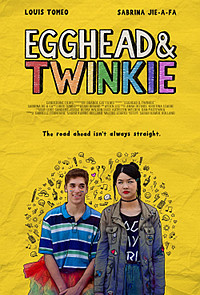 dir-scr Sarah Kambe Holland
prd Danielle Fountaine, Sarah Kambe Holland, Valerie Starks
with Louis Tomeo, Sabrina Jie-a-fa, Asahi Hirano, Ayden Lee, Kelley Mauro, J Scott Browning, Steven Lane, Roger Greco, Bryson JonSteele, Janelle Pham, Ginger Lee McDermott, Jana Henry
release UK Mar.23 flare,
US Mar.23 ciff
23/US 1h27

---

---
Is it streaming?

---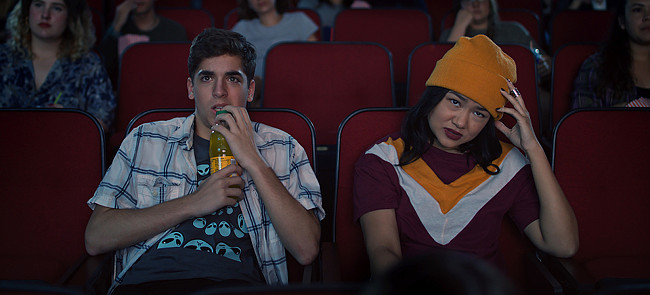 Colourfully augmented with eye-catching animation, this lively teen road trip comedy is bright, funny and has a strongly pointed edge. Writer-director Sarah Kambe Holland includes personal details that feel autobiographical, creating remarkably authentic characters with complex identities. And while the film is aimed at a young audience, it says a lot about the complexities of finding your way in a world where you feel like a social oddball.
---
Friends since fourth grade, brainy 18-year-old Egghead (Tomeo) and aspiring animator Twinkie (Jie-a-fa) are struggling with the idea that Egghead is going away to Stanford. Then Twinkie is startled when Egghead kisses her at the movies, and she finally tells him she's gay. Twinkie's parents (Mauro and Browning) don't want to hear about it. But Egghead eventually accepts her, and agrees to drive her from Florida to Texas to meet BD (Lee), a DJ she's been chatting with online. Then Twinkie connects with waitress Jess (Hirano) along the road and begins to clarify her identity.
---
While the film is packed with visual gags, intense colours and a punchy sound mix, there are serious layers running through the story. This duo's odyssey takes in a series of sideroads and surprises. Even after coming out, Twinkie remains elusive about her feelings and motivations. So it's no wonder that Egghead doesn't want to admit that he's been in love with her as long as he can remember. These and other thoughts and feelings are revealed in witty cutaways and animated flourishes.

Performances may be a little broad, but they are anchored in real-life emotions. And each character is seriously cute. Played with energy and charm by Tomeo and Jie-a-fa, Egghead and Twinkie learn a lot about themselves and the connection between them over the course of this quirky journey. So where they go as best friends becomes hugely resonant to the audience. And Jie-a-fa and Hirano play the connection between Twinkie and Jess with a lovely cadence that feels unexpected and honest.

Added elements include Twinkie's insecurities as an adopted Chinese child in a European-American home. This feeds knowingly into how she approaches her sexuality. But perhaps the more notable truth here is that kids know who they are, and they're only afraid to tell others because they fear rejection. So the film becomes a moving look at how it feels when someone accepts you fully as yourself. And the security that comes when you find your tribe is even more powerful.
| | | |
| --- | --- | --- |
| | themes, language | 16.Mar.23 flare |
---
A Thousand and One
Review by Rich Cline |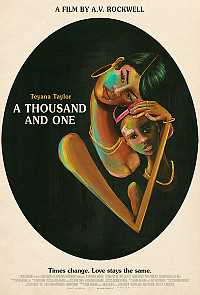 dir-scr AV Rockwell
prd Lena Waithe, Eddie Vaisman, Rishi Rajani, Julia Lebedev, Brad Weston
with Teyana Taylor, Josiah Cross, William Catlett, Aven Courtney, Aaron Kingsley Adetola, Terri Abney, Amelia Workman, Delissa Reynolds, Adriane Lenox, Alicia Pilgrim, Mark Gessner, Jolly Swag
release US 31.Mar.23,
UK 21.Apr.23
23/US Focus 1h57

---
SUNDANCE FILM FEST
---
Is it streaming?

---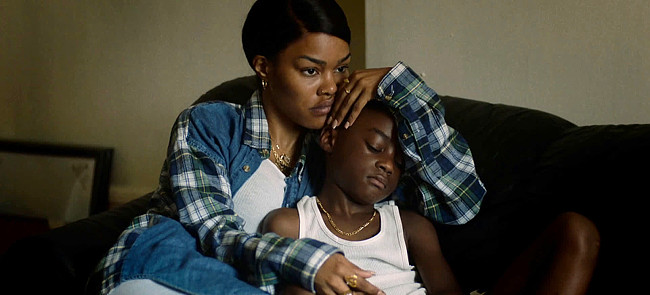 In recounting the story of the unbreakable love between a mother and son over the course of a tumultuous decade, writer-director AV Rockwell skilfully combines earthy realism and warmly surging emotions. It's a strikingly original approach that cuts through the stereotypes to create complex characters and relationships while also taking a fresh look at New York's transition from the seedy and crime-ridden 1990s to the ruthlessly gentrified 2000s.
---
It opens in 1994, as Inez (Taylor) leaves prison and tracks down her son Terry (Adetola) in foster care. When he ends up in hospital, she kidnaps him and takes him to Harlem, moving in with her best friend Kim (Abney), whose mother (Reynolds) quickly tires of Inez's hotheaded tantrums. Thrown out again, Inez finds a job, and reunites with boyfriend Lucky (Catlett). So Terry grows up (Courtney at 13, Cross at 17) with his mom and stepdad, and when teachers discover that he's a gifted student, he has both decisions and discoveries to make.
---
Urban dramas are rarely as textured as this, continually isolating the humanity within the situations. Rockwell layers gritty reality into hugely engaging performances that are augmented by Eric Yue's expertly observational cinematography and Gary Gunn's lushly rhythmic score. Characters are difficult and often become their own worst enemies, and yet they are so honest that they're impossible to dislike. And the way the film weaves in the city's history is bracingly inventive, using period footage and news reports to depict the landscape shifting around people who are always working to maintain their balance.

Performances are so authentic that the film often feels like a fly-on-the-wall documentary. The excellent Taylor invests Inez with so much energy and attitude that she becomes a force of nature. Her quick temper causes most of her problems, and Taylor subtly reveals Inez's back-story through reactions long before it's more clearly revealed. Her chemistry with the engaging Catlett adds a strongly emotional kick. And Cross, Courtney and Adetola shine as Terry, crushing stereotypes with skill and intuition.

Along with the powerful central narrative about Inez and Terry, the film knowingly depicts the changing world around them. As mayors Giuliani and Bloomberg crack down on crime, their often cruel methods have a serious impact on this family, from enthusiastic stop-and-frisk cops to opportunistic landlords. The script sometimes piles a bit too much onto this already fragile family, but this is also what helps make the movie an inspiring ode to resilience.
| | | |
| --- | --- | --- |
| | themes, language, violence | 12.Apr.23 |
---

< < I N D I E S > >
See also: SHADOWS FILM FESTIVAL

© 2023 by Rich Cline, Shadows on the Wall


HOME | REVIEWS | NEWS | FESTIVAL | AWARDS | Q&A | ABOUT | TALKBACK