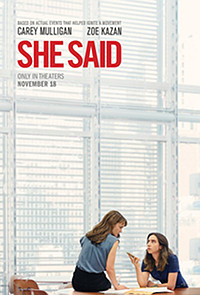 dir Maria Schrader
scr Rebecca Lenkiewicz
prd Dede Gardner, Jeremy Kleiner
with Carey Mulligan, Zoe Kazan, Patricia Clarkson, Andre Braugher, Jennifer Ehle, Samantha Morton, Ashley Judd, Angela Yeoh, Tom Pelphrey, Adam Shapiro, Zach Grenier, Peter Friedman
release US 18.Nov.22,
UK 25.Nov.22
22/US 2h09





---
Is it streaming?

---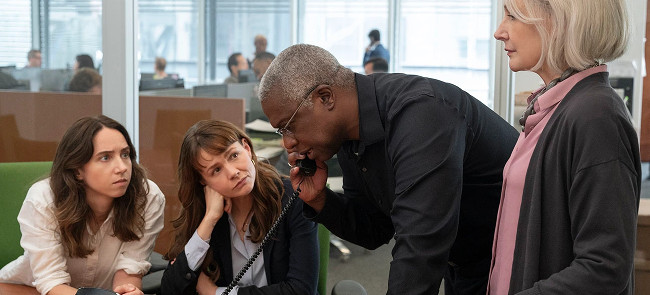 When journalistic dramas are this timely, they can be both thrilling and compelling (see All the President's Men or Spotlight). This account of New York Times reporters exposing systemic abuse against women unfolds at a bracingly crisp, lucid pace. The specific events contain far-reaching implications. And director Maria Schrader and writer Rebecca Lenkiewicz avoid unnecessary flourishes, building their story on facts while a gifted cast brings it to life.
---
After her reports about Donald Trump's wide-ranging sexual abuse are ignored by voters in 2016, journalist Megan Twohey (Mulligan) is reluctant to join colleague Jodi Kantor (Kazan) to investigate Harvey Weinstein. But the issue is too big to ignore, and editors Rebecca and Dean (Clarkson and Braugher) encourage them to get to the truth of comments made by various women. What they discover is shocking, and even decades later the victims are terrified to speak out publicly. But documented facts from actors, crew members and company executives add to a tale too dangerous to ignore.
---
Cleverly, the film avoids melodrama, laying out events with clarity as women speak anonymously and Weinstein's team lashes out defensively. Acting with integrity under difficult circumstances, Megan and Jodi carefully assemble the details, goading Weinstein with each item of documented proof. They also gently ask women to go on the record, including Ashley Judd (playing herself) and former assistants (including Ehle, Morton and Yeoh). And their husbands (Pelphrey and Shapiro) help them balance this stressful work with their roles as mothers.

Mulligan brings a lacerating edge to her role, layering intelligence and emotion together as Megan grapples with the ramifications of the story. Her interaction bristles with a sense of exhaustion about the horrific details, and she has terrific camaraderie with Kazan's intrepid, indefatigable Jodi. Standout support comes from Clarkson's steely editor, who never lets on how important this issue is to her, and Braugher's knowing negotiator. While the strongest gut-punches come from Ehle's open-handed expressiveness and Morton's heart-stopping honesty.

While this film never flinches from accounts of how Weinstein viciously abused his positions of power over young women, it also maintains a sense that this kind of criminality pervades every part of culture. So there's an inspiring aspect to this film in the way it encourages women to speak up, to refuse to be intimidated or even terrorised by their attackers, to rely on each other for support and confidently take the villains down. In other words, this is a far more empowering superhero movie than any comic book studio can produce.
| | | |
| --- | --- | --- |
| | themes, language | 21.Nov.22 |
R E A D E R R E V I E W S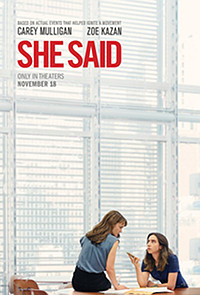 Still waiting for your comments ... don't be shy.