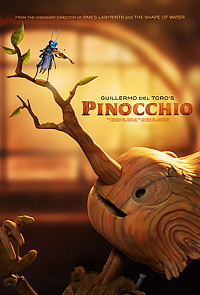 dir Guillermo del Toro, Mark Gustafson
scr Guillermo del Toro, Patrick McHale
prd Guillermo del Toro, Alexander Bulkley, Corey Campodonico, Gary Ungar
voices Ewan McGregor, David Bradley, Gregory Mann, Christoph Waltz, Tilda Swinton, Burn Gorman, Ron Perlman, John Turturro, Finn Wolfhard, Cate Blanchett, Tim Blake Nelson, Tom Kenny
release US 11.Nov.22,
UK 9.Dec.22
22/US 1h57




---

---
Is it streaming?

---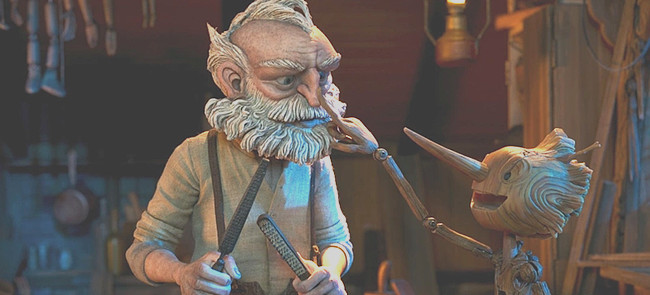 With this stylised stop-motion adventure, Guillermo del Toro puts his own spin on Carlo Collodi's 1883 novel, emphasising the story's darker elements. The film also includes elements that seem more connected to the iconic 1940 Disney adaptation, including some rather forgettable musical numbers. But the artistry of the detailed animation is gorgeous, especially on a big screen, and there's an undercurrent of emotion that's both thrilling and moving.
---
In Mussolini-era Italy, wood-worker Geppetto (Bradley) is grieving over the death of his beloved son when, in a drunken funk, he carves a puppet from a pine tree. Brought to life by a wood sprite (Swinton), the curious and naive Pinocchio (Mann) ditches school and runs off with a circus run by Count Volpe (Waltz) and his jealous monkey sidekick Spazzatura (Blanchett). Meanwhile, Geppetto and helpful cricket Sebastian (McGregor) head out in search of Pinocchio, ending up in a whale's belly. They're all hotly pursued by fascist officer Podesta (Perlman) and his son Candlewick (Wolfhard).
---
While the plot veers from the original novel, the more closely evokes its grim tone as events continually circle around death, including the fact that Pinocchio repeatedly dies and goes to an afterlife populated with sarcastic rabbits (Nelson) before being returned to life. All of which makes the adventures along the way feel quite intense, increasing in gravity until the appearance of the seriously slimy giant whale. So it's unsurprising that the jaunty songs feel somewhat out of place amid these dark ideas.

There are clear signs of del Toro's sensibilities in the design of the characters and settings, which are rendered with beautifully textured detail to create an old-world timelessness. Touches of fantasy and horror emerge here and there, along with the occasional slapstick action and sentimental emotionality. This is nicely balanced across the complex voice work of the strong cast. So even if the tone feels uneven, everything gels skilfully in the dazzling set pieces.

Fans of the Disney classic may find it tricky to connect with this film's looser and far less heartwarming approach. And while the ambience is edgier, the message seems simpler, reminding viewers that doing your best is all you can do. (Not quite as rousing as wishing on a star to make dreams come true.) But by giving a familiar story a new twist, del Toro lets us find new themes and feelings that will connect to our own epic journeys.
| | | |
| --- | --- | --- |
| | themes, violence | 29.Nov.22 |
R E A D E R R E V I E W S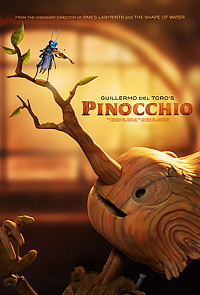 Still waiting for your comments ... don't be shy.