---
Fire of Love
Review by Rich Cline |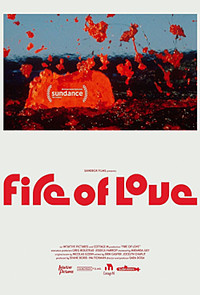 dir Sara Dosa
scr Sara Dosa, Erin Casper, Jocelyne Chaput, Shane Boris
prd Sara Dosa, Shane Boris, Ina Fichman
with Katia Krafft, Maurice Krafft
narr Miranda July
release US Jan.22 sff,
UK 29.Jul.22
22/Canada NatGeo 1h33

---
SUNDANCE FILM FEST

---
Now streaming...

---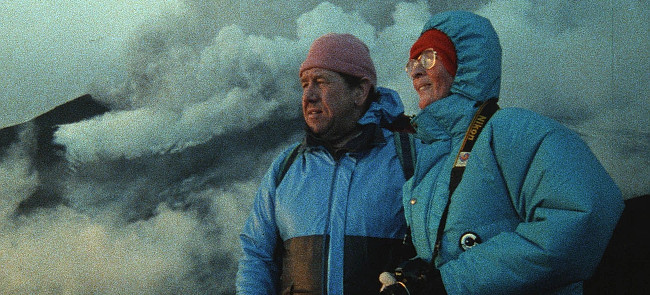 With a wealth of amazing footage, this documentary follows intrepid volcanologists Katia and Maurice Krafft, who skilfully filmed their adventures around the world. Filmmaker Sara Dosa assembles this material to vividly capture their passion for both molten lava and each other. Much of the imagery is so astonishing that it leaves us gasping for breath. But it's the likeable couple at the centre that holds the interest.
---
From France, geochemist Katia and geologist Maurice photograph everything they do together after meeting in the mid-1960s, and when they marry they decide not to distract themselves with children. Their fascination with the science of volcanoes blossoms as new discoveries are being made about the earth's structure. Travelling to eruptions around the world, they have a series of adventures while widening their circle of friends and refining the understanding of how planet Earth works. They also become celebrity scientists, then die together in a 1991 eruption in Japan, doing what they loved best.
---
Laughing that their relationship can't help but be volcanic, the Kraffts have delightfully quirky personalities that reflect both in their work and their romance. They speak about how they got into studying volcanoes because they were disappointed with humanity, and that by comparison humans are insignificant. The way they playfully interact often elicits a laugh, and they look hilariously ridiculous in Pythonesque metal suits dashing around a volcano's seething rim. This adds a pointed kick to the spectacular films and photographs of them interacting with lava.

July's sleepy narration is mildly irritating, especially when it meanders into indulgent conjecture. But it does put the glorious imagery into context, connecting the Kraffts meaningfully with various mountains and each other. But it's what they say in their own voices that takes us beneath the surface, revealing their memories, thoughts and feelings. This is especially powerful as they question their careers after eruption warnings are ignored in Colombia, resulting in some 25,000 deaths. Indeed, their studies have subsequently saved hundreds of thousands.

While this doc explores the destructive majesty of volcanoes, it's most impressive as a lovely portrait of a couple who spent their life furthering knowledge of the planet's most untamed elements. So we understand why Katia says that their curiosity is greater than their fear. And Maurice notes that he prefers an intense short life to a long safe one. It's both fascinating and thrilling to watch them climb atop what they call thousand-year-old beasts to discover their secrets. Their work changed science, and their life together reminds us what it means to be human.
| | | |
| --- | --- | --- |
| | themes | 9.Jun.22 |
---
Free Chol Soo Lee
Review by Rich Cline |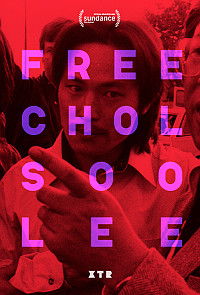 dir Julie Ha, Eugene Yi
scr Julie Ha, Eugene Yi, Sebastian Yoon
prd Julie Ha, Eugene Yi, Sona Jo, Su Kim, Jean Tsien
with Chol Soo Lee, KW Lee, Ranko Yamada, Jeff Adachi, Warren Furutani, J Tony Serra, Dave Kakishiba, Jay Kun Yoo, Grace Kim, Gale Whang, Joseph Thompson, Jai Lee Wong
release US Jan.22 sff,
UK Jun.22 slf
22/US 1h23

---
SUNDANCE FILM FEST

---
Now streaming...

---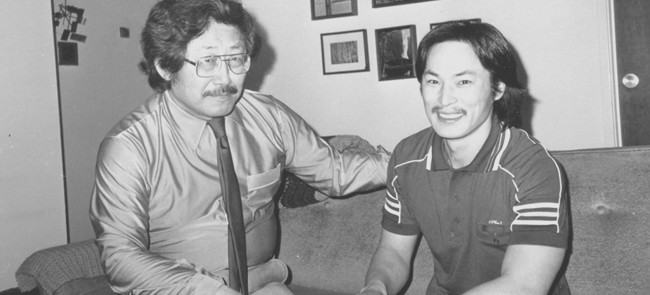 While this documentary traces a true story in a rather straightforward manner, the important subject matter makes it worth a look. Chol Soo Lee's experience was shocking and sad, but also carries elements of redemption and complex humanity. And it highlights a rarely explored aspect of underlying racism in the American justice system. These ideas emerge strongly, even as the filmmakers remain more focussed on the compelling personal narrative.
---
Son of an American soldier, 12-year-old Chol Soo moved to San Francisco with his Korean mother. Struggling to learn English, his education was disrupted by stints in various facilities for running away or attempting suicide. Then in 1973 at age 18 he was wrongly arrested for a Chinatown gang murder, and the botched policing led to a jury conviction and life imprisonment. Soon a growing group of Asian American supporters were campaigning for his release. After a flurry of appeals, trials and retrials he was finally released in 1983 with no apology from the state.
---
Interviews with a range of people involved in the story add telling details and some lively colour, and also a keen sense of understanding decades later. Clips reveal Chol Soo's personality as well, capturing the way he changed over the decades both physically and in his ability to put his experience into perspective. This is perhaps the film's strongest aspect, as it so strikingly portrays the impact of a life that was continually derailed over the years.

Filmmakers Ha and Yi know this is a compelling story, so they allow the narrative to unfold in chronological order. And perhaps the biggest shock is that these events aren't more widely known beyond the Asian community, as it conveys such a staggering sense of how society is tilted against equal treatment under the law. Chol Soo's experiences carry ripples of meaning that often feel desperate, so it helps that the film sticks to the facts and continually makes him fully human, a flawed man who never deserved to be a hero, but still became one.

This is a remarkable story of redemption, as Chol Soo found purpose in his final years speaking out about the devastation caused by unjust policing and imprisonment. While his life may seem to have been lived in mere fragments of time between prison stints, he has had a huge impact on the people who helped defend him, and on the community he came to represent. This gives the film a vital impact, a powerfully moving personal account that should help change the society for good.
| | | |
| --- | --- | --- |
| | themes, language | 7.Jun.22 slf |
---
We Met in Virtual Reality
Review by Rich Cline |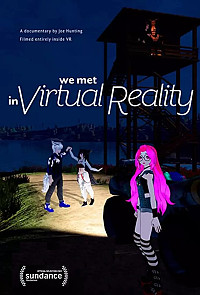 dir-scr-prd Joe Hunting
with Jenny, Dust Bunny, IsYourBoi, Toaster, DragonHeart, Ray_is_Deaf
release US Jan.22 sff,
UK Jun.22 slf
22/UK 1h31

---
SUNDANCE FILM FEST

---
Now streaming...

---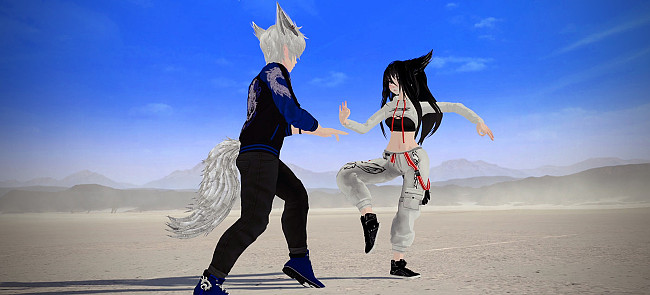 This extraordinary documentary was somehow shot virtually, as filmmaker Joe Hunting takes the audience into digital environments to meet people who interact there. It's an extraordinary film, and remarkably personal as it hones in on relationships within VR communities, often spilling out into the real world as well. But while it's a great introduction to a virtual world, newcomers may find it tricky to engage with the film's perspective.
---
In December 2020, as the world was in strict lockdown, virtual reality worlds were the only place many people could interact with anyone else. Hunting hones in mainly on three people: Jenny teaches sign language with her friend Ray_Is_Deaf; Dust Bunny teaches belly dancing and has fallen in love with Toaster; and IsYourBoi is an exotic dancer in a performance space, where she starts a romance with DragonHeart. As they describe their experiences, they speak about how their relationships grow, and how they plan to meet each other in real life, once travel is allowed.
---
While this may look like an animated film, it's actually captured by virtual cameras in these various platforms, a range of settings from institutional classrooms and glowing nightclubs to vast landscapes in the desert, mountains and seaside. Each person has a customised avatar, most of which are wildly inventive, with quirky individualised touches to them. And they become even more fascinating when they are describing their experiences, revealing hints about their real-world lives. They're also remarkably honest and open about the thoughts and feelings that this kind of interaction provokes.

In many ways, creating and dressing an avatar (often with the help of a designer) is like doing drag, as it's likely to reveal rather than conceal the true you. The figures here speak repeatedly about how meeting in these spaces eliminates the superficiality of the real world, forcing people to engage on a deeper, more honest level. Indeed, anecdotes that are shared disclose intense connections between these people that extend far beyond the virtual environment.

Because the film remains fully immersed in this digital realm, it's not always easy to engage with, especially with the wildly varied styles of avatars and the oddly weightless way the figures move right through each other. But once we get used to this, the personalities of the key figures begin to shine through, making them engaging on a rather unusual level, because we never actually see the people behind their online persona. This limits the emotional connection we can have with the film, but it's still bracingly intriguing.
| | | |
| --- | --- | --- |
| | themes, language | 8.Jun.22 slf |
---

< < D O C S > >
See also: SHADOWS FILM FESTIVAL

© 2022 by Rich Cline, Shadows on the Wall


HOME | REVIEWS | NEWS | FESTIVAL | AWARDS | Q&A | ABOUT | TALKBACK