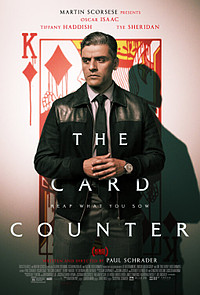 dir-scr Paul Schrader
prd Braxton Pope, Lauren Mann, David M Wulf
with Oscar Isaac, Tiffany Haddish, Tye Sheridan, Willem Dafoe, Alexander Babara, Bobby C King, Kat Baker, Bryan Truong, Dylan Flashner, Adrienne Lau, Joel Michaely, Rachel Whitney
release US 10.Sep.21,
UK 5.Nov.21
21/US Focus 1h51




---
VENICE FILM FEST
---
Is it streaming?

---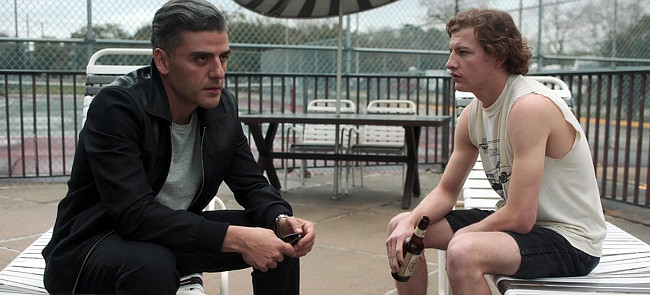 With a churning undertone, this dramatic thriller quickly worms its way beneath the skin. Writer-director Paul Schrader is particularly skilled at excavating complex motivations within his characters, crafting provocative moral puzzles that force the audience to consider extremely difficult questions. And he never offers the usual glib answers. Beautifully shot, the film's pace is slow but steely, while profound topics and themes make it powerfully involving.
---
Over his decade in prison, William (Isaac) enjoyed the predictability of inmate life, teaching himself how to count cards. Now this earns him a decent living in casinos, moving from place to place to avoid attention, although high roller La Linda (Haddish) notices him. Then he meets Cirk (Sheridan), an angry young man seeking revenge against mutual enemy Gordo (Dafoe). So William takes Cirk on the road with him. And with financial backing from La Linda, they head to Vegas to win the World Series of Poker. Unless they get distracted on the way.
---
In a cleverly dry voiceover, William explains the nature of card counting while revealing an astonishing military precision in his everyday life. He thinks about the moral weight of his past actions as a black ops interrogator, which he knows can never be removed (nightmare flashbacks play in harrowing fish-eye clips and newsreel footage). Even with discussion about tactics and statistics, the actual card-playing scenes are thankfully kept to a minimum, driving the more personal story points rather than taking over the film.

Performances are remarkably internalised, which isn't surprising for a group of characters who are determined to maintain poker faces. Isaac gives William a powerful intensity that seems to emerge from his core. His developing mentorship of Cirk opens him up to new possibilities, and Sheridan brings an edge to the film as a laser-sharp guy who needs someone to help focus his energy. Haddish adds a refreshing looseness to this mismatched team, cracking jokes while keeping one step ahead of everyone.

The echoing question is how much punishment will it take to relieve a guilty conscience. William doesn't think he deserves redemption, because nothing can justify what he's done, but he seeks it anyway. The question is whether joining Cirk in plotting revenge might be an alternative way forward. Alongside this, the film knowingly explores the US government's horrific treatment of prisoners at black sites. This isn't easy to watch, but it adds an urgent angle to a thoughtful story. And where it goes is seriously haunting.
| | | |
| --- | --- | --- |
| | themes, language, violence, sexuality | 27.Oct.21 |
R E A D E R R E V I E W S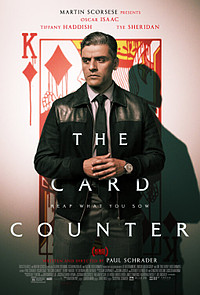 Still waiting for your comments ... don't be shy.