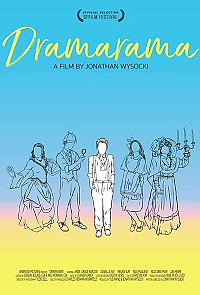 dir-scr Jonathan Wysocki
prd Yue Wang, Jonathan Wysocki
with Nick Pugliese, Anna Grace Barlow, Danielle Kay, Megan Suri, Nico Greetham, Zak Henri, Alice Ormsbee Beltran, Brett Jackson, Satnam Suri, Raj Suri, Drew Carter, Triska Lendo
release US Apr.20 sfiff,
UK Mar.21 flare
20/US 1h31

---

---
Is it streaming?

---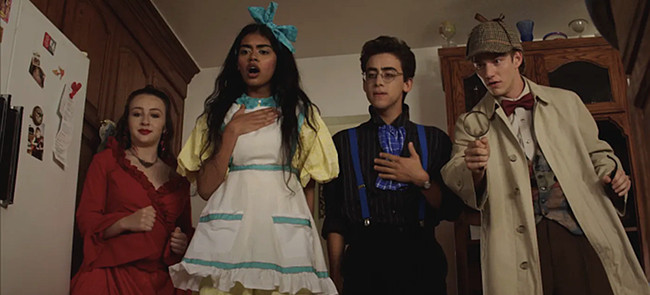 Like The Breakfast Club for drama queens, this snappy comedy centres on theatre nerds having one last party before life splits them up. It's brightly silly and thoroughly engaging as it plays with a range of bigger issues. With his feature debut, writer-director Jonathan Wysocki taps into his own background and meaningfully explores issues from sexuality to religion through the eyes of five over-expressive teenagers on one eventful night.
---
In small-town Southern California in 1994, Gene (Pugliese) is counting the days until he can head off to university and start living as himself. He's also trying to build up courage to come out to his drama club buddies (Barlow, Kay, Suri and Greetham) as they hold their final murder mystery party. Then the pizza is delivered by JD (Henri), a cool dropout who makes fun of their costumes and leaves a serious shadow over their gleefully nutty interaction. So while they're still having fun, they're also in the process of redefining their friendships.
---
The banter between these five over-dramatic teens is witty and energetic, fast-paced improv-style dialog plus some raucously farcical physicality. JD adds a spark of provocation, stirring up underlying insecurities, forcing them to examine why they're friends at all. The spiralling conversation is funny and telling, with terrific moments of self-doubt woven in between some know-it-all overconfidence. These teens are excited about moving on to university, but aware that they'll miss these friends when they're gone. Even when they turn on each other, their affection is real.

With these theatrical kids, it's understandable that performances are heightened and goofy. And the likeable cast also finds serious touches, adding edgy subtext to their buoyant interaction. Pugliese's closeted Gene enjoys roughhousing with Greetham's physically expressive Oscar. And Suri's religiously prim Claire contrasts hilariously with Barlow and Kay's over-the-top divas Rose and Ally. Smaller alliances emerge between them, and unspoken truths begin to come into the open. Especially when these outspoken virgins start talking about sex.

With a rambling and sharply pointed conversation between five characters in one setting, the film does feel like a stage play. Although Wysocki's skilful direction makes it feel cinematic, with kinetic camerawork by Todd Bell and particularly strong editing by Christine Kim. At the centre, Gene is worried that his friends will look at him differently if he opens up to them, and indeed their expressions of tolerance feel judgy. But perhaps the truth is that they're still working out who they are and who they want to be.
| | | |
| --- | --- | --- |
| | themes, language | 18.Mar.21 flare |
---
The Greenhouse
Review by Rich Cline |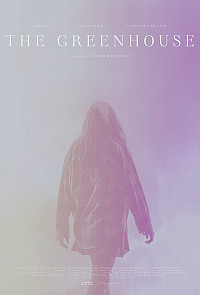 dir-scr Thomas Wilson-White
prd Lizzie Cater
with Jane Watt, Camilla Ah Kin, Rhondda Findleton, Kirsty Marillier, Shiv Palekar, Joel Horwood, Harriet Gordon-Anderson, Lincoln Vickery, Charlotte Cashion, Mick Gosden, Andreas Lohmeyer, Tel Benjamin
release Aus Feb.21 mgff,
UK Mar.21 flare
21/Australia 1h37

---

---
Is it streaming?

---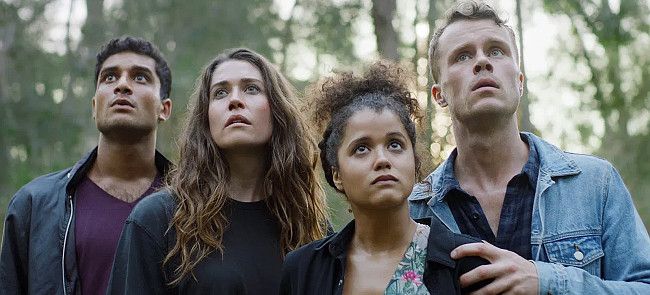 While this Australian drama takes a complex dive into grief, the earthy characters add strong resonance even as the story spirals into surrealism. Writer-director Thomas Wilson-White taps into visceral emotional responses, which sometimes makes the film feel over-serious and mopey. But he tempers this with real-life humour and everyday family dynamics. So the events get under the skin, reflecting ourselves and our relationships in unusual ways.
---
Struggling with the loss of her mother Lillian (Findleton) a few years ago, Beth (Watt) walks through a greenhouse into some kind of portal to the past, where her sister Doonie (Marillier) and brothers Drew and Raf (Palekar and Horwood) are still living at home, as are both mums Lillian and Ruth (Kin). Meanwhile, the siblings return to the family home for Ruth's birthday, each bringing his or her busy lives and strong opinions. But Ruth has also discovered the greenhouse and, despite some threatening dangers, is thinking that maybe she wants to stay there.
---
The idea is a bit obvious, as revisiting her past helps Beth make more sense of her present, even as she risks losing herself there (the ground itself starts pulling her in). This also reveals that things perhaps weren't as happy as she remembers them, and it reminds her that she's the one who gave up on her dreams and stayed at home when her siblings moved away. The camera tricks and effects are subtle and eye-catching, while a series of engagingly well-played improv-style scenes nicely capture the characters' sparky personalities.

Each role is demanding, so the performances are fairly intense, with raw emotions gurgling through most scenes. Watt gives Beth an intriguingly hard surface, which stiffens further as she confronts a past relationship with her best friend Lauren (Gordon-Anderson) as well as each painful day a sibling left home. Kin is another standout, with some particularly pointed scenes of her own. And each of the other actors feeds intriguingly into Beth's journey, while offering glimpses of their own experiences off-screen.

This is a lovely depiction of the role loved ones play in shaping, guiding and supporting us in our lives, and the way feelings play with our perception. The connections depicted on-screen are complex and provocative, digging deeply into the intense bonds within a family held together by love rather than shared genetics. The film's pace is uneven, especially as it becomes downbeat and murky, over-egging the melodrama and veering into fantasy horror territory. But the underlying ideas keep it rooted and involving.
| | | |
| --- | --- | --- |
| | themes, language, violence | 15.Mar.21 flare |
---
Jump, Darling
Review by Rich Cline |

MUST

SEE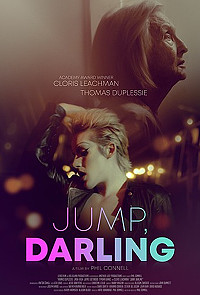 dir-scr Phil Connell
prd Katie Corbridge, Phil Connell
with Cloris Leachman, Thomas Duplessie, Linda Kash, Kwaku Adu-Poku, Andrew Bushell, Mark Caven, Katie Messina, Sheldon McIntosh, Jayne Eastwood, Sarah Camacho, Dylan Roberts, Paulo Fortes
release Can Oct.20 tioff,
UK Mar.21 flare
20/Canada 1h30

---

---
Is it streaming?

---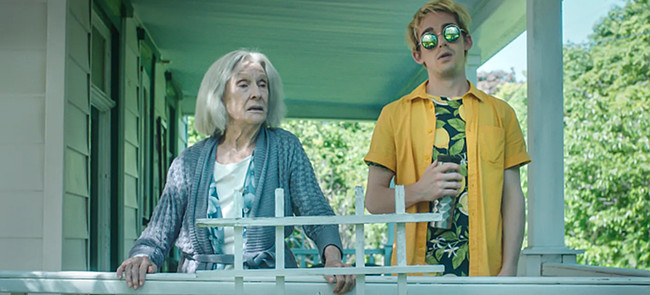 This comedy-drama centres on a luminous, no-nonsense performance from the late Cloris Leachman, a lead role that feels like a gift. Writer-director Phil Connell tells an engaging story about people who find inspiration at opposite ends of their lives. While invoking the spirit of Hedwig as these defiant people refuse to be put into boxes, this is a complex celebration of how empowering it is to be honest with yourself.
---
After a harsh breakup, aspiring actor Russell (Duplesse) travels into the countryside to see his feisty grandmother Margaret (Leachman), who has given him her car. She may have given up driving, but she refuses to movie into a nursing home. Russell plans to take the car and run, but he reluctantly decides to stick around to help her. Then he clocks gays in a local bar, unleashing his drag queen alter-ego Fishy Falters on them. As he settles in, both of them brace for a visit from Russell's caring but controlling mother Ene (Kash).
---
Both Margaret and Russell are at pivotal points in their lives and have more in common than they expect. She may be starting to lose it, but Margaret is fully aware of what's going on, including the fact that her health is declining. And it's in drag that Russell finds the confidence to take change of his life, including some sparky flirtation with barman Zachary (Adu-Poku). This relationship certainly doesn't evolve along the usual romcom route. And Ene has some surprises up her sleeve as well.

Each of the actors, including smaller side performers, digs deeply into his or her character, revealing underlying thoughts and feelings that give the film a remarkable kick, including several powerful parallel journeys. Leachman is of course iconic in a role that bristles with attitude, astute observations, witty throwaway lines and some wrenching emotion. Her chemistry with Duplesse's stubborn Russell is spiky with tender undercurrents. And he plays Russell's inner odyssey with bracing defiance tempered by openness to the world around him.

At its core, Connell's script is a knowing exploration of how love that doesn't accept another person, or even attempt to understand them, isn't love at all. This underlying idea gives the narrative an edgy trajectory, resisting the expected platitudes to dig much deeper into the themes, these people, their aspirations and connections. And in the end, it's a vivid reminder of RuPaul's drag mantra: "If you can't love yourself, how in the hell you gonna love somebody else? Can I get an amen?"
| | | |
| --- | --- | --- |
| | themes, language | 15.Mar.21 flare |
---

< < I N D I E S > >
See also: SHADOWS FILM FESTIVAL

© 2021 by Rich Cline, Shadows on the Wall


HOME | REVIEWS | NEWS | FESTIVAL | AWARDS | Q&A | ABOUT | TALKBACK