---
The Most Beautiful Boy in the World
Review by Rich Cline |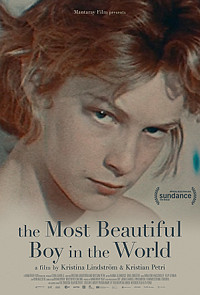 dir-scr Kristina Lindstrom, Kristian Petri
prd Stina Gardell
with Bjorn Andresen, Robine Roman, Annike Andresen, Jessica Vennberg, Ann Lagerstrom, Miriam Sambol, Silva Filmer, Margareta Krantz, Max Seki, Masatoshi Sakai, Hajime Sawatari, Riyoko Ikeda
release US Jan.21 sff,
UK 30.Jul.21, Swe 15.Oct.21
21/Sweden 1h33

---
SUNDANCE FILM FEST

---
Now streaming...

---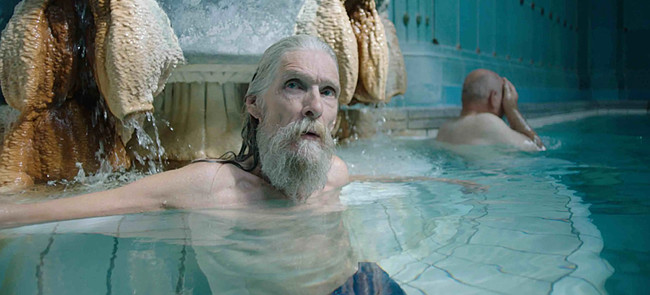 Combining artful new footage with astonishing archival clips, this documentary works on various levels to explore the nature and impact of beauty. It's a profile of Bjorn Andresen, cast as the representation of beauty by iconic filmmaker Luchino Visconti in his 1971 classic Death in Venice. Half a century later, Bjorn remains haunted by this. And the film reveals him as a man making peace with some powerful ghosts.
---
Visconti spent years casting Death in Venice's Tadzio, finding the charismatic, photogenic 15-year-old Bjorn in 1970 Sweden. The film was a meditation on beauty, and most of the crew was gay. Visconti's intent was to explore a higher form of love, elevating Tadzio to something more than human. Bjorn's global celebrity was instant, from the clamour of the Cannes Festival press conference to the film's notoriety, all of which left Bjorn's head spinning: "Why does everyone suddenly like me?" And then, just as suddenly, it seemed like no one wanted him anymore.
---
Today the long-haired Bjorn is a thoughtful composer, recalling his complex childhood accompanied by wonderful home movies. He remembers the excitement of travelling abroad to make the film, unaware of what it meant. The documentary also includes making-of clips, from Bjorn's first screen test to glimpses backstage, plus of course scenes from Death in Venice itself. Through all of this, Bjorn recalls how travelling around the world as the movie's poster-boy made him a symbol of beauty, and the pills people gave him to relax didn't help. So he turned to alcohol to cope with the crippling loneliness.

Getting even more personal, there's an extended sequence in which Bjorn and his sister Annike discuss their mother's mysterious disappearance before she told Bjorn who his father was. These questions have lingered throughout his life, and the filmmakers follow him to find answers in Stockholm's city archive, where the truth overwhelms him. He also revisits the lavish gifts that were bestowed on him by wealthy older men, only later realising what it was that they wanted from him. And scenes with his daughter Robine add another layer of intense emotion.

Filmmakers Lindstrom and Petri capture many more remarkable moments along the way, juxtaposing present-day Bjorn with his youthful self, most movingly in sequences that reveal his musicality. As an actor, Bjorn has worked steadily over the decades (behind-the-scenes clips of his stunning appearance in 2019's Midsommar are included here). This carefully assembled portrait gets deeper as it goes along, tapping in to themes that are increasingly resonant, from issues of self-image and artistic ambition to the echoing effects of family secrets.
| | | |
| --- | --- | --- |
| | themes, language | 7.Jun.21 |
---
Pray Away
Review by Rich Cline |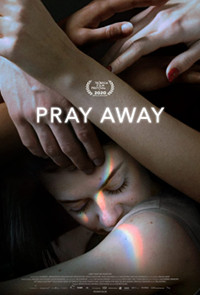 dir Kristine Stolakis
prd Kristine Stolakis, Jessica Devaney, Anya Rous
with John Paulk, Michael Bussee, Randy Thomas, Alan Chambers, Yvette Cantu Schneider, Julie Rodgers, Jeffrey McCall, Ricky Chelette, Anne Paulk
release US/UK Aug.21
21/US Netflix 1h41

---
TRIBECA FILM FEST
---
Now streaming...

---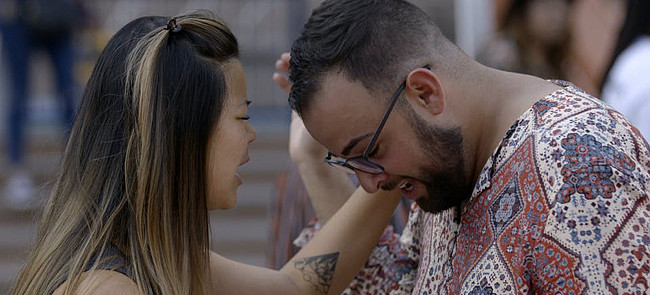 Expertly shot in a fly-on-the-wall style, this documentary is a detailed exploration of conversion therapy, which attempts to change a person's sexual orientation or gender identity. The remarkably earthy, honest approach centres on former leaders of the movement as they grapple with the harm caused by these programmes. Filmmaker Kristine Stolakis uses a focussed, straightforward structure that allows for nuance and finds a powerful message of hope.
---
The people behind this movement openly speak to the cameras about how they truly believed they were doing the right thing, affirmed by religious leaders like Jerry Falwell and James Dobson, who twisted theology to match their own bigotry. As a Christian, Bussee wanted desperately to change, so he started a support group for gay people who wanted to be straight. With hundreds of groups around the country, he cofounded Exodus in 1976, with Paulk at the forefront doing the media rounds. Today, Paulk admits feeling shame for his years promoting this lie.
---
Stolakis includes extensive archival clips, including people speaking out about how they were "healed" from homosexuality, juxtaposed with present-day scenes in which they express regrets. Schneider speaks about how feelings of imminent death during the Aids epidemic drove her to the church, and she finds it hard to look back at her work as a spokesperson for the anti-gay lobby. For contrast, McCall continues to celebrate how the church helps him reject his life as a trans woman, and he feels a calling to help others.

Conversion programmes preached that homosexuality was a psychological illness, which has been proven false. As has the idea that it's caused by parenting failures. Michael left the programme in 1979, knowing that he could no longer pretend he was helping people. But the groups continued growing, convincing teens that they could change this fundamental aspect of themselves. And they became entangled with right-wing political leaders, playing into the fears of small-minded religious people. Exodus dissolved itself in 2013, but other groups are still operating.

Each of these leaders came to realise that being gay has nothing to do with behaviour. That can be changed, but the feelings can't. Paulk was happily married with kids, but could never get rid of the ache to be in a relationship with a man. And he knew that if he didn't do something about this, whether it was right or wrong, he would take his life. "I had never been honest a day in my life," he says. "It was lie after lie after lie." For each one of them, admitting they were wrong was wrenching. And today, they are working to undo the damage.
| | | |
| --- | --- | --- |
| | themes, language | 15.Jun.21 |
---
Summer of Soul (...Or, When the Revolution Could Not Be Televised)
Review by Rich Cline |

MUST

SEE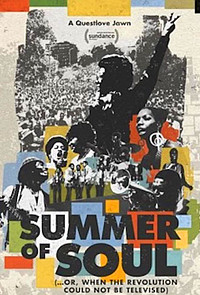 dir Ahmir "Questlove" Thompson
prd Joseph Patel, Robert Fyvolent, David Dinerstein
with Stevie Wonder, Gladys Knight, Mavis Staples, Marilyn McCoo, Billy Davis Jr, Jesse Jackson, Charlayne Hunter-Gault, Selema Masekela, Greg Errico, Denise Oliver-Velez, Lin-Manuel Miranda, Chris Rock
release US 2.Jul.21,
UK 16.Jul.21
21/US 1h57

---
SUNDANCE FILM FEST
---
Now streaming...

---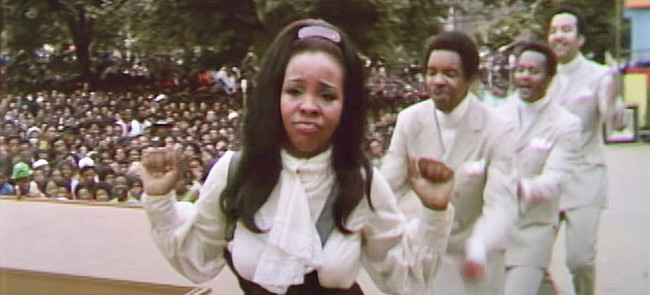 Never-seen footage of a landmark festival is expertly edited together into an iconic concert movie. Filmmaker-musician Questlove inventively blends performances with firsthand reminiscences that encompass news headlines and social issues. The result is a remarkably textured, deeply involving documentary that explores the importance of embracing the truth of history in order to move forward. It also offers some punchy context to a lot of seriously awesome music.
---
Over two months in 1969, during the same summer as Woodstock, more than 300,000 people attended the Harlem Cultural Festival, a free concert series in what is now Marcus Garvey Park. The event was captured on video, but plans to air it were scrapped and the footage was forgotten in a basement for 50 years. Both images and sound are extraordinary, edited beautifully to tell a much bigger story. The starry line-up includes Stevie Wonder, Nina Simone, BB King and Gladys Knight and the Pips. And they took the crowds to church.
---
Their urgent, energetic performances are accompanied by newsreel clips and narrated by people who attended the event as teens, fully aware that it was organised to contain the rage of oppressed Black communities that had erupted a year earlier after the assassination of Martin Luther King Jr. Both the attendees and artists express how it felt to be involved in the festival, and everyone speaks about how it wasn't just about the music. As Knight says today, "We are Black people and we should be proud of this."

These are songs of freedom, inextricably linked to the political situation. Among the film's highlights are Davis and McCoo narrating the 5th Dimension's staggering performance of their mega-hit Age of Aquarius/Let the Sunshine In. There's a devastating duet between Mahalia Jackson and Mavis Staples. Sly and the Family Stone's performance of Everyday People is a barnstormer, confronting the crowd with their eclectic lineup. And then Nina Simone takes the stage; her skill, artistry and unapologetic, hopeful boldness are staggering.

Pointed observations pepper the film, such as how the city refused to provide security, so organisers hired the Black Panthers to keep the event safe, with police watching closely. Several speak about the importance of gospel music for dealing with pressures of everyday life. There are sections exploring the influence of African and Latin rhythms on pop culture. And as the film continues, it becomes inconceivable that anyone at the time thought this event wasn't worth covering as a key historical moment. It's arguably far more important than Woodstock.
| | | |
| --- | --- | --- |
| | themes | 29.Jun.21 |
---

< < D O C S > >
See also: SHADOWS FILM FESTIVAL

© 2021 by Rich Cline, Shadows on the Wall


HOME | REVIEWS | NEWS | FESTIVAL | AWARDS | Q&A | ABOUT | TALKBACK