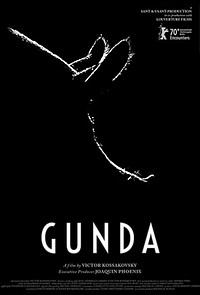 dir Viktor Kosakovskiy
scr Viktor Kosakovskiy, Ainara Vera
prd Anita Rehoff Larsen
release Nor Oct.20 biff,
US 16.Apr.21, UK 11.Jun.21
20/Norway Neon 1h33

---
BERLIN FILM FEST
---
Now streaming...

---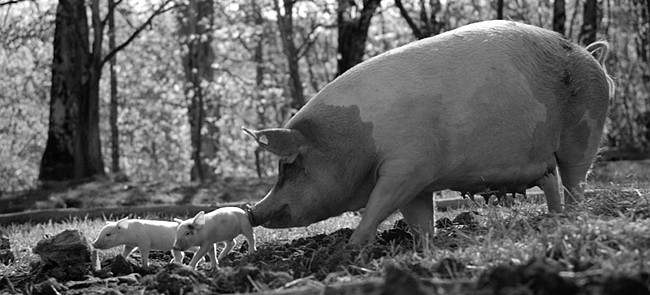 Filmed in Norway, Spain and the UK, this mesmerising documentary observes animal life on a farm, shot in close-up black and white without narration. But it definitely has a point. It's also a small miracle of a film, revealing striking detail without the usual distractions. Even without a glimpse of humans, there are a few unfolding mini-narratives along the way to add flickers of excitement and some surprising emotion.
---
The film opens with an extended shot of the enormous sow Gunda snoozing on a pile of hay, as she's rudely disturbed by her litter of hyperactive newborn piglets. She looks exhausted by their demanding appetites, but sighs and gets on with raising them. Meanwhile, a bunch of chickens escape from their small cage, eyeing their freedom with suspicion. A one-legged chicken is particularly intrepid. And a herd of cows has its own rambunctious energy as they cavort in the fields and swat flies off each other, watched over by a serene bull.
---
Filmmaker Kosakovskiy expertly uses long takes to offer unobtrusive views that are never static. The cameras zoom and pan to take in quite a bit of entertaining action. The shimmering monochrome imagery is superbly detailed, accompanied by a terrific ambient sound mix. As a result, some of the shots in the movie feel almost epic in the way they're photographed and edited to take in the setting and create remarkably expressive characters out of these farmyard creatures. The only human-sparked moment comes in an encounter with a tractor that looks like a fanged dragon.

The silvery cinematography and skilled camerawork prevent us from watching this as if it's a nature documentary. Instead, we're encouraged to see these critters as heroes in a grand drama that plays out in often amusing everyday style. The adorable piglets are hilarious, with their perky ears and busy playfulness, such as when they try to work out how to catch the rain in their mouths. Watching Gunda nudge them along is oddly engaging, as is how they pounce on her when she dares to lie down. So the extra-long final shot has a heartbreaking kick.

There's an intriguing mixture of domesticity and wildness in these animals, as their instincts drive them into the rougher unkempt parts of the farm, where they confront the fences with curiosity and perhaps even yearning. While watching this friendly fauna, Kosakovskiy is making subtle but pungent comments about their roles in the human food chain. So the film can be read as a paean to veganism. And there's the irony: if all humans were vegan, no one one would raise these gorgeous creatures.
| | | |
| --- | --- | --- |
| | underlying themes | 11.Apr.21 |
---
Laddie: The Man Behind the Movies
Review by Rich Cline |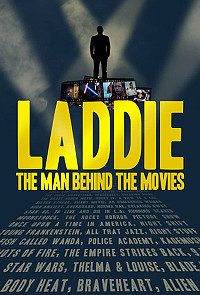 dir Amanda Ladd-Jones
prd Amanda Ladd-Jones, Rich Buhrman, Natasha Klibansky
with Alan Ladd Jr, George Lucas, Ridley Scott, Ron Howard, Mel Brooks, Richard Donner, Paul Mazursky, Sigourney Weaver, Mel Gibson, Ben Affleck, Morgan Freeman, Lili Fini Zanuck, Jay Kanter, David Ladd
release US 7.Jul.20,
UK 30.Apr.21
19/US 1h23

---
Now streaming...

---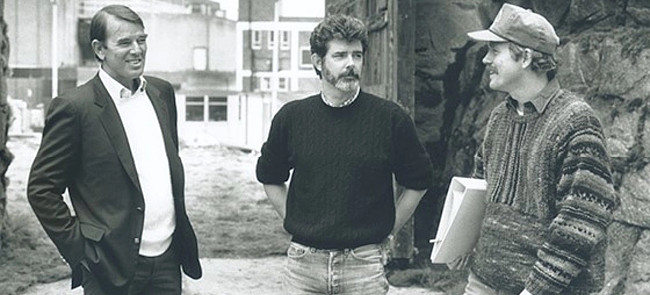 Back before movies were made by corporations, powerful men decided which movies were green-lit. And Alan Ladd Jr is one of the most powerful of all time, responsible for making some of the most iconic films of the past half-century. But this soft-spoken man remained largely in the background. This documentary, assembled chronologically by his daughter, is warm and affectionate, and packed with terrific stories about the industry.
---
Son of an iconic Hollywood actor, Laddie grew up as an outsider. Eventually, he became an agent for high-powered stars in both Los Angeles and London, then started producing movies. As head of various studios, he oversaw a string of timeless classics, sticking his neck out to make the likes of Young Frankenstein, The Omen, Alien, All That Jazz and 9 to 5. Through his career, Laddie was responsible for films that won 50 Oscars. And of course his most industry-changing decision was, against all odds, to make Star Wars.
---
It's fascinating to hear such a range of movie industry anecdotes recounted by Laddie with his deadpan understatement. Actors and filmmakers who worked with him also share memories from productions of landmark movies, projects that would never be green-lit today. He continually struggled against corporate culture, and the documentary covers the creative ways he made studio-rejected movies like Chariots of Fire, Blade Runner, Police Academy, Thelma & Louise and Braveheart, to name a few.

This remarkable chronicle of cinema history includes a number of key moments when Laddie took on the system, such as suggesting that the hero of Alien should be a woman. He repeatedly hired women to work in a men's world, such as getting Betty Thomas to direct The Brady Bunch Movie. He was also involved in turning The Rocky Horror Picture Show into an enduring mega-hit. And the story of how he stuck his neck out to get Star Wars made needs to become a movie on its own.

Filmmaker Ladd-Jones adds a lovely personal touch, speaking about finally getting to know her dad when she accompanied him to work, something Laddie never got to do with his own father. Alan Ladd Jr was a groundbreaker who wanted to produce the best possible movies, making the difficult decisions when projects lost studio support or went over budget. Each movie mentioned provides priceless stories that leave us wanting more, so surely there's enough material here to produce a companion series. Movie fans would devour that.
| | | |
| --- | --- | --- |
| | themes, language, violence | 12.Apr.21 |
---
Steelers: The World's First Gay Rugby Club
Review by Rich Cline |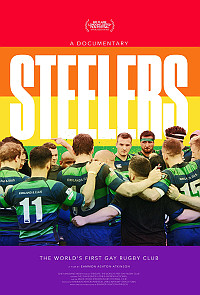 dir-scr Eammon Ashton-Atkinson
prd Eammon Ashton-Atkinson, Jared Watmuff, Grace Tobin
with Nic Evans, Simon Jones, Drew McDowell, Alex Smith, Matthew Hyndman, Simon Dunn, Jono Elvin, Declan O'Callaghan, Max O'Driscoll, Guillaume Combet, Morgan Vondee, Josh Birch
release UK 16.Apr.21
20/UK 1h22

---

---
Now streaming...

---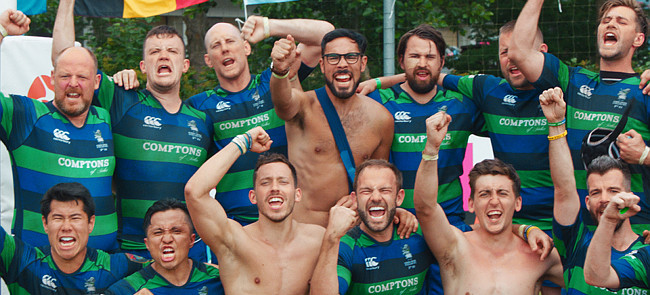 Superbly shot and edited, this entertaining documentary explores several powerfully resonant and important issues around an inclusive London rugby team. Along the way, filmmaker Eammon Ashton-Atkinson weaves in his own story as an Australian journalist and rugby player who faced awful abuse as a kid for being gay. Each person he interviews tells their own moving story, and the film is packed with witty banter and enjoyably riotous off-pitch antics.
---
Rugby is an unusually welcoming sport, but queer players are still nervous about being themselves in such a heated masculine world. Ashton-Atkinson focusses on three of the Kings Cross Steelers. Head coach Nic enjoys her fierce reputation, but knows she's a softie inside. A lifelong player who bonded with her grandfather over rugby, she feels it's time to step down. Simon only reluctantly admitted to himself that he was gay, and coming out was painful. And the hulking Drew was organising a club fundraiser when he discovered his love of performing in drag as alter-ego Drewalicious.
---
The film recounts the Steelers' founding in 1995, sparking what is now a league of 60 international teams that competes for the annual Bingham Cup. But the Steelers have never won, and the film documents their campaign for the prize in 2018. Ashton-Atkinson's crew has terrific access to the team, from pre-match rituals (including toenail painting) to conversations about difficult events from their pasts. There's also a joyous segment featuring the team's infamous Steelers Drag Race performances, tough athletes fearlessly expressing themselves in the campest way possible.

Conversations with Nic, Simon and Drew are remarkably honest, sensitively guided by Ashton-Atkinson to explore meaningful issues like homophobia, depression and parental expectations. These are essential discussions that the film delivers in a pointed way without ever preaching. Each person's story is intimate and involving, mixing warm humour with big emotions that are grounded in earthy honesty as they explore unusual ways team members provides support and encouragement to each other.

Experiences these people recount, including Ashton-Atkinson's, have a strong impact. And of course most of the other players have also taken journeys that involved facing prejudice from loved ones before finding a whole new family on the pitch. They're also serious competitors competing at the top level of their sport while challenging stereotypes about masculinity. And in their down time, they definitely know how to have fun. All of which helps us root for them as they progress through the tournament, because it means something to us too.
| | | |
| --- | --- | --- |
| | themes, language | 16.Apr.21 |
---

< < D O C S > >
See also: SHADOWS FILM FESTIVAL

© 2021 by Rich Cline, Shadows on the Wall


HOME | REVIEWS | NEWS | FESTIVAL | AWARDS | Q&A | ABOUT | TALKBACK