---
Happening L'Événement
Review by Rich Cline |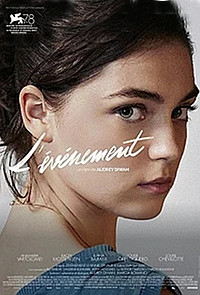 dir Audrey Diwan
scr Marcia Romano, Audrey Diwan
prd Alice Girard, Edouard Weil
with Anamaria Vartolomei, Kacey Mottet-Klein, Luana Bajrami, Louise Orry Diquero, Louise Chevillotte, Pio Marmai, Sandrine Bonnaire, Leonor Oberson, Anna Mouglalis, Fabrizio Rongione, Cyril Metzger, Eric Verdin
release Fr 24.Nov.21,
US Oct.21 ciff, UK 1.Apr.22
21/France 1h40

---
VENICE FILM FEST
---
Is it streaming?

---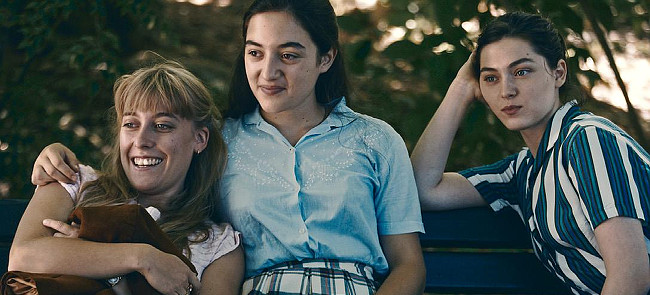 Provocatively, this 1960s-set French drama holds tight focus on a young woman who isn't allowed to terminate her pregnancy, which echoes Cristian Mungiu's 2007 drama 4 Months, 3 Weeks and 2 Days. Although this intensely serious film contains little real-life texture. This creates a relentless hushed intensity that's powerful. But the big emotions remain stubbornly aloof, which makes us wonder what writer-director Audrey Diwan is wanting to say.
---
Smart university student Anne (Vartolomei) spends her days studying and hanging out with her friends (Bajrami and Orry Diquero). She's shocked to discover that she's pregnant, and also that she is legally obliged to carry the child to term. So she begins to look for options, trying natural remedies and asking for discreet help. Most people are terrified that they risk prison time if they help her, while a male friend (Mottet-Klein) tries to take advantage of the situation. But the tenacious Anne refuses to give up looking for a solution, whatever it takes.
---
Diwan skilfully maintains a steely tone, as the camera stays close to Anne as her sense of panic grows. From the beginning, she says she doesn't intend to keep the baby, but as the weeks pass by it slowly dawns on her that she actually has no choice in the matter. And in her desperation, she makes some downright terrifying decisions. Scenes play out in ways that are muted but intense, often difficult to watch. Although the film's austere tone becomes a little exhausting, the weight of the material makes it urgent and sometimes harrowing.

Performances are understated and maintain a moody darkness. Even party scenes are muted and a bit on-edge. Vartolomei is excellent as an observant young woman who approaches her situation as matter-of-factly as she can. Anne wants to have children one day, but not instead of living her life. Side characters interact with her in smaller moments, and each is strikingly realistic, sometimes offering their own life experiences anecdotally to provide context to what Anne is going through.

Because the story unfolds without flourishes, each scene plays out with a grim authenticity, turning the audience into voyeurs. And there's no political or religious commentary either; Anne's journey is portrayed straightforwardly as she is forced to deal with a momentous experience completely on her own. Of course, the film's unflinching nature offers its own pointed commentary. And the lack of sentimentality makes it important, especially as Anne begins to find her voice.
| | | |
| --- | --- | --- |
| | themes, language, violence, sexuality | 9.Dec.21 |
---
Lola and the Sea Lola Vers la Mer
Review by Rich Cline |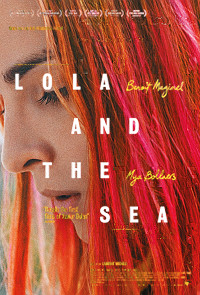 dir-scr Laurent Micheli
prd Sebastien Haguenauer, Benoit Roland
with Mya Bollaers, Benoit Magimel, Els Deceukelier, Sami Outalbali, Jeremie Zagba, Delphine Bibet, Adriana Da Fonseca, Anemone Valcke, Anne-Marie Loop, Thao Maerten, Rania Saddiki, Kris Swinnen
release Bel 11.Dec.19,
US 16.Oct.20, UK 17.Dec.21
19/Belgium 1h30





---
Is it streaming?

---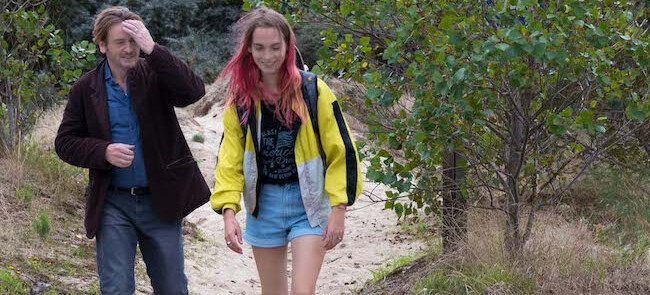 From Belgium, this introspective drama centres on an 18-year-old trans skater girl who is simply trying to get some respect. The premise is heightened by key elements in the script, which reveal pungent feelings without simplifying the people, situations or indeed the central topic. Filmmaker Laurent Micheli has a lovely light touch, keeping focus on the humanity in the characters even when they're struggling to do the right thing.
---
When her mother dies, Lola (Bollaers) misses the funeral because her father Philippe (Magimel) deliberately gives her the wrong time. It's been two years since he threw her out of the house, unwilling to accept her identity as female. And even after her mother's death, Lola refuses to abandon her to Philippe, insisting that she go along to scatter the ashes at sea. They clash constantly on the road, but are united by their task, especially in small adventures along the road. And being forced to spend time together helps break down barriers between them.
---
Philippe has repeatedly proven that he doesn't care about Lola; when he evicted her, she was rescued by best friend Sam (Outalbali), who took her to a foster home managed by the caring Antoine (Zagba). Philippe is shocked when Lola reveals that her mother secretly visited and accepted her. He is simply unable to imagine that Lola isn't doing this to spite him. Although perhaps somewhere inside him there might still be love for his child.

Bollaers offers a natural, understated performance as a young woman who just wants to get on with her life but has to face obstacles with little support. She's likeably feisty, stubbornly standing up for herself in a variety of situations. Opposite her, Magimel keeps Philippe grounded, balancing his narrow-minded bigotry with some edgy emotion. Only some of his cruelty stems from his pain, and he knows he goes too far when he blames Lola for his wife's death.

Because Philippe is so unapologetic about his inability to accept his daughter for who she is, the story takes a strikingly different trajectory to most movies that grapple with this theme. When Lola finally confronts him about blaming her for all of his woes, there's a flicker of understanding. He may know that he's wrong, but he is still unable to accept even the idea of who Lola is. The change is that maybe now he can talk to her about it. And perhaps Lola can find the self-respect she needs.
| | | |
| --- | --- | --- |
| | themes, language, violence | 15.Dec.21 |
---
Not Knowing Bilmemek
Review by Rich Cline |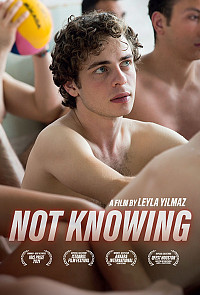 dir-scr Leyla Yilmaz
prd Ates Ilyas Bassoy, Evren Parlar, Christopher Elsey, Leyla Yilmaz
with Senan Kara, Yurdaer Okur, Emir Ozden, Levent Uzumcu, Cetin Sarikartal, Ulascan Kutlu, Mert Tanik, Murat Karasu, Arda Aranat, Berke Buk, Ozgur Daniel Foster, Arin Kusaksizoglu
release Tur 13.Aug.21,
UK 17.Dec.21
19/Turkey 1h35

---
Is it streaming?

---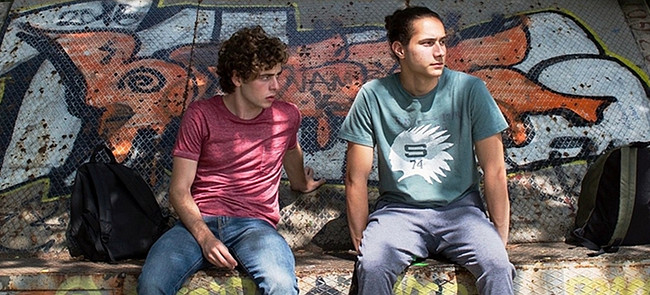 In this sensitive observational drama, Turkish filmmaker Leyla Yilmaz follows three disconnected family members through an emotional situation. The approach is earthy and character-based, tracing interaction as a variety of story threads weave around each other. It's perhaps too muted to have a big impact, but the themes powerfully reflect real-life issues viewers will easily identify with. A late plot point is somewhat melodramatic, but it focusses everything intensely.
---
As middle-aged couple Selma and Sinan (Kara and Okur) throw themselves into their jobs, they're unaware that their 17-year-old son Umut (Ozden) is being bullied by water polo teammates who suspect he's gay. Umut bristles at the accusation, and when homophobia sweeps through the team, he begins to feel like he's in danger. Meanwhile, Selma is a doctor fighting with her brother (Sarikartal) for a fair share of their inheritance, while Sinan is preoccupied by the severe cuts his young new boss (Kusaksizoglu) is making at the shipping company where he works as a manager.
---
It's frighteningly easy to understand why Selma and Sinan are so preoccupied that they miss clues about Umut. When he says he wants to quit water polo, they only reply that he has stick with it to get a sports scholarship for a US university. And even Umut's coach (Uzmcu) dismisses the team's vile bigotry, not realising how deep it runs. It's increasingly wrenching to watch the way Umut's life seems to close off around him, seemingly leaving him no way out.

Performances are introspective, reflecting deeper thoughts as each character faces challenges to their sense of identity. The most compelling journey belongs to Ozden's likeable Umut, a smart kid who is unnervingly vulnerable. The fear expressed in his eyes, and his entire physicality, feels jarringly visceral. And the complexity in the performance makes his actions unpredictable. Ozden and Kara are also excellent in delicately layered roles as people considering decisions that have far-reaching ramifications they can't quite see.

This is a rare film that confronts the insistent curiosity people have about others' sexuality, when it's actually no one's business. And its central theme circles around how we are so busy with our own concerns that we fail to see what's happening with those closest to us. And even deeper is the idea that takes a lot of effort to observe situations through someone else's eyes. The lessons might be a bit obvious, but they're urgent and important. And the film ends on a strikingly pointed note.
| | | |
| --- | --- | --- |
| | themes, language, violence | 15.Dec.21 |
---

< < F O R E I G N > >
See also: SHADOWS FILM FESTIVAL

© 2021 by Rich Cline, Shadows on the Wall


HOME | REVIEWS | NEWS | FESTIVAL | AWARDS | Q&A | ABOUT | TALKBACK