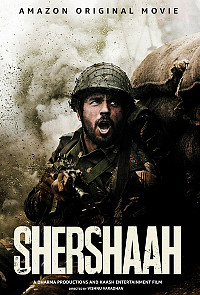 dir Vishnu Varadhan
scr Sandeep Shrivastava
prd Hiroo Yash Johar, Karan Johar, Apoorva Mehta, Shabbir Boxwala, Ajay Shah, Himanshu Gandhi
with Sidharth Malhotra, Kiara Advani, Shiv Pandit, Pranay Pachauri, Atul Verma, Shataf Figar, Anil Charanjeett, Raj Arjun, Mir Sarwar, Abhiroy Singh, Jaykartik, Nikitin Dheer
release Ind/US/UK 12.Aug.21
21/India Amazon 2h15





---
Is it streaming?

---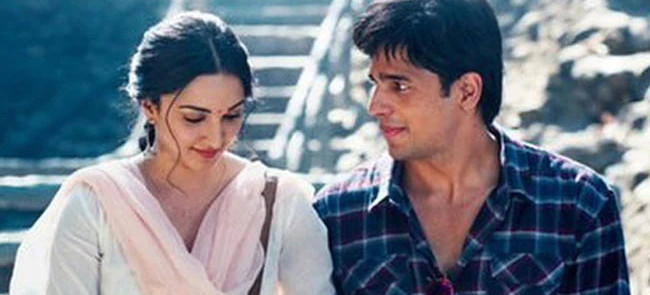 This biopic traces the life of a decorated hero from India's 1999 Kargil War. The script never doubts his courage or charm. And while there's an early reference to how the presence of India's army has made life difficult for locals, this remains an jingoistic war movie in which Muslims are disposable villains. That said, it's strikingly well-made, with a likeable cast and a range of terrific set-pieces.
---
In 1998, Vikram Batra (Malhotra) is proud to wear his country's military uniform, taking his post at a base in Kashmir. His colleagues quickly spot his fearlessness as tit-for-tat violence breaks out on the mountainous border. And he joins India's efforts to root out embedded Pakistani troops in the area. After leading a major mission to stop an enemy leader (Sarwar), he gets some time back home before the conflict heats up into all-out war. But as his unit scales the jagged peaks to take back a series of outposts, their task gets increasingly perilous.
---
The film flickers to Vikram's childhood as well as his university days as he courts the sparky Dimple (Advani), which adds an engaging romantic plotline to contrast against the manly military stuff. Of course there's a clash between their Punjabi and Sikh families, but they overcome this and other obstacles as he enters military service. By contrast, battle sequences are staged on a huge scale, generating a genuine sense of imminent danger while capturing the spectacular landscape.

Malhotra oozes charm on-screen, especially in the flashbacks to his rocky but still adorable love story, where he and Advani generate strong, smiley chemistry. These two are the only properly developed characters, although some of Vikram's fellow soldiers register along the way, as do a few family members back home. But the film centres closely on Vikram, nicknamed Shershaah (Lion King) by his sage commander (Figar), who can't get him to take a break even after surviving a harrowing mission.

There's startling violence along the way, including cold-blooded brutality dished out by Indian forces, although the script only points fingers at shady Muslim figures. Vikram's goal is to either raise the flag over the contested region or come back draped in it. His gung-ho attitude knows no bounds, and at least this is often played with a wry sense of humour, avoiding earnestness. And his ongoing romance with Dimple adds an emotionality that the filmmakers can exploit in the final act. But the unquestioned patriotism is a big problem.
| | | |
| --- | --- | --- |
| | themes, language, violence | 11.Aug.21 |
---
Underground Souterrain
Review by Rich Cline |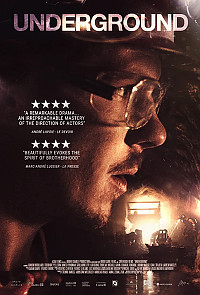 dir-scr Sophie Dupuis
prd Etienne Hansez
with Joakim Robillard, Theodore Pellerin, James Hyndman, Guillaume Cyr, Catherine Trudeau, Lauren Hartley, Charles-Aubey Houde, Mickael Gouin, Jean-Francois Boudreau, Jean L'Italien, Bruno Marcil, Sebastien Leblanc
release US May.21 mspiff,
Can 4.Jun.21, UK 20.Aug.21
20/Canada 1h37

---
Is it streaming?

---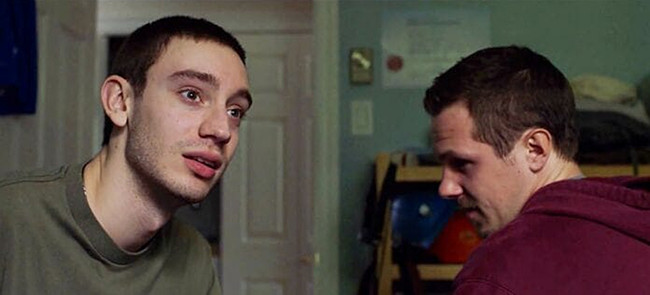 Observant filmmaking highlights the deeper themes in this Canadian drama, provocatively exploring the nature of masculinity. In a multi-layered story about redemption, writer-director Sophie Dupius uses a remarkably intimate filmmaking style that allows the actors to subtly infuse scenes with the inner thoughts and feelings of characters who are at a point of crisis. And a terrific use of various settings adds to the film's pointed, darkly involving undercurrents.
---
Quebec gold mine worker Maxime (Robillard) goes out of his way to help his childhood friend Julien (Pellerin), who has serious disabilities after a car crash. Maxime's also nervous about the impending birth of a child with his girlfriend Andree (Hartley). Then when there's an explosion in the mine, Maxime feels responsible for making sure everyone is rescued. And no one will tell him that one of the missing colleagues is Julien's father Mario (Hyndman), who blames him for the accident. Indeed, Maxime blames himself too, which is complicating pretty much aspect of his life.
---
Action flickers between the rescue operation and day-to-day scenes from the previous two months, mixing lively humour with earthy drama, while highlighting textures in Maxime's relationships. It's fascinating to watch both Andree and Julien call Maxime out over his fiery tough-guy attitudes. And Maxime's temper also gets him into trouble at work. It's remarkable how deeply scenes dig into the characters without being obvious about it, from macho activity among the miners to a stress-relieving day out in a boat with the boys.

Robillard gives a thoughtful, robust turn as a young man haunted by cruel demons, channeling feelings of guilt as he struggles with the concept of what it means to be a man. His reactions are all over the place, which is remarkably realistic. When he drops his guard, it's profoundly moving. Opposite him, Pellerin's performance is compelling and engaging, a young man straining against his new physical limitations, yearning to prove that he's still a valuable member of society. And both Hyndman and Hartley have punchy scenes all their own.

The complex writing, directing and acting makes it easy for the audience to sympathise with each of these characters, which allows both the joy and pain to become unusually vivid. Using a variety of characters, Dupois explores a range of angles on the central themes while also building a sense of urgency, both in the personal interaction and the framing sequences involving the explosion and rescue. So as the events unfold, the film carries a strong kick on several fronts.
| | | |
| --- | --- | --- |
| | themes, language, violence | 13.Aug.21 |
---
Wildland Kød & Blod
Review by Rich Cline |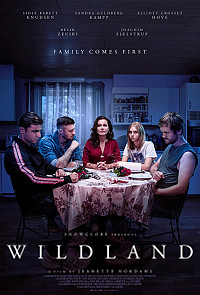 dir Jeanette Nordahl
scr Ingeborg Topsoe
prd Eva Jakobsen, Katrin Pors, Mikkel Jersin
with Sandra Guldberg Kampp, Sidse Babett Knudsen, Joachim Fjelstrup, Elliott Crosset Hove, Besir Zeciri, Carla Philip Roder, Sofie Torp, Omar Shargawi, Frida Mai Mammen Sejersen, Maria Esther Lemvigh, Marie Knudsen Fogh, Benjamin Kitter
release Den 28.May.20,
UK 13.Aug.21, US 20.Aug.21
20/Denmark 1h29

---
BERLIN FILM FEST
---
Is it streaming?

---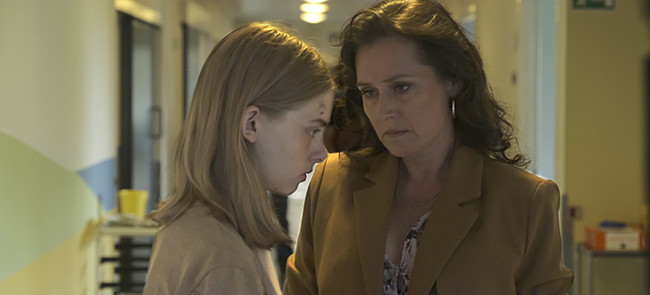 Dark and moody, this Danish drama stirs deep emotions into a churning crime thriller. It's skilfully directed by Jeanette Nordahl to focus on rather downbeat underlying feelings instead of the standard drugs-and-violence plot. But as the story sends a grieving teen girl into a seriously frightening situation, the film grabs hold of the audience, forcing us to wrestle with a moral conundrum that feels almost impossible to win.
---
After her mother's death, 17-year-old Ida (Kampp) moves in with her Aunt Bodil (Knudsen) and laddish cousins David and Mads (Hove and Zeciri), plus older brother Jonas (Fjelstrup) who has a wife (Torp) and baby. Ida barely knows them, so she studies their rhythms and begins to realise that the otherwise warm Bodil rules with a iron fist. It also becomes clear that the family business involves nasty strong-arm thuggery. When Ida witnesses something particularly violent, she realises that she will have to make a decision about what to do, and it's not remotely straightforward.
---
Told through Ida's observant eyes, the film cleverly highlights the complexities of her grief while she adjusts to her relatives' all-new style of interaction. Which helps Ida understand why her mother broke contact with Bodil, for whom the only morality is family loyalty. Bodil is fiercely protective and demanding, and Ida finds it unnerving that she's so accepting of criminality but intolerant of failure. Then Ida finds an ally in another outsider, David's girlfriend Anna (Roder).

The acting is earthy and understated, avoiding the flashy excesses usually associated with these kinds of stories. As Ida accompanies her cousins on their rounds, Kampp's subtle alertness is riveting, as is the way she tries to conceal her horror at what she witnesses, while at the same time struggling with the loss of her mother. The three brothers have a dangerous energy that's unnervingly well-played. And holding the film's centre, Knudsen delivers a beautifully offhanded turn as the imperious Bodil, a woman no one wants to cross.

At the heart of this story is the tension between doing what's right and unconditionally supporting your family members. Ida needs her relatives, but is increasingly terrified of them. This pushes her to find unusual honesty in some astonishing conversations, leading to a chilling climactic situation that squeezes her even more tightly. It's a strikingly involving, well-made drama with some heart-stopping moments all the way through, and it's not remotely easy to watch.
| | | |
| --- | --- | --- |
| | themes, language violence | 8.Aug.21 |
---

< < F O R E I G N > >
See also: SHADOWS FILM FESTIVAL

© 2021 by Rich Cline, Shadows on the Wall


HOME | REVIEWS | NEWS | FESTIVAL | AWARDS | Q&A | ABOUT | TALKBACK