---
AK vs AK
Review by Rich Cline |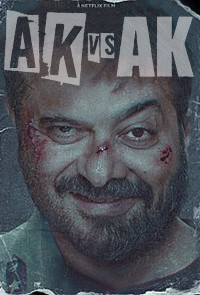 dir Vikramaditya Motwane
prd Dipa De Motwane
scr Avinash Sampath, Vikramaditya Motwane
with Anil Kapoor, Anurag Kashyap, Boney Kapoor, Sonam Kapoor Ahuja, Harshvardhan Kapoor, Yogita Bihani, Pawan Singh, Mohammed Kaleem Zia, Majari Singh, Shri Prakash Singh, Nawazuddin Siddiqui, Sucharita Tyagi
release UK/US 24.Dec.20
20/India Netflix 1h48

---
Is it streaming?

---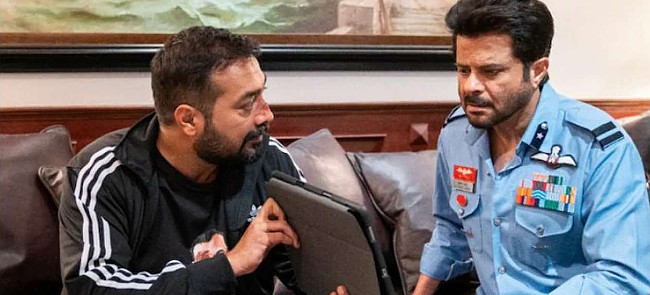 Bollywood star Anil Kapoor and director Anurag Kashyap play fictional versions of themselves in this wild action comedy that's also a riotous romp through the movie industry. With hilarious dialog, these iconic figures poke fun at themselves and their work. It's a skilful mash-up of a movie pastiche with a properly intense thriller. And the ways the cast plays with ideas of family and fame make it linger.
---
At an industry event, Anil and Anurag discuss making a movie together. Anurag is sceptical, feeling like Anil is too old to play a leading man. And their clash becomes a viral scandal, scuppering Anurag's next film. Apologising, Anurag offers Anil a role as a man trying to rescue his kidnapped daughter, played by Anil's actual daughter Sonam. To force Anil's hand, Anurag reveals that this is a real hostage situation, and he only has until sunrise to rescue Sonam. What follows is a battle of wits between the legendary actor and the upstart director.
---
This film is shot in a loose mock-doc style, as Anurag and camera operator Yogita are shooting everything in long takes, tagging along with Anil as he tries to find Sonam. This makes the movie feel like it's playing out on TikTok, as strangers interrupt Anil's quest to request selfies, then applaud his impassioned calls for help as if it's method acting. The irony is that Anil keeps insisting that he won't make a movie with Anurag, but that's exactly what he's doing.

Anil's role is more complex, as the bitter star who simply dismisses Anurag until things get personal, then he kicks in to action mode, still wearing the military costume from his current movie. And all of this happens on his birthday on Christmas Eve. Anurag brings a gleeful self-confidence to every scene, continually punctured by comments from random passers-by. Terrific side characters include Anil's wonderfully hyperactive son Harsvardhan, who's far too keen to join this new project.

Cleverly, this knowing satire about moviemaking also works as a pulse-quickening action movie more than a few major twists and turns. As the plot continually shifts gears, the elaborate set-pieces are astonishingly well-staged, generating both big laughs and some sudden gasps. The sprawling fistfight between these two men is flat-out hysterical, shot like the rest of the film using expert handheld camerawork. This style extends to a musical moment, as well as some great Christmas gags. Plus a final little kick about the dangers of underestimating experience.
| | | |
| --- | --- | --- |
| | themes, language, violence | 23.Dec.20 |
---
I Carry You With Me Te Llevo Conmigo
Review by Rich Cline |

MUST

SEE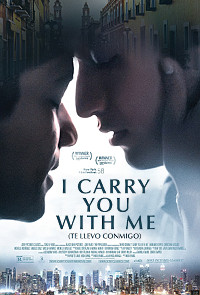 dir Heidi Ewing
scr Heidi Ewing, Alan Page Arriaga
prd Mynette Louie, Heidi Ewing, Gabriela Maire, Edher Campos
with Armando Espitia, Christian Vazquez, Michelle Rodriguez, Angeles Cruz, Raul Briones, Arcelia Ramirez, Pascacio Lopez, Michelle Gonzalez, Luis Alberti, Yael Tadeo, Nery Arredondo, Alexia Morales
release US 25.Dec.20
20/Mexico Sony 1h51

---
SUNDANCE FILM FEST
---
Is it streaming?

---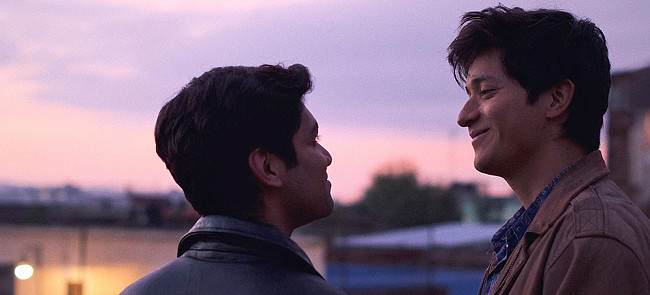 Strikingly shot to capture the thoughts and feelings of its characters, this true-life Mexican drama is a powerful narrative debut for documentary filmmaker Heidi Ewing. Her eye for detail is beautiful, as is how she makes space for gifted actors to create strong characters and connections between them. While the story feels perhaps a bit familiar, Ewing's fresh approach is complex and hugely involving as the events encompass three decades.
---
In 1994 Mexico, Ivan (Espitia) is a trained chef whose boss keeps him working back-room restaurant jobs, which makes it hard to support his ex Paola (Gonzalez) and baby son. His lively best pal Sandra (Rodriguez) urges him to get to know the handsome Gerardo (Vazquez), and they fall deeply in love. But the situation around them is messy, and Ivan asks Gerardo to wait a year while he illegally migrates with Sandra to New York to find work. After several years, Gerardo also makes the journey. But their new life together isn't easy.
---
Ewing's approach infuses each scene with vividly recognisable yearning. Telling flashbacks reveal the young Ivan (Tadeo) learning how to hide his sexuality from his homophobic family, assisted even back then by partner-in-crime Sandra (Morales). And there are also scenes involving the young Gerardo (Arredondo) and his intensely fear-driven father (Briones). Editor Enat Sidi creates gorgeous rhythms as the film shifts seamlessly back and forth in time, assisted by Juan Pablo Ramirez's evocative, colour-soaked cinematography.

Ivan and Gerardo's relationship is complicated, but the actors make their mutual attraction so strong that we understand their tenacity. Vazquez gives Gerardo an easy, matter-of-fact quality, warning Ivan that he can't keep hiding his sexuality from Paola. So of course Ivan, whom Espitia plays as a likeable dreamer, thinks leaving is his only option. The way their connection grows is remarkably realistic, warm and honest, focussed on what's inside them rather than the enormous issues that swirl around them.

Framing the story with Ivan returning to Mexico adds a sense of hope and longing to the movie. Each carefully gauged scene feeds into the larger picture, from lively moments with friends to a range of strained family sequences. And the border-crossing set-piece is downright harrowing, simply because it's shot and played in such an authentic way. And later scenes in New York life are truly documentary, featuring the real Ivan and Gerardo, still observed with a careful attention to their deeper feelings.
| | | |
| --- | --- | --- |
| | themes, language, violence | 13.Dec.20 |
---
Luz: The Flower of Evil
Review by Rich Cline |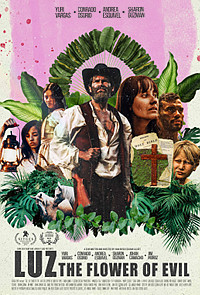 dir-scr-prd Juan Diego Escobar Alzate
with Yuri Vargas, Andrea Esquivel, Sharon Guzman, Conrado Osorio, Johan Camacho, Jim Munoz, Daniel Paez, Marcela Robledo, Nohelia Sanchez, Felix Sipagauta, Elvia de Valenzuela, Hector Cardona
release US 21.Dec.20
19/Colombia 1h44





---
Is it streaming?

---
Colombian filmmaker Juan Diego Escobar Alzate creates a wonderfully lurid atmosphere for this bonkers horror movie. There's nothing naturalistic about it, as the actors ramp up their expressive performances, while the inventive imagery plays on a range of themes to keep the audience darkly unsettled as events get increasingly feverish. There are also frequent moments of black wit and wrenching emotion layered into a properly grisly story.
---
In an isolated cabin, piercingly religious mountain man El Senor (Osorio) is raising his three 20-something daughters Uma, Laila and Zion (Vargas, Laila and Guzman) after the death of their mother Luz. The sisters are grappling with concepts of angels and demons, trying to find the spirit of their mother in nature. Then El Senor declares that a young boy (Camacho) is the messiah, renaming him Jesus. But the sisters worry about him, and are further confused by the attentions of the lusty young villager Adam (Munoz), who complicates their ideas of beauty and love.
---
The film looks amazing, with with colour-drenched photography (by Nicolas Caballero Arenas) and florid production design (by Hugo Blandon) adding to the heightened performances. The contrast is striking between blue-sky days in the spectacular Andean valleys and El Senor's creepy nighttime fireside sermons for villagers. Everyone is obsessed with lines between the human and divine, the presence of a cassette recorder triggers both fear and wonder, there's a reference to El Senor's doomed "previous Jesus", and new discoveries are mind-bogglingly chilling.

Osorio's growly voice and mad eyes add menace to the all-controlling El Senor (translation: The Lord). It's easy to see why his daughters and the villagers misinterpret his crazed sermons, driving them into all kinds of religious mania. Each of the actresses gives her character a distinct personal dilemma, approaching what happens through her own twisted perspective. This allows each of them to find surprising tenderness even in the most outrageous situations. By contrast, side characters like Adam and Jesus are mainly here as plot catalysts, while the crusty-nutty Elias (Paez) adds some unexpected wrinkles.

This is a beautiful depiction of how people live in the constant expectation that something will make sense of their life. But there's also the realisation that both light (aka luz) and darkness live within everyone. Along the way, Escobar offers nods to the cabin-in-the-woods genre and even meet-the-parents comedies. But it's the larger social, political and religious themes that have the most powerful echo. And there's an added terrifying resonance in the grief that this staggeringly dysfunctional family is failing to address.
| | | |
| --- | --- | --- |
| | themes, language, violence | 20.Dec.20 |
---

< < F O R E I G N > >
See also: SHADOWS FILM FESTIVAL

© 2020 by Rich Cline, Shadows on the Wall


HOME | REVIEWS | NEWS | FESTIVAL | AWARDS | Q&A | ABOUT | TALKBACK