---
The County Héraðið
Review by Rich Cline |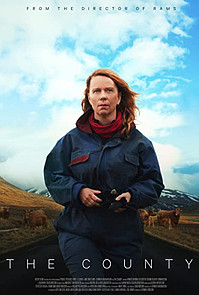 dir-scr Grimur Hakonarson
prd Grimar Jonsson
with Arndis Hronn Egilsdottir, Sveinn Olafur Gunnarsson, Sigurdur Sigurjonsson, Hinrik Olafsson, Hannes Oli Agustsson, Edda Bjorg Eyjolfsdottir, Hafdis Helga Helgadottir, Daniel Hans Erlendsson, Alfrun Rose, Steinn Armann Magnusson, Aevar Thor Benediktsson, Thorsteinn Gunnar Bjarnason
release Ice 14.Aug.19,
US Oct.19 ciff, UK 22.May.20
19/Iceland 1h32

---
TORONTO FILM FEST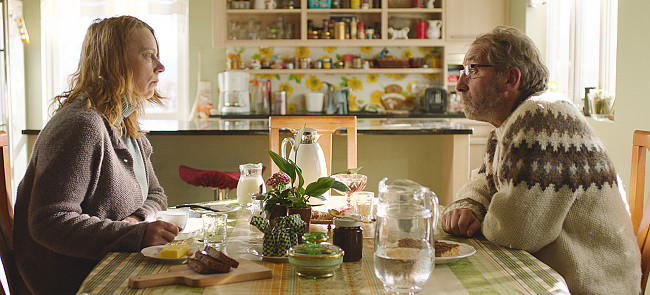 As he did with Rams, Grimur Hakonarson sets this drama in a rural Icelandic farming community, vividly capturing local life while exploring bigger ideas. The story follows a woman as she takes on a corrupt system that she unwittingly contributed to, and now she can't let it continue. As her actions become somewhat outrageous, the film makes an important point, echoing a time in history when justice feels elusive.
---
Middle-aged couple Inga and Reynir (Egilsdottir and Olafsson) work long days on their dairy farm, which has been in the family for generations. But they're being squeezed out by the local Co-op, ruthlessly run by Eyjolfur (Sigurjonsson) and his goon Leifur (Agustsson). When Reynir dies in a car crash, the Co-op offers to help. Or is this a takeover? At the end of her rope, family friend Fridgeir (Gunnarsson) tells Inga that Reynir had been part of the Co-op's enforcement network. Furious, she takes on the "Co-op Mafia", sparking an escalating war.
---
The film opens with the birth of a calf and continues in an unblinking style. Hakonarson forensically examines Inga's life, from quiet confrontations to unanswered questions about Reynir's death. When Inga posts the truth in a Facebook post, she becomes a pariah. "The Co-op holds this community together," a neighbour warns her. "You have to let this go," says another. But a journalist (Helgadottir) wants to get her story out. These small interactions combine cleverly with Inga's steely resolve to do the right thing.

Egilsdottir has a serene dignity on-screen, an immovable force underestimated by everyone around her. Inga barely bats an eye as she decides to more aggressively undermine the Co-op's coercive system. This is a woman who knows she's right and doesn't have anything left to lose. Still, her emotions are churning deep beneath the surface. Opposing her, Sigurjonsson is excellent as a slippery politician type, willing to do or say anything.

There's a much larger resonance here, of course. Inga is standing up to a monopolistic group that operates based on intimidation and threats, so people are cowed into accepting their oppression as just the way things are. There's an appetite for shaking up the system, but also a fear of change. Meanwhile, the leaders don't hesitate to cruelly attack anyone who challenges them. But this film reminds us that, as Inga says, the world is changing. It may look hopeless now, but these unjust systems are simply unsustainable.
| | | |
| --- | --- | --- |
| | themes, language | 18.May.20 |
---
I Love You, Stupid Te Quiero, Imbécil
Review by Rich Cline |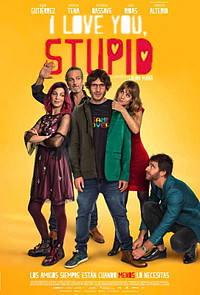 dir Laura Mana
scr Ivan Bouso, Abraham Sastre
prd Francesc Escribano, Raimon Masllorens, Tono Folguera
with Quim Gutierrez, Natalia Tena, Alfonso Bassave, Ernesto Alterio, Alba Ribas, Patricia Vico, Francesc Albiol, Nuria Valls, David Lifschitz, Xavi Frances, Jose Perez Ocana, Jose Garcia
release US/UK 15.May.20
20/Spain Netflix 1h27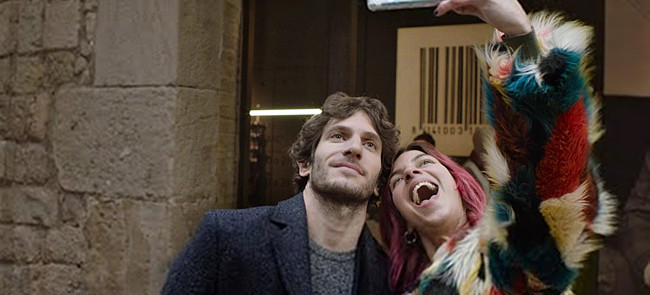 Fast and snappy, this Spanish comedy captures how it feels to be on the dating scene in the age of hook-up apps. While the romcom plot feels familiar, the script drops knowing observations into each scene, touching on some deeper themes along that make the characters easy to identify with. And what the story says about friendship and self-image is even stronger than the cute central romance.
---
After eight years together, Marcos (Gutierrez) pops the question to his girlfriend Ana (Ribas), and she breaks up with him. Two days later, his boss (Frances) makes him redundant and he moves back in with his unexpectedly amorous parents (Albiol and Valls). His laddish best friend Diego (Bassave) wants him to party, but Marcos instead decides that he needs to reinvent himself, taking advice from internet guru Sebastian (Alterio). Then he runs into Raquel (Tena), a long-lost friend from school, and she offers to help with his makover.
---
The film has a brisk pace, often narrated by Marcos straight to-camera with added witty graphics. Dialog is chatty and funny, as Marcos' new life doesn't go quite the way he intended. He and Raquel talk about how they had crushes on each other all those years ago, so it seems obvious where this is headed. But there are other things Marcos needs to do for himself, and these give the film a more focussed kick.

Performances are offhanded and likeable, creating sparky characters who would be fun to hang out with. The actors skilfully offer glimpses beneath the surface to make these people believable. Gutierrez makes Marcos a nice guy with a sharp sense of humour, working on himself but still feeling inferior. By contrast, Tena brings an effortless life-loving wildness, so she of course turns Marcos upside-down. Side roles are much simpler, but add some witty touches, including Bassave's alpha male and Vico as Marcos' new man-eating boss.

Along the way, the script touches the shifting nature of self-identity in the 21st century, including issues about relationships, masculinity and ambition. And while the film has a very strong current of cynicism, it also has a surprisingly warm heart, even if the filmmakers take a few cheap shots to get there. At the centre of the story, Marcos is a man who simply can't find the courage to speak his mind. So perhaps facing down his fears will offer him a chance to look to the future.
| | | |
| --- | --- | --- |
| | themes, language, sexuality | 15.May.20 |
---
The Man Standing Next
Review by Rich Cline |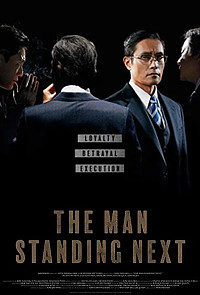 dir Woo Min-ho
scr Woo Min-ho, Lee Ji-min
prd Kim Won-kuk, Sarah Kang
with Lee Byung-hun, Lee Sung-min, Kwak Do-won, Lee Hee-jun, Kim So-jin, Seo Hyun-woo, Lee Tae-Hyung, Jerry Rector, Sung-Geun Park, Kim Seung-Hoon, Ji Hyun-Joon, Joo Suk-Tae
release Kor 22.Jan.20,
US 27.May.20
20/Korea 1h54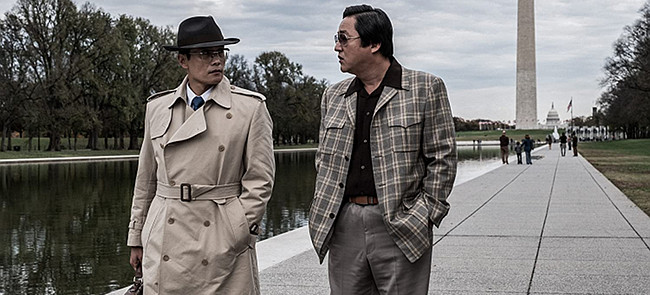 The true story of the South Korean president's assassination in October 1979 is skilfully adapted into a globe-hopping conspiracy thriller by filmmaker Woo Min-ho. Tracing the 40 days leading up to the fateful shooting, the narrative is a spiralling web of international intrigue that feels eerily relevant for a story four decades old. It's a strikingly well-made film, shot on three continents with slick production design and confidently unrushed direction.
---
As former director Yong-gak (Kwak) of Korea's intelligence agency testifies about corruption to the US Congress, he places the blame on President Park Chung-hee (Lee Sung-min). And current director Kim (Lee Byun-hun) is ordered to clean up the mess. But Yong-gak has information that shocks Kim, revealing the president's callous betrayal of the country. So Kim sets out to get to the bottom of the story, but he's obstructed by the president's bullish security chief Gwak (Lee Hee-joon). Then the Korean people begin protesting the regime's unchecked power, and Park's next decision forces Kim's hand.
---
The film opens with a brief rundown of Korea's history, from the 1961 coup to how Korea's intelligence agency used its absolute power so keep Park in office, plus added details in black and white flashbacks. Each scene unfolds with simmering intensity, sometimes buried so deeply within the subtext that the film might seem dull. But there are constant jagged touches, such as a pointed conversation at the Lincoln Memorial, or an angry conversation between rival security officers that devolves into an armed brawl.

Lee Byun-hun has a terrific face, concealing and revealing emotions at the same time, which helps the audience identify with Kim's thought process as events accelerate around him. As the seasoned ex-boss, Kwak offers wonderfully smooth confidence, while Lee Sung-min's President Park has the presence of a strong man who knows when he should be paranoid. He may have orchestrated Korea's economic growth, but his dictatorial rule and not-so-secret corruption caught up with him. So is his murder an act of patriotism or treason?

There are constant echoes of today's political landscape, including the relentless machismo of men flexing their power, delighting as they play rivals against each other and make them grovel. And of course the unspoken thing on everyone's mind is who will be the next man to hold the top spot. The intricate script sometimes bogs down in the gyrations of this spidery conspiracy, but Woo's grounded approach is gripping, especially in several nail-biting set-pieces.
| | | |
| --- | --- | --- |
| | themes, language, violence | 21.May.20 |
---

< < F O R E I G N > >
See also: SHADOWS FILM FESTIVAL

© 2020 by Rich Cline, Shadows on the Wall


HOME | REVIEWS | NEWS | FESTIVAL | AWARDS | Q&A | ABOUT | TALKBACK