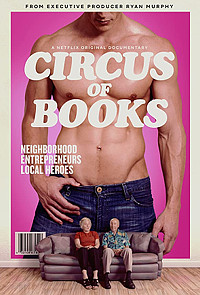 dir Rachel Mason
scr Rachel Mason, Kathryn Robson
prd Adam Baran, Cynthia Childs, Camilla Hall, Rachel Mason, Kathryn Robson
with Karen Mason, Barry Mason, Rachel Mason, Josh Mason, Micah Mason, Larry Flynt, Jeff Stryker, Alaska Thunderf*ck, Phil Tarley, Alexei Romanoff, Fernando Aguilar, Freddie Bercovitz release US/UK 22.Apr.20
19/US Netflix 1h26

---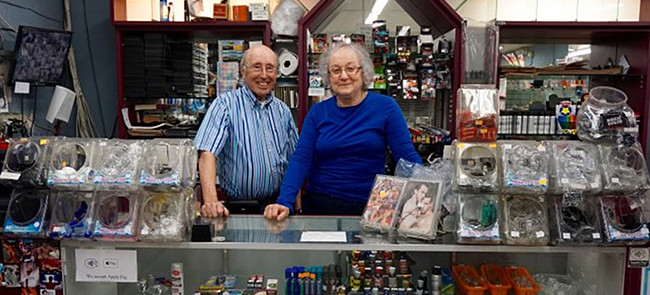 Filmmaker Rachel Mason points the camera at her parents for this lively, engaging documentary. This is a film about a warm, traditional family that's in the gay pornography business. It's great to see how matter-of-fact they are about their work, and Mason packs a lot into this documentary, exploring the collision of issues on several layers. It's a beautifully assembled film that digs under the surface. So it's both entertaining and important.
---
In 1982, Karen and Barry took over Circus of Books on Santa Monica Boulevard, raising their three kids without telling them it was a hardcore porn shop at the centre of the gay scene. At the start, there was a steep learning curve, but they immediately made money. And after opening a branch in Silver Lake, they moved into filmmaking with porn-icon Stryker. "It was strictly an opportunity," Karen says of how they became one of America's biggest gay distributors. "But we never saw any of those movies!"
---
Mason explores fascinating details about her family. A dynamic go-getter, the devoutly Jewish Karen started out as a journalist and interviewed both Potter Stewart (the Supreme Court Justice who famously said of obscenity, "I know it when I see it") and Hustler publisher Larry Flynt. Happy-go-lucky Barry studied film with Jim Morrison, worked on the effects for Star Trek and 2001: A Space Odyssey, and invented a dialysis machine. They thought buying the shop would be a temporary investment.

Using extensive interviews and archival footage, the film puts the Masons' story into the context of LGBT history. At the time of the Black Cat raid and protests in 1966, Circus of Books was the only place that sold gay literature. Then through the Reagan years, the Masons walked a tightrope amid anti-porn sentiment, getting caught in an FBI sting. This was also the time when many employees died of Aids, and they were horrified that so many parents refused to visit their dying children.

Things get even more personal when Mason turns to her brother Josh, who grew up believing it was wrong to be gay, then struggled to accept that he was gay himself. And Karen struggled with this as well. But this conservative family understood the importance of compassion. They stood up to bigots who called them sick, even as they couldn't talk to family or friends about their business, even when they were in trouble. So while it's sad to see their customers dwindle, the Masons' ongoing work as activists is inspiring.
| | | |
| --- | --- | --- |
| | themes, language, strong images | 22.Apr.20 |
---
Nomad: In the Footsteps of Bruce Chatwin
Review by Rich Cline |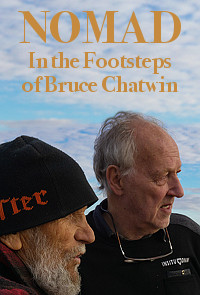 dir-scr Werner Herzog
prd Lucki Stipec, Steve O'Hagan
with Werner Herzog, Elizabeth Chatwin, Nicholas Shakespeare, Peter Bartlett, Glenn Morrison, Alberto Castillo, Karin Eberhard, Shaun Angeles Penange, Petronella Vaarzon-Morel, Michael Liddle Pula, Marcus Wheeler, Robin Granites
release US Apr.19 tff,
UK 21.Sep.19
19/UK BBC 1h29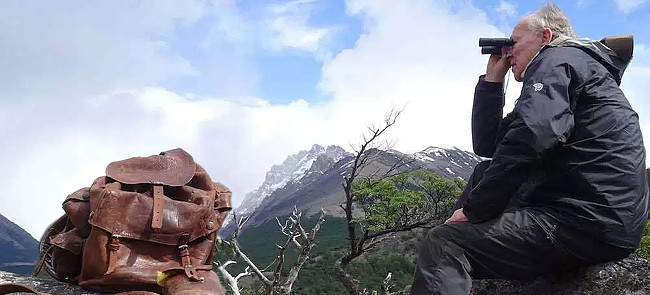 Iconic filmmaker Werner Herzog worked with writer-adventurer Bruce Chatwin for several years before he died in 1989. Chatwin was fascinated by restlessness, why people felt the need explore new places and live as nomads. In this lyrical, personal film, Herzog takes a journey inspired by their friendship and shared explored landscapes. Chatwin's detailed, wryly hilarious storytelling is reminiscent of Herzog's filmmaking. As Nicholas Shakespeare says, he embellished his stories to make them truer.
---
In a superb interview, Chatwin's widow Elizabeth speaks about his alert mind and his love of telling stories and making jokes. And Herzog remembers their first meeting in 1983 Melbourne, then continually swapping stories over the years. The last time they met, Chatwin was fatally ill and asked Herzog to keep carrying his rucksack. This documentary is set out in eight chapters as Herzog traces Chatwin's life, noting a variety of telling connections.

First, The Skin of the Brontosaurus explores Chatwin's first book In Patagonia (1977), as Herzog travels to the cave he photographed, discovering how his grandmother's stories sparked his imagination. Landscapes of the Soul follows Chatwin's exploration of lay-lines in Wales, echoed in Herzog's film Signs of Life (1968). Songs and Songlines highlights Chatwin's thoughts on the Australian landscape, how identity is formed by language, songs and poetry, and vice versa. The Nomadic Alternative looks at an unpublished mythical manuscript about how our ancestors travelled as far as they could go.

Journey to the End of the World follows Chatwin to southernmost Chile, where the indigenous nomadic civilisation was wiped out by Europeans, something that haunted him. Chatwin's Rucksack looks at the bag that travelled thousands of miles before Herzog took it on, putting it in his film Scream of Stone (1991), where it saved Herzog's life. Cobra Verde centres on Herzog's 1987 film adaptation of Chatwin's book The Viceroy of Ouidah, about a real Brazilian outlaw who became a slave trader in Africa. And finally, The Book Is Closed touches on Chatwin's bisexuality, which Herzog feels was irrelevant, while Elizabeth says it never affected their relationship. He died from Aids at age 49.

The film is beautiful both thematically and visually, as Herzog captures surreal landscapes with his distinct perspective, such as ants crawling on a freaky spiny lizard. Indeed, Herzog sought creatures and places that looked like sci-fi movies, mixed with wonderful historical photographs. Chatwin particularly loved one of Herzog's aphorisms: "The world reveals itself to those who travel on foot."
| | | |
| --- | --- | --- |
| | themes, nudity | 13.May.19 |
---
Rescue the Fire Rettet das Feuer
Review by Rich Cline |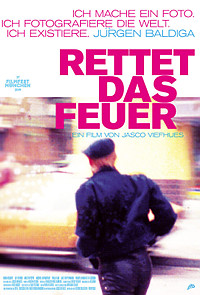 dir-scr-prd Jasco Viefhues
with Jurgen Baldiga, Aron Neubert, Ulf Reimer, Meitta Poppe, Paula Sau, Michael Brynntrup, Renate, Wanda de la Gosse, Mignon, Axel Wippermann
release Ger Jun.19 mff,
UK Mar.20 flare
19/Germany 1h23

---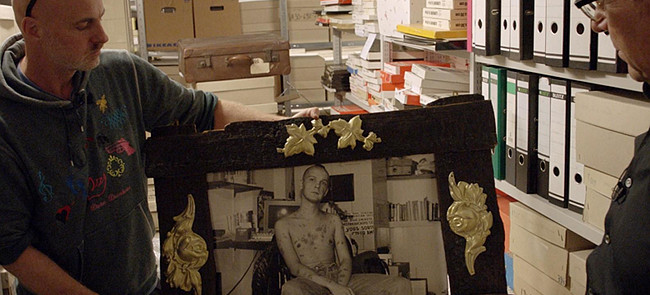 This unusual documentary looks back at the life and work of German artist-photographer Jurgen Baldiga. Rather than a straightforward narrative, his story emerges in a free-flowing current of recollections by his friends as they look at his work. Not only does this provide a terrific glimpse of their life back in the day, but it also affirms the importance of art to help define key moments in history.
---
As he was dying in 1993 Berlin, Baldiga contemplated the toll of Aids on the arts community, wondering who would be left to tell the stories. In 2018, his surviving friends visit his archive in the Schwules Museum, and each photograph, notebook and painting sparks a range of memories about Jurgen and their circle of artists. Anecdotes are colourful and often hilarious, as they admit everyone went over-the-top to cope with the steady stream of funerals at the time.
---
A prolific photographer, painter, poet, filmmaker and performance artist, Baldiga's work documented gay life in 1980s Germany with provocative, unflinching honesty. In addition to shooting iconic images of artists, musicians and filmmakers, he took action against government cuts that harmed the LGBT community just as Aids was taking hold. And when he fell ill, he became determined to "live faster, more intensively", adding even more passion into his work. He died in 1993 at age 34.

The stories are recounted with energy and a witty sense of perspective, mixing silly memories with more pointed topical events, such as when Jurgen cast his first sarcoma in resin or the way he photographed himself wasting away and dying, drawing ironic contrast with his previous images as a gay scene pinup. He even instructed a friend to photograph him after his death, reflecting his mantra: "Educate people, don't hide." As one friend observes, Baldiga had a real talent to connect with people; his media and techniques were almost incidental.

Filmmaker Viefhues creates a vivid, pointed portrait as people remember events firsthand and Baldiga's depictions help guide them into a deeper understanding of their own lives. His close friend Neubert admits that he was in love with Baldiga, who designated Neubert to be the custodian of his journals. He also takes the viewer through a series of framed portraits stored in a cupboard that are powerfully emotive. This film recounts Baldiga's story, and especially his final years, with the honesty he demanded of his friends. It's tough and real, and surprisingly affirming even as it documents a devastating period in human history.
| | | |
| --- | --- | --- |
| | themes, language, nudity | 29.Mar.20 flare |
---

< < D O C S > >
See also: SHADOWS FILM FESTIVAL

© 2020 by Rich Cline, Shadows on the Wall


HOME | REVIEWS | NEWS | FESTIVAL | AWARDS | Q&A | ABOUT | TALKBACK