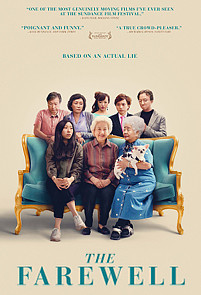 dir-scr Lulu Wang
prd Anita Gou, Daniele Tate Melia, Andrew Miano, Peter Saraf, Marc Turtletaub, Chris Weitz, Jane Zheng
with Awkwafina, Zhao Shuzhen, Tzi Ma, Diana Lin, Jiang Yongbo, Lu Hong, Li Xiang, Liu Hongli, Chen Han, Aoi Mizuhara, Yang Xuejian, Liu Jinhang
release US 12.Jul.19,
UK 20.Sep.19
19/US 1h40




---
SUNDANCE FILM FEST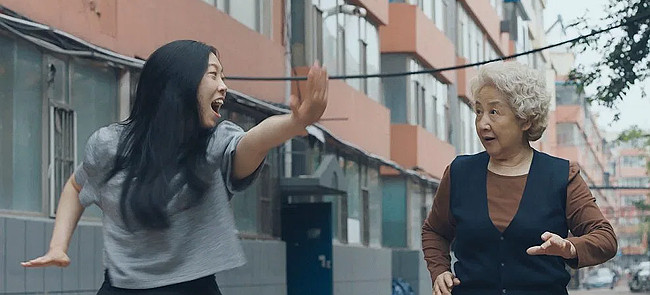 Warm and bracingly realistic, this autobiographical comedy-drama explores an extended Chinese family and the cultural issues that arise between family members who now identify as Chinese, American or Japanese. Superbly engaging, it's so sharply written and directed by Lulu Wang that it's easy to identify with. And it's played with earthy honesty by an eclectic cast adeptly led by Awkwafina in her first dramatic lead role.
---
Billi (Awkwafina) moved to New York at age 6 with her parents (Tzi and Lin), and has remained close to her grandmother Nai Nai (Zhao), who has just been diagnosed with lung cancer. But in Chinese tradition, she hasn't been told. Now the family is returning to Changchun on the pretext of a wedding between Billi's only cousin (Chen) and his Japanese girlfriend (Mizuhara). Naturally, Billi struggles to remain upbeat and offhanded while spending time with Nai Nai, as does everyone else. But the elaborate plans for the marriage keep everyone distracted.
---
Wang's script astutely explores clashing feelings that gurgle up throughout a series of well-played events. Billi and her parents want to be honest with Nai Nai, but they respect the tradition not to offload their emotions onto her, but to bear her burden. It's fascinating to see eachk branch of the family working through their very distinct feelings. Billi's aunt and uncle (Liu and Jiang), the groom's parents, have lived in Japan for the past 25 years, while Nai Nai's younger sister (Lu) has put her life on hold to help her.

Each character is so vividly written and played that we begin to feel like a part of the family ourselves. The dynamics between these people stretch back generations, adding clever wrinkles everywhere. Awkwafina gives a beautifully layered, openly emotional performance that remains subtle even in the film's crazier moments. As the long-lost brothers, Tzi and Jiang are terrific, especially when they're together. And Zhao is wonderful as the involved, life-loving Nai Nai.

While the film plays with issues of old-world values and modern sensibilities, Wang never seems to be pushing a message. She's simply telling a story from her experience that has universal ramifications. Not only does it offer a lovely glimpse into Chinese family life, but it also provides a reflection of the way relatives love each other both despite their differences and because of them. It's a timely reminder that all of us are connected to something much larger than ourselves.
| | | |
| --- | --- | --- |
| | themes | 16.Sep.19 |
R E A D E R R E V I E W S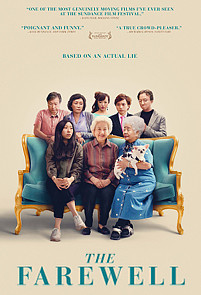 Still waiting for your comments ... don't be shy.