dir Desiree Akhavan
scr Desiree Akhavan, Cecilia Frugiuele
prd Michael B Clark, Cecilia Frugiuele, Jonathan Montepare, Alex Turtletaub
with Chloe Grace Moretz, John Gallagher Jr, Sasha Lane, Forrest Goodluck, Jennifer Ehle, Marin Ireland, Owen Campbell, Kerry Butler, Quinn Shephard, Emily Skeggs, Melanie Ehrlich, Christopher Dylan White
release US 3.Aug.18, UK 31.Aug.18
18/US 1h31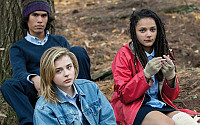 Quietly rebellious: Goodluck, Moretz and Lane



---
SUNDANCE FILM FEST

R E V I E W B Y R I C H C L I N E

There's an almost eerie honesty to this teen drama, which makes it feel bracingly current even though it's set 25 years ago. With naturalistic performances and a topic that has become uncomfortably timely all over again, the film worms its way under the skin. Based on a novel by Emily Danforth, director-cowriter Desiree Akhavan gives the film an autobiographical tone, which adds a proper kick of resonance.

In 1993, teen Cameron (Post) is caught on prom night kissing her best friend Coley (Shephard). Orphaned after a car accident, Cameron lives with her conservative Aunt Ruth (Butler), who sends her to a church-based gay conversion camp, where Dr Lydia (Ehle) is trying to "correct" the teens' gender identities with the help of Rev Rick (Gallagher), a former camper. Cameron's roomate Erin (Skeggs) is taking all of this very seriously, as is the brittle Mark (Campbell), but Cameron finds more common ground with the quietly rebellious Jane and Adam (Lane and Goodluck).

The script adds depth by cleverly filling in back-stories for most characters. Each person is dealing with a singular situation in his or her own way. While the kids react in different ways to the lessons, the camp leaders are at least acting out of compassion, misguided as it might be. Meanwhile, the film dips into Cameron's subconscious through telling dreams and fantasies. She is clearly confused about why her most honest, positive urges are considered sinful.

Moretz skilfully portrays this strong-willed young woman who knows herself better than anyone thinks she does. Her interaction with others is feisty and telling, and each of the supporting cast gives a layered performance. Lane and Goodluck are particularly strong, while Gallagher brings some transparency to Rick that continually catches us off guard. Ehle has less nuance as the sure-minded Lydia, but registers vividly as a force of nature.

Cameron's journey is unpredictable simply because the film is so truthful, packed with moments of sharp humour and offhanded wit. Most importantly, Akhavan never pokes fun at the religious fervour. Even if the sincerity is sometimes amusing, there's a sense that these people are deluded rather than evil. This is refreshing for a film that has such a clear message, because the ideas come through without ever feeling heavy-handed. Indeed, it adds a vital punch when one wounded boy quotes St Paul (namely 2 Corinthians 12:7-10*) on the subject.
| | | |
| --- | --- | --- |
| | themes, language, sexuality | 16.May.18 |

* In order to keep me from becoming conceited, I was given a thorn in my flesh, a messenger of Satan, to torment me. Three times I pleaded with the Lord to take it away from me. But he said to me, "My grace is sufficient for you, for my power is made perfect in weakness." Therefore I will boast all the more gladly about my weaknesses, so that Christ's power may rest on me. That is why, for Christ's sake, I delight in weaknesses, in insults, in hardships, in persecutions, in difficulties. For when I am weak, then I am strong.