dir Jim Hosking
scr Jim Hosking, David Wike
prd Sam Bisbee, Theodora Dunlap, Emily Leo, Oliver Roskill, Andrew Starke, Lucan Toh
with Aubrey Plaza, Jemaine Clement, Emile Hirsch, Craig Robinson, Matt Berry, Maria Bamford, Zach Cherry, Sam Dissanayake, Jacob Wysocki, John Kerry, Bruce Paz, Kirsten Krieg
release US 19.Oct.18, UK 26.Oct.18
18/UK Film4 1h48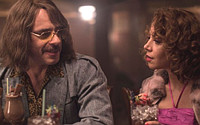 Pretty in pink: Clement and Plaza



---
SUNDANCE FILM FEST

R E V I E W B Y R I C H C L I N E

After the bonkers, incomparable The Greasy Strangler, filmmaker Jim Hosking is back with this much more assured follow-up. He's once again channelling John Waters and David Lynch, but this time there's both a momentum to the story and an engaging complexity to the characters. It's perhaps going to seem a lot funnier to fans of that earlier movie, but this one is endearing in its own right.

Lulu Danger (Plaza) is bored working in the fast food joint her annoying husband Shane (Hirsch) manages. So she's unbothered when he sacks her. Then while watching TV, Lulu sees an ad for a magical night with Beverly Luff Linn (Robinson), with whom she has a history. Meanwhile, Shane has stolen the savings of Lulu's brother Adjay (Dissanayake), who hires Colin (Clement) to recover the cash. And when Lulu takes the cash and runs, Colin falls for her, following her to a hotel for a fateful encounter with Beverly and his over-loyal sidekick Rodney (Berry).

Hosking fills every scene with random gags. Some are subtle and witty, while most are absurd and silly. Characters come and go throughout the story, each with his or her own eccentricity, leading to a riotous variety of awkward encounters and mixed messages. At the centre of the farce there's the mystery of Lulu's connection to Beverly, the reasons why Beverly seems to only communicate in grunts, and the lingering question of whether Beverly is a man's name.

The actors are a mixed bag of wacky, full-on newcomers and established professionals who effortlessly add subtext to even the most ridiculous moments. Plaza and Clement are especially adept at finding the yearning souls of their characters, something that perhaps isn't in the script. Berry also builds a complexity that keeps his character intriguing even if he's impossible to like. And Hirsch and Robinson bring some witty touches to their goofy roles.

The film's design is riotously amusing, as the hotel (and indeed Beverly himself) has a Scottish theme that plays out in surprising ways. Andrew Hung's score picks up on this while also echoing the deep tones of Angelo Badalamenti, as if this hotel is in an undiscovered corner of Twin Peaks. Best of all is how Hosking finds some larger themes within the nuttiness, touching on how the past haunts us. And that what we remember might not be what actually happened.
| | | |
| --- | --- | --- |
| | themes, language, violence, sexuality | 27.Sep.18 |