dir Paolo Sorrentino
prd Jude Law
scr Tony Grisoni, Umberto Contarello
with Jude Law, Diane Keaton, Silvio Orlando, Scott Shepherd, Cecile De France, Javier Camara, James Cromwell, Ludivine Sagnier, Toni Bertorelli, Daniel Vivian, Allison Case, Frank Gingerich
release It Sep.16 vff,
US/UK Oct.16 tv
16/Italy Sky 1h52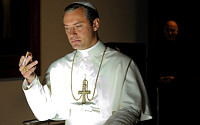 Shake things up: Law



---

R E V I E W B Y R I C H C L I N E

It's nothing short of tragic that this show failed to spark solid ratings or awards attention. After seeing the first two astonishing episodes as a feature film at the Venice Film Festival, I was wondering if creator-director Paolo Sorrentino could sustain the mix of comedy, drama and surrealism. Indeed he did, and magnificently so. Where this series goes is nothing short of revolutionary. It's witty, disturbing and gorgeous at the same time, and it was impossible to predict how these events would play out. And the acting by Jude Law, Diane Keaton, James Cromwell and Silvio Orlando is some of the very best on TV all year.

Venice Film Festival review:
The first two episodes of Paolo Sorrentino's controversial TV series were screened as a feature at the Venice Film Festival. It's a ripping drama that dares to take a playful tone as it sets up the tension between a youthful Pontiff and the establishment he's deliberately trying to rattle. So while it's a lot of fun, it's also pointed and ultimately chilling.

At just 47, Lenny (Law) is the youngest man ever selected as pope. And everyone, including him, is curious to hear his first address. An American orphan raised in a convent before rising through the ranks of the Catholic church, the new Pope Pious XIII rejects traditional diplomacy and courtesy, shaking up his Secretary of State Voiello (Orlando) and the other cardinals. About the only cardinal he likes is the sensitive Gutierrez (Camara). Then he summons Sister Mary (Keaton), the nun who raised him, to be his closest advisor. And he begins shaking things up.

Sorrentino opens the film with the first address Lenny dreams about making, then closes with the real thing, which is an outrageous dramatic hook leading into the series. In between, the film strikes a perfect balance between wry comedy and poetic drama. Each scene looks exquisite, with sets, costumes, makeup and hair that are both realistic and witty at the same time. Without quite puncturing the authority of the Vatican, Sorrentino is gently poking it, pointing out how far the church has drifted over the centuries since it was founded by a homeless fisherman.

Performances are mesmerising. Law is terrific as a man who's both a true believer and marches to his own drumbeat. Keaton is also having fun, saying as much with her wry pauses as with her dialog. Orlando is a superb blusterer, as Voiello watches his reign of power come to an end. Other characters will surely develop over future episodes, including Cromwell as Lenny's mentor/rival, de France as the Vatican's head of marketing and Sagnier as the troubled wife of a guard.

Wherever this goes, this is yet another TV series that finds extended currents of interest far more effectively than most movies. By deliberately refusing to either take everything seriously or veer into satire, Sorrentino plays his cards close to his chest. There's a lot of talk about cleaning out corruption, but there are two sides. It's astonishing that an Italian filmmaker has taken on something as sacred as the Vatican, but clearly Sorrentino is the chosen one.
| | | |
| --- | --- | --- |
| | themes, language, nudity | 3.Sep.16 vff |