dir-scr Andrew Haigh
prd Tristan Goligher
with Charlotte Rampling, Tom Courtenay, Geraldine James, Dolly Wells, David Sibley, Sam Alexander, Richard Cunningham, Hannah Chalmers, Camille Ucan, Rufus Wright, Max Rudd, Martin Atkinson
release UK 28.Aug.15
15/UK Film4 1h33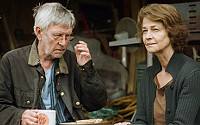 A redefinition: Courtenay and Rampling




• TOP 5 FILM
• BEST DIRECTOR
• BEST ACTRESS:
CHARLOTTE RAMPLING

R E V I E W B Y R I C H C L I N E
Without breaking a sweat, this exquisite exploration of relationships and self-image is far punchier than the year's biggest action blockbuster. In the quietly expressive performances of Rampling and Courtenay, the story evolves as a journey into the intimacy between a solid, long-established couple. There isn't a false moment in the film, and it leaves a lasting mark.

In the week before a party to celebrate their 45th wedding anniversary, Kate (Rampling) learns that Geoff (Courtenay) has been informed that the body of an old girlfriend has been found in a Swiss glacier, more than 50 years after she fell to her accidental death. The problem is that Geoff had never spoken about her before, and Kate is suddenly shaken by the idea that she was his second choice. Over these seven days, feelings surge and subside. Kate and Geoff never had children, and now their solid foundation has a crack in it.

Writer-director Haigh takes a remarkably sensitive approach to this story, shooting with minimal camera movement while capturing telling details in every scene. He also builds a remarkable sense of suspense as the party night approaches, but never lets things tip into melodrama. Every scene is a knot of unexpected thoughts and feelings, gentle wit and jolting insight. There are also subtle metaphors everywhere, from the underground fissure that revealed Geoff's hidden past to the attic crammed with memories of a long, happy life.

Rampling and Courtenay play these characters as complex people with their own inner lives. We can see their pasts in their eyes, and also the fact that they're still open to what life throws at them, still discovering themselves and working out how to express their feelings. This makes their conversations almost unnervingly revelatory, because they feel so present, personal and honest. And every scene is played with a delicate balance of passion and insecurity.

Most intriguing is that this isn't a story about repression or deception. The main point here is that all of us neglect to discuss the things that haunt us simply because we don't know how we feel about them. So, in the skilled hands of this cast and crew, a quiet bedtime conversation becomes one of the most powerful cinematic moments of the year. And a lonely slide show in a dusty loft leaves us gasping for air. It's about discovering that someone who ceased to exist before you were born has had an impact on every moment of your life.
| | | |
| --- | --- | --- |
| | themes, language, sexuality | 28.May.15 |