dir Richard Linklater
scr Richard Linklater, Skip Hollandsworth
prd Richard Linklater, Ginger Sledge
with Jack Black, Shirley MacLaine, Matthew McConaughey, Brady Coleman, Richard Robichaux, Rick Dial, Brandon Smith, Larry Jack Dotson, Merilee McCommas, Matthew Greer, Amparo Garcia, Gabriel Luna
release US Jun.11 laff, UK Oct.11 lff
11/US Mandalay 1h44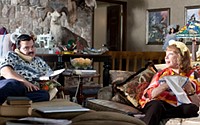 Harold and Maude redux: Black and MacLaine



---

R E V I E W B Y R I C H C L I N E
Jack Black delivers one of his strongest performances in this rather outrageous true story from East Texas, which Linklater tells with a witty blend of comedy, drama and documentary. It's played dead straight, but it's consistently hilarious.

Bernie (Black) is a mortician and well-loved member of the Carthage, Texas, community. He dives into every aspect of life, not only organising funerals but caring for widows, running the local art show and directing the theatre group. Then his life takes a strange turn after he meets Marjorie (MacLaine), a hot-tempered, wealthy widow who's estranged from her family. He starts managing her finances and travelling with her around the world. And after she rewrites her will, leaving everything to him, things get even more bizarre.

The story is narrated through interviews with the townspeople, who provide amusingly honest opinions on Bernie and the events led to his trial for Marjorie's murder. These interviews are shot documentary-style, and apparently some are real people commenting on the actual events. Which makes the film that much more engaging, since we see the things through their eyes, giving Bernie the benefit of the doubt simply because he's such a likeable guy.

The script is packed with laugh-out-loud lines, as the characters' sharp honesty catches us off guard. The actors cleverly underplay their roles, never punching the comedy inherent in each scene. Black has never been quite this much in control of his rubbery features, which are actually an important part of Bernie's endearing personality. But he also lets us see a more serious side to this sunny character while maintaining the enigma. Opposite him, MacLaine is at her pinch-faced best. And McConaughey is also terrific as the blustering prosecutor who can't believe anyone would take Bernie's side.

Linklater directs all of this with tongue firmly in cheek, creating witty visual gags and intriguing comical currents underneath what's essentially an intensely serious story. As a result, the film completely wins us over, just as Bernie wins over everyone he meets. And along the way, the film quietly makes an important - and blackly ironic - statement about the nature of true justice and small-town community values.
| | | |
| --- | --- | --- |
| | themes, language, some violence | 26.Sep.11 lff |