dir Pete Docter
scr Bob Peterson, Pete Docter
voices Ed Asner, Christopher Plummer, Jordan Nagai, Bob Peterson, Delroy Lindo, Jerome Ranft, John Ratzenberger, Elie Docter, Jeremy Leary, David Kaye, Mickie McGowan, Danny Mann
release US 29.May.09, UK 9.Oct.09
09/US Disney 1h36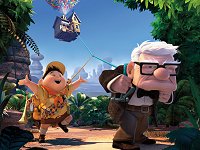 Pesky kid: Russell and Carl



---
CANNES FILM FESTIVAL
R E V I E W B Y R I C H C L I N E

Like Wall-E, this Pixar-produced feature has an unusual structure that continually keeps us off guard. It also tells a story that's refreshingly mature, with moments of heartbreaking sadness and quiet contemplation. Along with the talking dogs and big action scenes.

Since he was a boy, Carl (voiced by Asner) has been obsessed with adventure, following the exploits of the larger-than-life explorer Muntz (Plummer). And Carl shared this yearning with his wife Ellie, although the circumstances of life meant that they never achieved their dream to travel to Muntz' famed Paradise Falls in South America. Now a widower, Carl is finally spurred to action, using helium balloons to fly his house away. But he has company in the form of the eager Russell (Nagai), and they make several strange discoveries in South America.

As usual, Pixar's animation work is astounding, packed with vibrant colour, incredible details and clever design. These things are even more vivid when projected digitally (although the 3D is fairly irrelevant). And the character design is extremely inventive, as the round youngsters contrast to squared-off older people. All of the characters are lively and engaging, with especially fine voice work from Asner. Nagai is terrific as a boy who's trying way to hard to fill a gap in his life, while Plummer gives a superbly mercurial performance matched by the animators' skill. And the dogs, which speak through a wacky technical innovation, provide some great comedy ("Squirrel!").

As with Wall-E, the film's strongest segment is its first act, in which we see Carl and Ellie's life together in a wordless montage that's simply gorgeous (and is matched by another sentimental sequence at the end). This gives what Carl goes through a rich resonance. There are frequent pangs of sadness throughout the film that beautifully balance both the adrenaline-charged action and broad comedy. This keeps both our hearts and minds involved with the story, even when the script ignores even the goofy logic of its own premise. Oddly, there are virtually no female characters in this film (even all the dogs are male). But it's a lovely tale about looking forward, never giving up on adventures and taking care of those who love us.
| | | |
| --- | --- | --- |
| | themes, violence | 24.Jun.09 |