dir-scr Adam Elliot
prd Melanie Coombs
voices Philip Seymour Hoffman, Toni Collette, Renee Geyer, Barry Humphries, Eric Bana, Bethany Whitmore, Michael Ienna, Ian 'Molly' Meldrum, John Flaus, Julie Forsyth
release Aus 9.Apr.09, US 25.Sep.09,
UK 22.Oct.10
09/Australia 1h32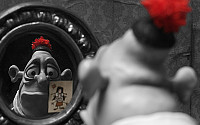 Man in the mirror: Max looks at Mary's self-portrait



---
SUNDANCE FILM FESTIVAL


R E V I E W B Y R I C H C L I N E

For his first feature, filmmaker Elliot (who won an Oscar for his remarkable short Harvie Krumpet) uses claymation to tell a dark, grown-up story about an extraordinary friendship over 20 years.

Mary (voiced by Whitmore then Collette) is a friendless 8-year-old in Melbourne whose father spends his life quietly stuffing birds while her luridly colourful mother Vera (Geyer) remains attached to a sherry bottle. Desperate for a friend, she writes to a random New Yorker: Max (Hoffman) is a painfully lonely 44-year-old with Asbergers, and her letter completely unsettles his carefully ordered life. But he eventually responds, and over the decades each of them opens up to their pen-pal in extremely unusual ways.

Elliot packs each scene with fantastic details, facts and sight gags, accompanied by impertinent narration by the terrific Humphries. Australia looks washed in drab browns and America in grim greys, while the characters have bulbous eyes, goofy ears and a profound inner sadness. Yet we identify so vividly with them the film is sometimes hard to watch, even as Elliot constantly gives us raucous humour or pure hope.

This is a film about the deep human need to find someone who understands us. Over the years, both Mary and Max develop friends and acquaintances (including Bana as Mary's hilarious Greek neighbour), although it's only their letter-writing that's constant. They share their goals and dreams, their yearning to find a friend and their joy in each other--even half a world away. And the voice work is terrific: proper performances that are packed with personality.

Combine this with the expressive, evocative imagery, and we can't help but empathise with the characters' emotions. As Mary and Max learn to rely on each other, they unwittingly encourage each other to break out of their shells. And we fall for them completely, wondering along with them why some people are considered "normal" as if that's a good thing. And also why accepting ourselves is harder than accepting other people.

Despite being animated, this is definitely not a movie for children, although some younger viewers will be captivated by the story's raw honesty, the delightfully warped sense of humour and even the gross-out asides (Max farts almost constantly). This is a witty and sometimes tough story, touching on upsetting events and big issues. And despite the underlying emotion, the film is never sentimental, even as it breaks our hearts more than once along the way. But in the most wonderful way.
| | | |
| --- | --- | --- |
| | themes, language, violence | 17.Jun.09 eiff |