R E V I E W B Y R I C H C L I N E
dir-scr Tony Gilroy
with George Clooney, Tom Wilkinson, Tilda Swinton, Sydney Pollack, Michael O'Keefe, Ken Howard, Denis O'Hare, Robert Prescott, Austin Williams, David Lansbury, Sean Cullen, Merritt Wever
release UK 28.Sep.07; US 3.Oct.07
07/US Castle Rock 1h59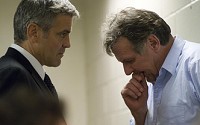 What have you done now: Clooney and Wilkinson





• SUPPORTING ACTRESS:
TILDA SWINTON
VENICE FILM FEST
TORONTO FILM FEST

Insinuating and extremely clever, this insightful, low-key thriller takes a provocative look into the life of a man whose world begins to unravel around him. And that might be a good thing.

Michael Clayton (Clooney) is a loyal member of a high-powered New York law firm, very good at his job cleaning up messy situations. "I'm not a miracle worker," he says. "I'm a janitor." And his current case will seriously test his skills, as a respected colleague (Wilkinson) has a meltdown that could cost the firm a fortune, and the company involved sends its shark lawyer (Swinton) looking for blood. Everyone is trying to clean things up to their advantage. And as it gets messier and messier, Michael must face the realities of what he does for a living.

This is the kind of movie in which everyone has a secret they'll do almost anything to protect, and screenwriter Gilroy, making his directorial debut, wisely avoids turning this into a full-on action movie. He lets the fires burn slowly, gathering force until each revelation and encounter, with moments of almost unbearable tension along the way. This approach also lets the cast fully inhabit their roles.

Clooney gets what's surely the most intricate role of his career, and he gives Michael a beautifully haunted face: casually efficient and yet thoroughly exhausted as he tries to re-prioritise his life, hopefully before it's too late. It's a meaty, gripping and thoroughly engaging performance. As his nemesis, Swinton is both brittle and terrifying, especially as she lets her guard down every now and then so we can see the human beneath the ruthlessly efficient exterior. And Wilkinson is effective in his usual role as the unstable guy who knows more than he can say.

Besides the terrific script and characterisations, Gilroy demonstrates a real gift for directing, with several sequences that are staged with remarkable skill. A professional hit in the middle of the film is utterly jaw-dropping, and scenes other directors would be tempted to wallow in are handled with elegance and an almost off-handed honesty. This is certainly not a big Hollywood blockbuster thriller, but in its own way, it knocks the socks off most of them.
| | | |
| --- | --- | --- |
| | themes, language, violence | 16.Jun.07 |