R E V I E W B Y R I C H C L I N E
dir-scr Michel Gondry
with Jack Black, Mos Def, Danny Glover, Mia Farrow, Melonie Diaz, Irv Gooch, David Slotkoff, Chandler Parker, PJ Byrne, Marceline Hugot, Marcus Carl Franklin, Sigourney Weaver
release US/UK 22.Feb.08
07/US Focus 1h36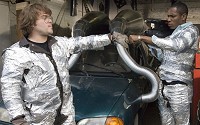 Who you gonna call: Black and Def




Gondry is back with another sublimely strange film, using an ingenious premise and a thoroughly unexpected style of moviemaking. It's a scruffy, likeable little comedy, even though it's not actually very funny or involving.

Mike (Def) is a conscientious worker in a tiny old-style video rental shop in Passaic, New Jersey, left in charge while the boss (Glover) is out of town trying to save the business. But Mike's in trouble, since his manic, paranoid friend Jerry (Black) is hanging around. After trying to sabotage the local power plant, the now-magnetised Jerry erases all the videotapes. So when a customer (Farrow) requests Ghostbusters, Jerry and Mike decide to re-enact the film, a process they call "sweding". Soon, their sweded movies are all the rage. Then the studio copyright lawyers find out.

Gondry's approach to such an effects-heavy premise is thoroughly refreshing, as it was in his last two films (Eternal Sunshine of the Spotless Mind and The Science of Sleep). He avoids digital trickery for in-camera tomfoolery involving clever angles, colourful chaos and lots of cardboard cutouts. The result looks fantastic, especially the hilariously nutty sequences featuring re-imagined scenes from the full range of cinematic history, including The Lion King, Driving Miss Daisy, 2001: A Space Odyssey and Boyz N the Hood.

The performances feel breathless and improvised, like the actors are just trying to keep up with Gondry's directorial outrageousness. The main problem is that Mike and Jerry are too stupid to hold our interest, especially as the film spirals in so many directions. The "let's save the shop" plotline feels extremely predictable, although Gondry's extraordinary visual style is certainly enough to hold our attention. We might know where the story is heading, but we have no idea what he'll show us next.

Gondry's movies feel almost hand-made, like guerrilla filmmaking that's rough and inventive, battling against the odds. He consistently proves that production values are irrelevant if you have imagination, and this film is like his thesis on the subject. So even if the film is sillier than it is funny, and both simplistic and rather improbable, this is still one of coolest movies around.
| | | |
| --- | --- | --- |
| | themes, language, vulgarity | 18.Oct.07 |