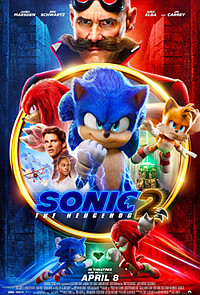 dir Jeff Fowler
scr Pat Casey, Josh Miller, John Whittington
prd Neal H Moritz, Toru Nakahara, Toby Ascher, Hitoshi Okuno
with Ben Schwartz, Jim Carrey, Idris Elba, Colleen O'Shaughnessey, James Marsden, Tika Sumpter, Natasha Rothwell, Shemar Moore, Adam Pally, Lee Majdoub, Vladimir Ruzich, Ted Barba
release UK 1.Apr.22,
US 8.Apr.22
22/US Paramount 2h02




---
See also: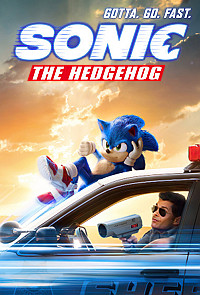 ---
Is it streaming?

---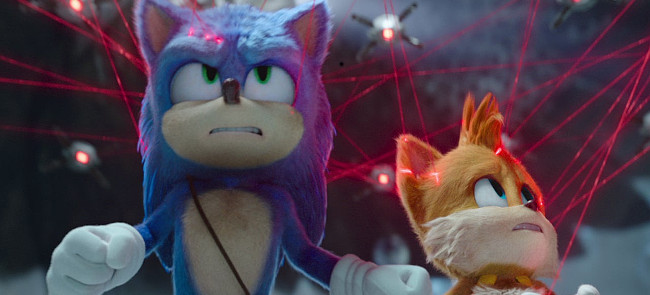 For this sequel to the engaging 2020 hit, filmmakers hone in on corny silliness rather than sharp gags. So madcap action sequences are neither witty nor thrilling, and often feel randomly inserted into a script made up as they went along. It's a patchwork of overworked jokes and dated references that very young children will enjoy. Although the considerable comical powers of Jim Carrey are underused this time.
---
Trying to be a superhero before he's quite ready, Sonic (voiced by Schwartz) is encouraged to patiently grow up by his adoptive parents Tom and Maddie (Marsden and Sumpter). Then they immediately head off on holiday, leaving Sonic just as the villainous Robotnik (Carrey) returns from imprisonment to again attempt to steal Sonic's power. But the arrival of another alien, muscly echidna Knuckles (Elba), alerts Robotnik to something even more tantalising: the Master Emerald. Soon they're all on a crazed round-the-world quest to find it, with Sonic assisted by his flying-fox superfan Tails (O'Shaughnessy).
---
Lazy writing and direction undermine most scenes, with errors in continuity and logic, plus pop references that will feel tired even to parents of younger audience members, such as Heart's 1977 hit Barracuda and 1982's Poltergeist, plus heavy doses of usual suspects Raiders of the Lost Ark (1981) and Ghostbusters (1984). Everything here is played up for maximum slapstick wackiness, but without a grounding in genuine wit it feels merely colourful and silly.

Marsden is as charming as ever in a smaller role, while Sumpter gets a bit more to do this time, as does Rothwell as her sassy friend, whose dream wedding to the beefy Moore is amusingly disrupted by the shenanigans. Each of these actors has strong comic timing, and is able to surf through the nonsense unscathed. Meanwhile, Carrey chomps scenery for his life, but only manages to deploy a few properly pointed zingers. This makes Robotnik seem more desperate than arrogantly brilliant.

There's of course some absurd fun to have along the way, and the high energy level at least means that the seriously unnecessary two-hour running time never drags. Many sequences feel designed simply because they look cool, rather than because they have meaning in the plot, such as an extended snowboarding sequence in Siberia. And for all the talk about family bonds and loyal friendship, the script rarely allows the characters to actually work together on anything. So even the sentimentality rings hollow this time.
| | | |
| --- | --- | --- |
| | themes, language, violence | 27.Mar.22 |
R E A D E R R E V I E W S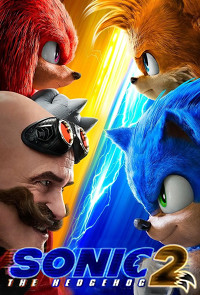 Still waiting for your comments ... don't be shy.