---
Eleven Days in May
Review by Rich Cline |


dir Mohammad Sawwaf, Michael Winterbottom
prd Ben Pearce, Hashim Alsaraf, Mohammad Sawwaf, Michael Winterbottom
narr Kate Winslet
release UK 6.May.22
22/UK Revolution 1h24

---
Now streaming...

---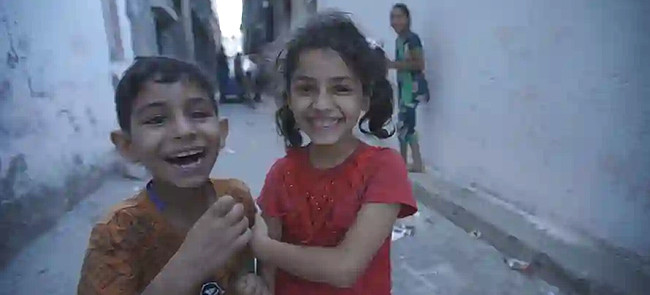 This strikingly well-made documentary skilfully details the children killed when Israel dropped bombs on Palestine over 11 days in May 2021. Taking an intimate approach, the film reminds us that each of these children was a person who was loved. Because it is so awash in grief, this is a difficult film to watch. But it's an urgent reminder of the awful toll conflicts take on society's most innocent people.
---
Following protests about Palestinians being evicted from their longtime homes during Ramadan, Israelis replied with bullets and bombs in the central mosque, and then over 11 days launched missiles directly into the homes of Palestinian civilians. The more than 60 children killed range from infants to teenagers; they are named here and memorialised by their siblings, parents and grandparents. At the time they were killed, These children were playing, sleeping, doing chores, running errands, washing the car or working in fields, and their deaths were often witnessed by their their loved ones.
---
Family members recount their lost children with anecdotes that reveal lively senses of humour, specific interests and hopes for the future. These interviews with survivors are beautifully shot and edited, accompanied by gorgeous snapshots and filmed visits into the homes of these devastated families, where the absence of a child is still strongly felt. Then the filmmakers follow the smiling images of these lost boys and girls with horrific scenes of the aftermath of the bombings, plus emotional funerals.

While it's wrenching to watch these grieving families speak about their lost children and terrifying experiences, it's quickly apparent just how vitally important this film is: we must put names, faces and context to the victims of this kind of indiscriminate violence. Of course, many parents were also killed alongside their children. And the sense of pointlessness is almost overwhelming, most strikingly of course in the scenes of communities gathering to bury sons and daughters, brothers and sisters.

How any of this helps Israel's cause is the unspoken question. As the moves from day to day, it's punctuated by staggering documentary footage of the bombs exploding. Winslet's excellent, sobering narration and Max Richter's emotive score underline the reality of what we're watching. Not only does this film urge us to remember the victims, but it also reminds us of how these kinds of targeted attacks on civilians devastate a culture for generations to come. This film is deeply upsetting. Exactly as it should be.
| | | |
| --- | --- | --- |
| | themes, violence | 4.May.22 |
---
This Much I Know to Be True
Review by Rich Cline |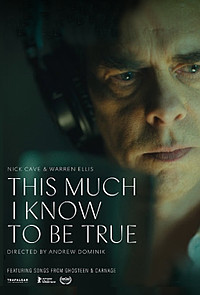 dir Andrew Dominik
prd Amy James, Isaac Hoff
with Nick Cave, Warren Ellis, Marianne Faithfull, Earl Cave, Andrew Dominik
release US/UK 11.May.22
22/UK 1h41

---
BERLIN FILM FEST
---
Now streaming...

---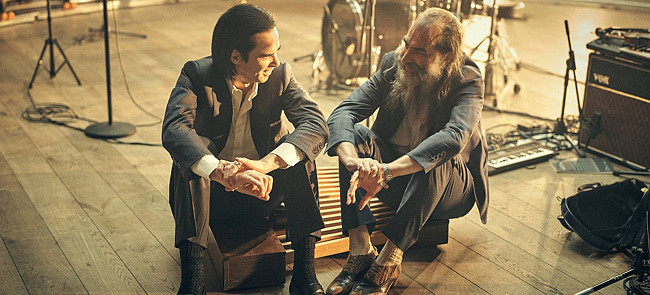 Mixing a backstage documentary with artfully staged and filmed performance segments, director Andrew Dominik explores the collaborative musical creations of Nick Cave and Warren Ellis. Watching them create songs for their albums Ghosteen and Carnage is fascinating, and the film also offers insight into Cave's personal passions, while giving his eclectic musician friends a chance to shine as they perform these evocative songs for the first time.
---
During the pandemic in 2021 London, Cave explains that he has retrained following government advice and is creating 18 ceramic figurines depicting the life of the devil. But he hasn't given up music, and he's still developing songs with his long-time collaborator Ellis. These are revealed beautifully in an abandoned theatre space with backing singers and a string quartet as cinematographer Robbie Ryan sends the cameras spiralling around the performers. In between songs, Cave discusses his project The Red Hand Files, in which he collects nearly 40,000 questions from fans and answers them thoughtfully.
---
Photographed with unusual intimacy to capture emotions and humour in both music and interviews, the film springs spectacularly to life in the song sequences. Lighting and camerawork echo the moods in the music, building to blindingly exhilarating crescendos. And backstage sequences cleverly highlight Cave's quirky personality, noting how all of his life weaves into the way he writes songs. So while it's perhaps not so easy to identify with his privileged life, the work pressures and his reaction to the passage of time are instantly recognisable.

This is a remarkable document about the creative process Cave has with Ellis, as they divide their roles and build something magical together. It's absorbing to watch them riff off each other to find their way through these new pieces, as Ellis manages the other musicians and Cave concentrates on the vocals and piano. It feels like a privilege to watch them bend their talents into something so powerfully moving, captured with cameras that track around them, using light and colour to create intense moments along the way.

Between the songs, Nick chats about his deeper yearning to make something of himself that perhaps isn't part of his identity as a musician. The Red Hand Files reveals his earthy approach to life, as he takes his time to craft sensitive replies to his fans. And his devilish figurines also offer insight into his progress from youth to maturity and beyond. Much like Cave and Ellis' music, the film itself is perhaps a bit meandering and also refreshingly open-handed, allowing the viewer to discover the gems without too much direct guidance.
| | | |
| --- | --- | --- |
| | themes, language | 25.Apr.22 |
---
Uppercase Print Tipografic Majuscul
Review by Rich Cline |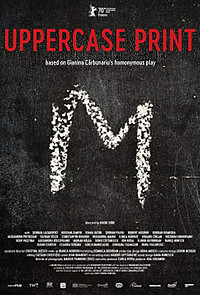 dir Radu Jude
prd Ada Solomon
scr Gianina Carbunariu, Radu Jude
with Serban Lazarovici, Bogdan Zamfir, Ioana Iacob, Serban Pavlu, Robert Arsenie, Bogdan Remedea, Alexandru Potocean, Silvian Vilcu, Constantin Dogioiu, Ruxandra Maniu, Ilinca Harnut, Eduard Cirlan
release Rom 21.Feb.20,
US 17.May.22
20/Romania 2h08
21/US 1h25

---
BERLIN FILM FEST
---
Now streaming...

---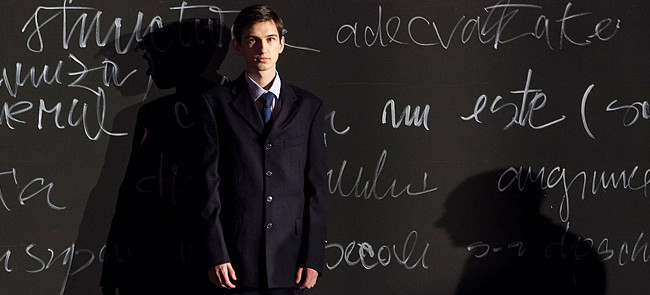 Based on Gianina Carbunariu's documentary play, written using uncovered secret police files, this Romanian film is a mix of archival footage and colourfully staged sequences that narrate a crime against a dictatorial regime. Filmmaker Radu Jude edits this together in a kaleidoscopic style, adding contextual clips in seemingly random order. What emerges is a long, textured exploration of Romania at a key point in history, with an involving kick.
---
In 1981, Ceausescu's secret police investigate anti-government writing in uppercase letters on a prominent fence in the city. The graffiti expresses angry frustration at injustice throughout society, from food shortages to unfair wages. The investigators analyse the handwriting and narrow down their list of suspects with exhaustive research. Meanwhile, writing continues to appear on fences around town: "We want freedom!" When they catch 16-year-old Mugur Calinescu red-handed, they interrogate him, his family and friends, then bug his home. Treating this as a crime against the state, the police are serious about punishing and rehabilitating Mugur.
---
Actors appear on brightly hued sets recounting firsthand testimony about this case, interspersed with a range of sometimes hilarious period clips, most in black and white, that depict details from life and culture in Romania at the time. Over-produced propaganda films stress how idyllic the nation is, trumpeting the wonderful people are and prosperous and fair society. Of course they sit in sharp contrast to Ceausescu's lavish lifestyle and the ruthless actions of the secret police.

The sheer range of this footage is impressive, chronicling a period in Romanian history through documentary clips that only tell part of the story. This includes music, comedy, sport and feature reportage. There's even a cooking segment. Many of these scenes touch on various official decrees that force people to change the way they live, such as a ban on horn-honking or proscribed hours for carpet-cleaning. Meanwhile in the central narrative, police files are recited by actors in energetic but deadpan straight-to-camera monologues.

It's a bit overwhelming to navigate the back-and-forth between seemingly arbitrary historical footage and the newly shot segments chronicling Mugur's experience in remarkable detail, including a wry, surreal and ultimately chilling extended epilogue. But a layered portrait emerges as a counterpoint to the official picture of Romania in the early 1980s. It's a fascinating account of how news of Poland's freedoms seeped in from outside, allowing people to see that they were living in a tyrannical system. And this is something Mugur clearly didn't understand until he crossed it.
| | | |
| --- | --- | --- |
| | themes, violence | 19.May.22 |
---

< < D O C S > >
See also: SHADOWS FILM FESTIVAL

© 2022 by Rich Cline, Shadows on the Wall


HOME | REVIEWS | NEWS | FESTIVAL | AWARDS | Q&A | ABOUT | TALKBACK