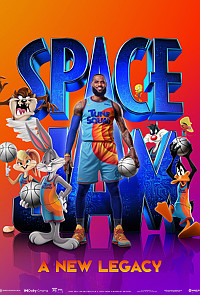 dir Malcolm D Lee
scr Juel Taylor, Tony Rettenmaier, Keenan Coogler, Terence Nance, Jesse Gordon, Celeste Ballard
prd Ryan Coogler, LeBron James, Maverick Carter, Duncan Henderson
with LeBron James, Don Cheadle, Cedric Joe, Sonequa Martin-Green, Khris Davis, Lil Rel Howery, Ernie Johnson Jr, Anthony Davis, Damian Lillard, Klay Thompson, Nneka Ogwumike, Diana Taurasi voices Zendaya, Jeff Bergman, Eric Bauza, Jim Cummings
release US/UK 16.Jul.21
21/US Warner 1h55




---
Is it streaming?

---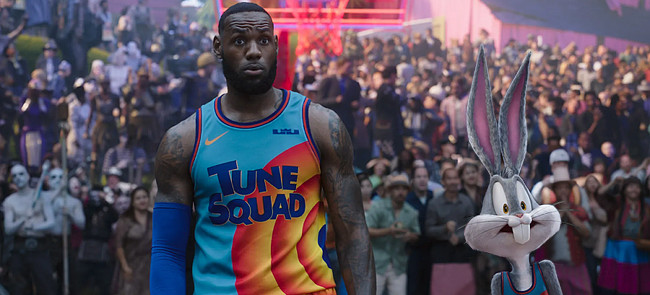 It's been 25 years since the original NBA/Looney Tunes mash-up, but this feels less like a reboot than a Nike-sponsored trip through Warner Bros' back catalog. Clearly a lot of effort went into this epic action comedy, but the army of writers hurl so much at the screen that it amounts to little more than noisy, colourful chaos. Kids won't get the references, and adults will groan at the plot.
---
LeBron James is piling pressure on younger son Dom (Joe) to play basketball, ignoring his skills at videogame design. Meanwhile, the artificial intelligence in the Warner Bros Studios server (Cheadle), who calls himself Al G Rhythm, has hatched a crazy plan to become famous using LeBron. But things take a turn, and LeBron and Dom are trapped inside the system, required to play a wacky variation on Dom's game in which LeBron must beat Al G's fearsome Goon Squad with a Tune Squad made up of Bugs Bunny, Daffy Duck, Tweety, Sylvester and friends.
---
Director Lee keeps everything gyrating wildly, a barrage of colour and comedy rendered in various eye-catching styles by gifted animators. Add imagery and characters from Warner Bros properties like Harry Potter, Justice League, Game of Thrones, The Matrix and even Casablanca, plus some sparky cameos. The overall mix has an impressively enormous scale, offering a continual stream of references and details in a narrative that's already overblown with insane action slapstick.

Actors on-screen have flatly thankless roles. James dives in with gusto, but can't generate much presence within the storm, and anyone would struggle with the script's corny sentimental sermons. Cheadle does his best with a one-note character who's unnecessarily digitised for the climax. Joe also deserves better than the simplistic arc he's offered here, while Martin-Green (as LeBron's wife) and Davis (as his brother) are flatly sidelined. Thankfully, there's some comic relief from Howery and Johnson as play-by-play announcers.

While some audiences will find plenty to enjoy here, simply because it's so madly bonkers, this is less a coherent feature film than a cynically packaged marketing product that carefully combines comedy, action and emotions. But all three are so badly contrived that they'll have the opposite effect on audience members who want to actually engage with the movie. Because this isn't even mindless entertainment: it's been engineered to dull the senses and sell us merchandise, media and sportswear. And it definitely does that well.
| | | |
| --- | --- | --- |
| | themes, language, violence | 13.Jul.21 |
R E A D E R R E V I E W S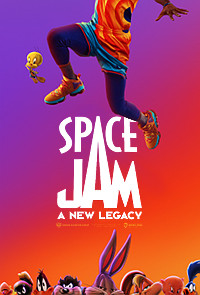 Still waiting for your comments ... don't be shy.