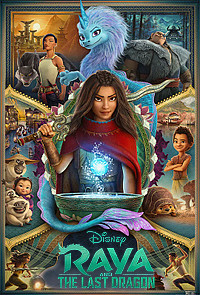 dir Don Hall, Carlos Lopez Estrada
scr Qui Nguyen, Adele Lim
prd Osnat Shurer, Peter Del Vecho
voices Kelly Marie Tran, Awkwafina, Gemma Chan, Izaac Wang, Daniel Dae Kim, Benedict Wong, Sandra Oh, Thalia Tran, Jona Xiao, Lucille Soong, Alan Tudyk, Gordon Ip
release US/UK 5.Mar.21
21/US Disney 1h54




---
Showing with:


---
Is it streaming?

---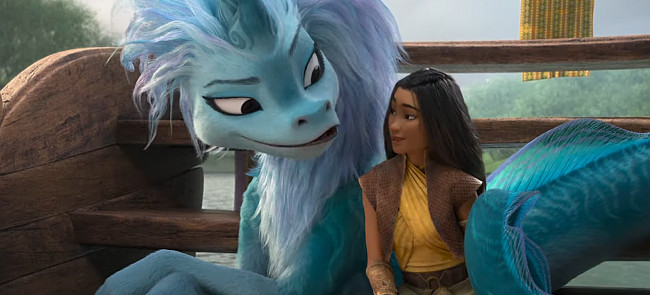 Exceptionally well-animated, this engaging adventure fantasy is rooted in Southeast Asian mythology with added resonant themes and currents of nutty comedy. The energetic pace keeps it involving, even if the emotional payoff is too predictable to be properly moving. The combination of action, drama, sentimentality and wackiness isn't always smooth, but the film looks so good, and the characters are so vivid, that it's easy to enjoy the ride.
---
It's been 500 years since dragons sacrificed themselves to save humans from the destructive Druun. As guardian of the protective dragon gem, Chief Benja (Kim) and his daughter and heir Raya (Tran) want to reunite the kingdom's five warring factions. Then an act of betrayal splits the gem into splinters, reawakening the Druun, who begin turning people to stone. After searching for years, Raya finally tracks down the last dragon Sisu (Awkwafina), who's not quite the hero Raya thought she was. But rival Namaari (Chan) is on Raya's tail. And humanity hands in the balance.
---
Each of the five bickering realms has a distinct terrain that the animators depict with visceral, almost photorealistic skill: Heart is a verdant paradise, Tail a dusty desert, Talon a bustling city on stilts, Spine a snowy mountain encampment and Fang an island fortress. The visual textures are simply stunning, making the most of the settings as well as the characters who live in each one. And story elements add deeper complexity, most notably Namaari's moral dilemma and her fear-based chieftan mother (Oh).

The story's wide range of characters is superbly anchored by the strong-willed Raya, who is voiced with sharp, compelling focus by Tran. Awkwafina lets her personality shine as the lively Sisu. She's funny, wise and underscored with emotion, essentially to Raya what the Genie is to Aladdin. Chan's mercurial Namaari is a formidable rival, leading to a several moments of gloriously choreographed martial arts combat. And Raya's amusingly plucky entourage includes young chef Boun (Wang), lonely warrior Tong (Wong) and feisty baby Noi (Thalia Tran).

At its core, this is a bleak depiction of humanity in perpetual conflict, facing horrible loss. Counterpoints include beetles with exploding farts. But the beefier ideas ultimately shine through, even if the plot often feels more than a little formulaic. So amid the escalating mayhem, this is a nice reminder of the power that comes when someone puts their trust in you. And while taking that first daring step may seem impossible, it's often the only solution.
| | | |
| --- | --- | --- |
| | themes, violence | 1.Mar.21 |
R E A D E R R E V I E W S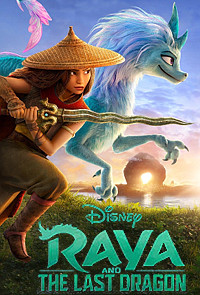 Still waiting for your comments ... don't be shy.