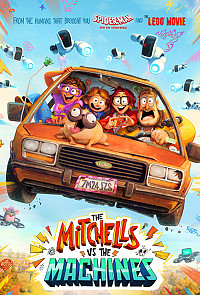 dir Michael Rianda
scr Michael Rianda, Jeff Rowe
prd Phil Lord, Christopher Miller, Kurt Albrecht
voices Abbi Jacobson, Maya Rudolph, Danny McBride, Michael Rianda, Olivia Colman, Eric Andre, Fred Armisen, Beck Bennett, Chrissy Teigen, John Legend, Charlyne Yi, Conan O'Brien
release US/UK 30.Apr.21
21/US Sony 1h53



---
Is it streaming?

---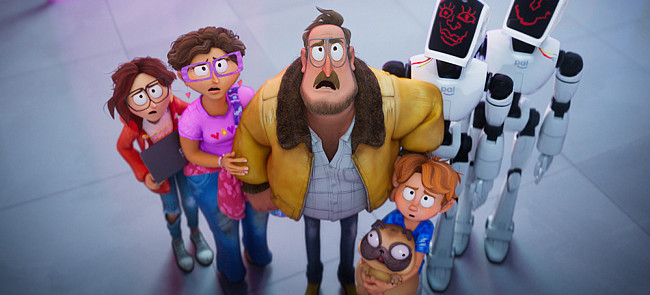 Absolutely gorgeous animation and a smart, witty script propel this movie from the opening shot, while the filmmakers maintain a balance of energy and depth right to the genuinely suspenseful finale. Visually imaginative and thematically complex, the film is a glorious concoction of comedy, emotion and riotous action. It may become excessively ridiculous in the final act, but it earns the sentimentality. And the laugh-out-loud moments are plentiful.
---
Movie-obsessed teen Katie Mitchell (Jacobson) knows that she doesn't fit in anywhere, and looks forward to attending film school in California with nerds like her. Her dinosaur-geek brother Aaron (Rianda) is missing her already, while their involved parents Linda and Rick (Rudolph and McBride) don't really understand anything, insisting on taking a cross-country road trip to drive her to Los Angeles. Meanwhile, tech billionaire Mark (Andre) has upgraded his digital assistant Pal (Colman) into a new robot model. And Pal takes being sidelined badly, igniting a robot uprising to take over the world.
---
The story hinges on the strained father-daughter relationship, as Rick tries way too hard with Katie while never listening to anything she says, and she happily documents his dopey enthusiasm on social media. Online gags echo everywhere, including the Mitchells' too-perfect neighbours the Poseys (Tiegen, Legend and Yi), the idealistic Instagram family. The imagery is endlessly inventive, rendered with vivid textures that make the most of the contrast between this goofy family and the sleek robots. And continual visual flourishes will make the film endlessly rewatchable.

Each character is superbly animated with unusually vivid voice-work that injects big personalities into even the smaller side roles. The awesome Colman gets the best dialog as the furious Pal, exacting her revenge on smart-phone users who took her for granted. As two damaged robots who join the family, Arminsen and Bennett inject some hapless hilarity. And each of the actors voicing the Mitchells gets a number of scenes in which they can shine brightly, with Rudolph getting a big climax that's particularly exhilarating.

The script is loaded with sharp observations about our reliance on technology, mixed amusingly with Katie's movie references, such as the Mitchells taking on an army of zombie appliances (and Furbies) in a mall. Along the way, there are some wonderfully understated explorations of resonant themes, from refusing to silence who you really are to the importance of recognising and empowering the strength of others. Plus a reminder that there are immeasurable payoffs even in the most difficult relationships.
| | | |
| --- | --- | --- |
| | themes, violence | 30.Apr.21 |
R E A D E R R E V I E W S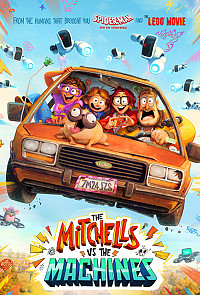 Still waiting for your comments ... don't be shy.