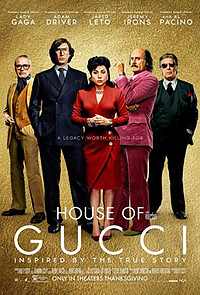 dir Ridley Scott
scr Becky Johnston, Roberto Bentivegna
prd Ridley Scott, Giannina Facio, Kevin J Walsh, Mark Huffam
with Lady Gaga, Adam Driver, Al Pacino, Jared Leto, Jeremy Irons, Jack Huston, Salma Hayek, Camille Cottin, Reeve Carney, Gaetano Bruno, Youssef Kerkour, Vincent Riotta
release US/UK 26.Nov.21
21/US MGM 1h37




---
Is it streaming?

---
A true story packed with family drama, conspiracies and ultimately murder, this unsurprisingly stylish film features sharp characters who are brought to life by an on-fire cast. Director Ridley Scott keeps the plot churning with flourishes that are delightfully soapy and camp, which makes it feel shorter than its epic length. And while the script muddles the point of view, it's a riveting narrative bristling with punchy themes.
---
In 1970s Milan, Patrizia (Gaga) falls for Maurizio Gucci (Driver) the moment she hears his name. But his father Rodolfo (Irons) doesn't trust her, and cuts Maurizio off from his 50 percent share in the fashion house. So Patrizia appeals to the other half of the family, Rodolfo's more commercially minded brother Aldo (Pacino), who is fed up with his idiot designer-wannabe son Paolo (Leto). As his fortune grows, Maurizio distances himself from Patricia's conniving ways. And she consults her low-rent psychic Pina (Hayek) with a plan she hatches in a fit of jealousy.
---
All of this unfolds at a steely pace as various elements come into play and relationships are stretched to some properly harrowing breaking points. It's also set in fabulously glitzy locations with everyone clad in scrumptious clothing and jewellery that shift with the fortunes thorough the 1980s and 90s. Yes, the entire film is impeccably designed, with intriguingly anachronistic musical choices and heavy-handed metaphors (like a mud bath). And it's loaded with nervy touches relating to lifestyles of the rich and famous.

Performances are focussed and vivid, with the eclectic ensemble in orbit around the razor-sharp Lady Gaga as a voracious woman who is compelling even if Patrizia's trashy ruthlessness makes it difficult to sympathise with her. Driver gives Maurizio a fascinating nerdy haplessness, which shifts into something complex and layered as circumstances change. Pacino is particularly strong in a beefy scene-chomping role, while Irons and Houston (as a family lawyer) are solid as less-detailed characters. And then there's Leto, who goes broad as the always-flailing Paolo.

Taking a broad point of view, outrageous story moves from one event to the next with flurries of grit and glamour, augmented by some rather wobbly accents. Intriguingly, this isn't the usual story about lust for power and greed, because these people aren't greedy as such: they're just so privileged that they have no clue what it means to be in need. So in the end it's perhaps not so easy to put ourselves into their seriously gorgeous shoes.
| | | |
| --- | --- | --- |
| | themes, language, violence, sexuality | 22.Nov.21 |
R E A D E R R E V I E W S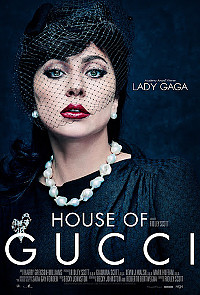 Still waiting for your comments ... don't be shy.