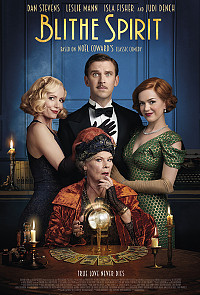 dir Edward Hall
scr Nick Moorcroft, Meg Leonard, Piers Ashworth
prd James Spring, Meg Leonard, Nick Moorcroft
with Dan Stevens, Leslie Mann, Isla Fisher, Judi Dench, Emilia Fox, Julian Rhind-Tutt, Adil Ray, Michele Dotrice, Aimee-Ffion Edwards, Simon Kunz, Dave Johns, James Fleet
release UK 15.Jan.21,
US 19.Feb.21
20/UK StudioCanal 1h35




---
Is it streaming?

---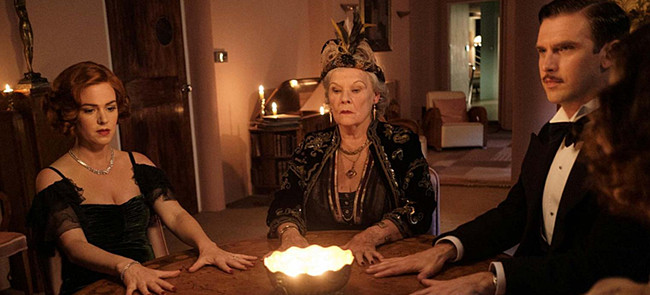 Broad and silly, this remake of the Noel Coward comedy is written and directed with plenty of spark. It may be overly crisp and goofy, but it's also a lot of fun, with a terrific all-star cast gleefully playing messy characters caught up an increasingly convoluted situation. The fast pace of the plot's twists and turns keeps the audience entertained, while some underlying themes add a hint of depth.
---
In 1937 London, writer Charles (Stevens) is testing the patience of his wife Ruth (Fisher). Seeking inspiration for a screenplay, Charles organises a seance with Madame Arcati (Dench). With their close friends (Fox and Rhind-Tutt) in attendance, Arcati summons the spirit of Charles' late first wife Elvira (Mann), who's annoyed to learn that he remarried five years ago. So she sets out to scupper his relationship with Ruth. Since only Charles can see Elvira, everyone thinks he's gone mad. And when Ruth realises that Elvira is really back, the two women embark on all-out war.
---
The snappy dialog is packed with witty barbs and engaging character detail, as the escalating mayhem causes each person to reveal his or her yearnings and self-doubts. The farcical situation sparks a range of slapstick set-pieces, cleverly creating an amusingly deranged romantic triangle between the frazzled Charles, the straight-laced Ruth and the passionate, wildly outrageous Elvira. Ironically, Elvira helps Charles crack the plot of his script, but she causes utter chaos in every other area of his life.

With comically clipped British accents, the performances are hilariously over-the-top, playing up a range of amusing character quirks. Among the scene-stealers, of course no one is a match for Dench, as she quietly walks off with the film. That said, Stevens has a lot of charm as the likeably weak-willed Charles, and gets a chance to deepen the role along the way. Fisher has terrific snap as a tightly wound woman who refuses to share her husband with his dead ex-wife. And the zingy Mann chomps gleefully on the scenery as the disruptive Elvira.

While the narrative maintains a clever balance of the ridiculous with some darker emotions, Hall's direction kind of leaves everything feeling a bit one-note, playing up the energetic wackiness and witty movie references, while leaving more engaging themes in the subtext. Along with its delightfully absurd plot, this is a clever comedy exploring serious ideas about how memories linger and how muses help with the creative process. Yes, there's a ghostwriter gag.
| | | |
| --- | --- | --- |
| | themes, language, violence | 29.Dec.20 |
R E A D E R R E V I E W S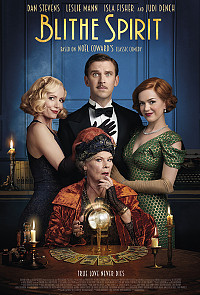 Still waiting for your comments ... don't be shy.