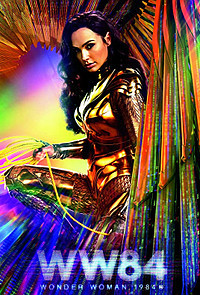 dir Patty Jenkins
scr Geoff Johns, Patty Jenkins, Dave Callaham
prd Charles Roven, Deborah Snyder, Zack Snyder, Gal Gadot, Patty Jenkins, Stephen Jones
with Gal Gadot, Chris Pine, Kristen Wiig, Pedro Pascal, Robin Wright, Connie Nielsen, Lilly Aspell, Lucian Perez, Jonathan Ajayi, Gabriella Wilde, Kristoffer Polaha, Natasha Rothwell
release UK 16.Dec.20,
US 25.Dec.20
20/US Warners 2h31




---
See also:



---
Is it streaming?

---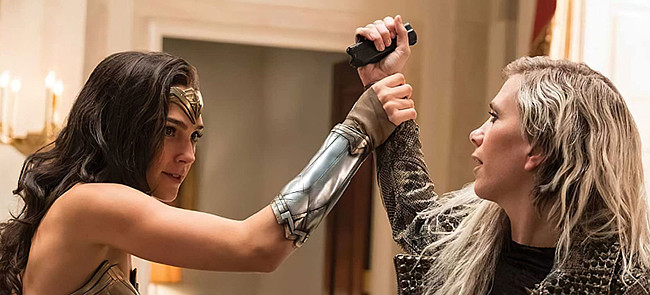 Filmmaker Patty Jenkins leaps her female-empowerment franchise ahead several decades to bring us a rousing adventure that's tinged at every step with politically astute observations. The most salient themes centre on women who turn the tables on narrow-minded men. Underlying ideas go a bit further than that to make the film strikingly timely. And even with a rather chaotic final act, the movie is a lot of fun.
---
In Reagan-era Washington DC, supercharged Amazon Diana (Gadot) is beginning to lose her anonymity as a hero. Working as an archaeologist at the Smithsonian, she meets gem expert Barbara (Wiig), who's examining an artefact that turns out to have the power to grant a wish. Diana suddenly finds her one true love Steve (Pine) back at her side, while Barbara rids herself of her awkwardness. But she also inadvertently plays into the megalomaniacal hands of huckster Max (Pascal), who is tired of being a loser and wants to prove himself to his young son (Perez).
---
The idea of showing strength echoes throughout the film, from the prolog featuring an ambitious young Diana (Aspell) to the transformations of both Barbara and Max from lonely souls into rather outrageous supervillains. The film's extended running time allows for more texture than usual along these journeys, and it's particularly notable that Jenkins makes the thrilling action sequences enjoyably messy, although the escalating mayhem becomes far too cluttered.

Through all of this, actors add internalised interest to the characters. Gadot may be playing a relentless straight arrow, but Diana has her own churning moral dilemma, while Pine adeptly provides comical relief (rocking that bum-bag) and an emotional connection. Meanwhile, Wiig and Pascal add some dark layers of interest to thinly written roles, chomping on scenery as villains who aren't actually bad people. We can see their yearnings and resilience, and where they end up at the end is refreshing.

So it's a shame that several characters get a short shrift in the narrative, leaving us wondering if there might be a few deleted scenes to flesh out their threads. In addition, some of the final act sentimentality is laid on thickly. And there's rather a lot of obvious digital trickery, which is eye-catching even if not all of it is strictly necessary. Thankfully, the movie has a weight to it that makes it continually engaging on a range of levels. And it leaves us looking forward to more.
| | | |
| --- | --- | --- |
| | themes, violence, language | 14.Dec.20 |
R E A D E R R E V I E W S

Still waiting for your comments ... don't be shy.