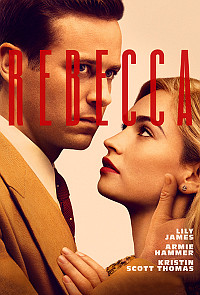 dir Ben Wheatley
scr Jane Goldman, Joe Shrapnel, Anna Waterhouse
prd Tim Bevan, Eric Fellner, Nira Park
with Lily James, Armie Hammer, Kristin Scott Thomas, Keeley Hawes, Ann Dowd, Sam Riley, Tom Goodman-Hill, Mark Lewis Jones, John Hollingworth, Bill Paterson, Bryony Miller, Jeff Rawle
release US/UK 21.Oct.20
20/UK Netflix 2h01




---
Is it streaming?

---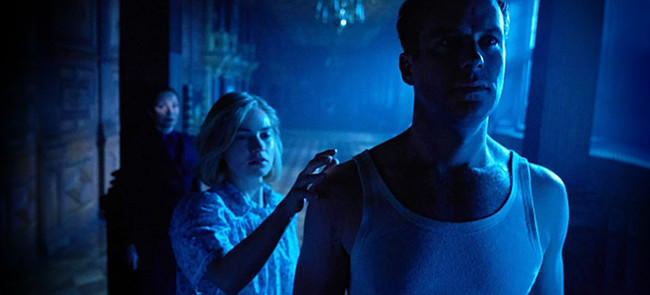 Adapted from the Daphne Du Maurier novel as if the iconic 1940 Hitchcock version never existed, this well-produced movie just about does the trick. Yes, it pales in comparison, but the lavish design work is cool, as is the modern approach to a melodramatic period mystery-thriller. The film will definitely entertain audiences new to the story. But for anyone who has seen the classic, it feels somewhat pointless.
---
While working for class-conscious meddler Mrs Van Hopper (Dowd) in late-1930s Monte Carlo, a young woman (James) meets wealthy widower Maxim de Winter (Hammer). They hit it off, and he impulsively marries her. Back at his enormous family estate in England, the honeymoon wears off rather quickly, living under the shadow of first wife Rebecca, to whom the stormy housekeeper Mrs Danvers (Scott Thomas) is still devoted. But the new Mrs de Winter tries to get a grip on the job of running a stately home, even as she searches for clues about Rebecca's fate.
---
The whirlwind courtship is cute but rather lacking in fireworks, so the drastic shift to Maxim's coldly distanced behaviour doesn't seem to surprising. Everything in the house reminds the young bride that she isn't Rebecca, including the ubiquitous R monogram and her untouched rooms. Then Rebecca's sparky cousin Jack (Riley) arrives with his own sinister suggestions. But as the new lady of the house plans an elaborate ball, Danvers is secretly working against her. And things get messier as facts about Rebecca's death emerge.

In the Monaco sequence, performances are loose and engaging, but they understandably turn taut and constrained once the action shifts to the gloomy, rainy England. James is likeable in the central role as a vulnerable woman who doesn't even have her own name. Her predicament makes it easy to root for her. Hammer struggles to bridge Maxim's charming and nasty sides, and is most effective when he's being pathetic. And Scott Thomas steals the show as the poker-faced master manipulator.

While the film is very watchable with its gently shifting moods and gothic touches, there's surprisingly little to it thematically, aside from a young woman who can never live up to her predecessor. Wheatley adds occasional subtle touches that generate offbeat artistry, plus some understated comments about female empowerment. But the film mainly settles for more simple-minded pleasures like scary insinuation and thrills that are effective even if they're superficial. So in the final act, the mystery is delicious but rather dry.
| | |
| --- | --- |
| | themes, language, violence |
R E A D E R R E V I E W S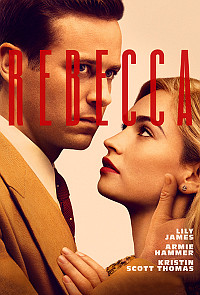 Still waiting for your comments ... don't be shy.