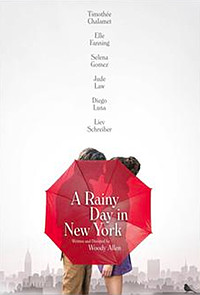 dir-scr Woody Allen
prd Letty Aronson, Erika Aronson
with Timothee Chalamet, Elle Fanning, Selena Gomez, Jude Law, Diego Luna, Liev Schreiber, Cherry Jones, Rebecca Hall, Will Rogers, Annaleigh Ashford, Kelly Rohrbach, Suki Waterhouse
release UK 5.Jun.20
19/US 1h32




---
Watch it now...

---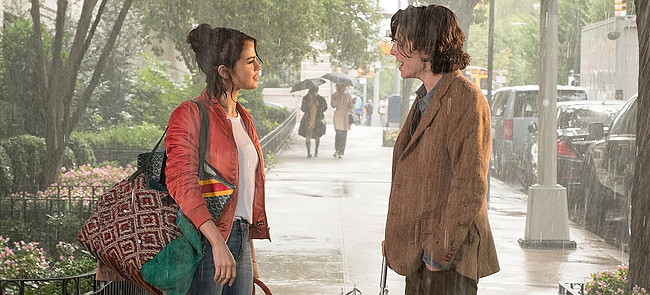 Bright and chatty, this romantic farce has Woody Allen's usual loose, uneven signature all over it, including an underlying current of fragile misogyny. But the characters acknowledge these attitudes, and writing and directing nicely undermine romantic movie cliches, from the dreary weather to the way nothing goes even remotely as expected. In some ways, it feels like several kinds of romantic movie mashed into one, for better or worse.
---
Studying at a posh upstate university, Gatsby (Chalamet) is always trying to resist pressure from his mother (Jones), although it helps that she likes his girlfriend Ashleigh (Fanning). When Ashleigh gets a chance to interview favourite film director Roland (Schreiber) in Manhattan, Gatsby plans a romantic weekend in the city. As their schedule changes, Gatsby runs into his ex's little sister Chan (Gomez) and visits his brother (Rogers), who's doubting his relationship to his fiancee (Ashford). Meanwhile, Ashleigh finds herself in unexpected situations with Roland, writer Ted (Law) and movie heartthrob Francisco (Luna).
---
Each central character has Allen's usual rambling, oversharing style, peppering conversations with pithy observations and provocatively incorrect opinions. Gatsby even has a cynical voiceover monologue, talking about how much he loves the anxiety, hostility and paranoia that New York sparks in him. The film follows Gatsby and Ashleigh on separate odysseys, moving from one encounter to another as they gently weigh up their priorities. Since both are a bit lost, it's difficult to like either of them, even if they're blithely charming.

Chalamet and Fanning are speaking in Allen's voice here, which is fascinating since it feels so against type for the actors. And it's far more engaging in the film's darker sections than in scenes that strain for fizzy humour. Law is enjoyably annoying as a guy with Allen's usual exaggerated, talkative neuroses. So it's the side characters who surprise us, including Gomez's sarcastic straight-talker, Luna's smoothie, Schreiber's gloomy artist and Hall as Ted's angry wife. The show-stealer is Jones as an imperious, razor-sharp society dame.

The movie is packed with terrific moments, including some nicely knowing scenes in which a filmmaker doubts his own work. And there's a nice throwaway musical number in which Chalamet plops down at a piano and performs. But the interesting touch is the way Gatsby is struggling with his identity and his dreams, rejecting his family's aspirations but not their money. So even if the film feels hit and miss, it has some sharp things to say about the life of wealthy, white New Yorkers.
| | | |
| --- | --- | --- |
| | themes, language | 10.May.20 |
R E A D E R R E V I E W S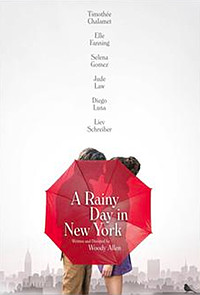 Still waiting for your comments ... don't be shy.