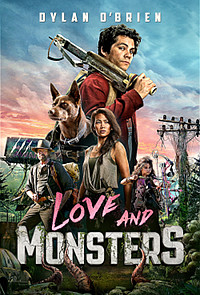 dir Michael Matthews
prd Shawn Levy, Dan Cohen
scr Brian Duffield, Matthew Robinson
with Dylan O'Brien, Jessica Henwick, Michael Rooker, Ariana Greenblatt, Dan Ewing, Ellen Hollman, Tre Hale, Pacharo Mzembe, Senie Priti, Amali Golden, Te Kohe Tuhaka, Tasneem Roc
release US 16.Oct.20
20/Australia Paramount 1h49




---
Is it streaming?

---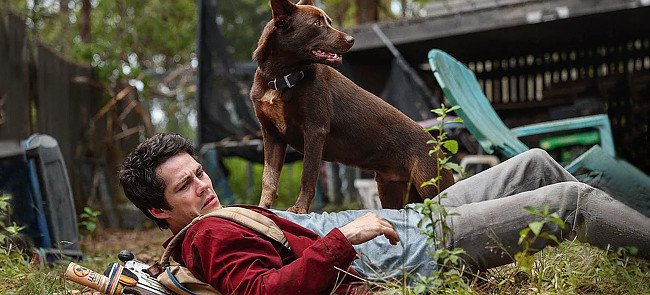 A sardonic tone makes this post-apocalyptic adventure disarmingly enjoyable, centring on a self-deprecating guy who struggles to rise to the occasion. So he's easy to identify with as he embarks on an epic odyssey that takes a series of unexpected turns, including wildly dangerous encounters with murderous beasts and an even more perilous romance. And an undercurrent of yearning for days before everything went wrong makes the film superbly timely.
---
After an asteroid impact sparks a mutant creature infestation, Earth's population has been decimated. Seven years later, Joel (O'Brien) is feeling lonely, the only survivor in his underground bunker who hasn't coupled-up. And he's also useless in a fight. But he decides to try to reach his girlfriend Aimee (Henwick), who's in a colony 85 miles away. Everyone says the journey is impossible, but he heads out anyway. Rescued by a smart dog he names Boy, he also teams up with seasoned monster-killers Clyde and Minnow (Rooker and Greenblatt), who teach him how things work.
---
Director Matthews refreshingly refuses to take anything seriously, giving the film a smart edge that's hugely engaging, while keeping the extensive effects work seamless and unusually grounded. The film occasionally flickers back to the day when everything went so horribly wrong, offering glimpses of the life Joel once had. And a range of set-pieces bring different moods and unpredictable wrinkles. While much of the film is tinged with wit, many action sequences are genuinely thrilling, and sometimes rather terrifying too.

O'Brien is a hugely likeable protagonist, quirky and smart, but not nearly as quick-witted as he thinks he is. Still, he has determination and attitude to spare as a boy and his dog facing a crazy world. Rooker adds his own wonderfully offhanded manner, exuding confidence and astute skills of observation. Greenblatt is terrific as the sparky young Minnow, who puts Joel through his paces. And then there's Ewing, excellent as a hilariously hot yacht captain who makes Joel feel inferior about pretty much everything.

There are thoughtful moments along the way, as feisty survivors compare back-stories and re-experience their sense of loss. But the film's main theme centres on the resilience of the human spirit even in the face of mind-boggling obstacles. The story takes a few twists in the final act that both ramp up the action and provide some additional depth of character. And what's most remarkable is that it manages to be funny, exciting and emotional without resorting to the usual sentimental cliches.
| | | |
| --- | --- | --- |
| | themes, language, violence | 23.Oct.20 |
R E A D E R R E V I E W S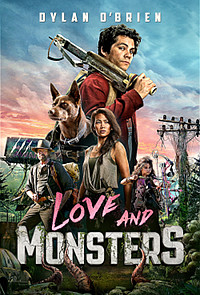 Still waiting for your comments ... don't be shy.