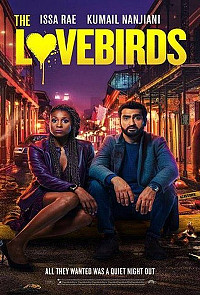 dir Michael Showalter
scr Aaron Abrams, Brendan Gall
prd Tom Lassally, Oly Obst, Martin Gero, Todd Schulman, Jordana Mollick
with Kumail Nanjiani, Issa Rae, Paul Sparks, Anna Camp, Kyle Bornheimer, Andrene Ward-Hammond, Catherine Cohen, Barry Rothbart, Nicholas X Parsons, Moses Storm, Mahdi Cocci, Jaren Mitchell
release US/UK 22.May.20
20/US Paramount 1h27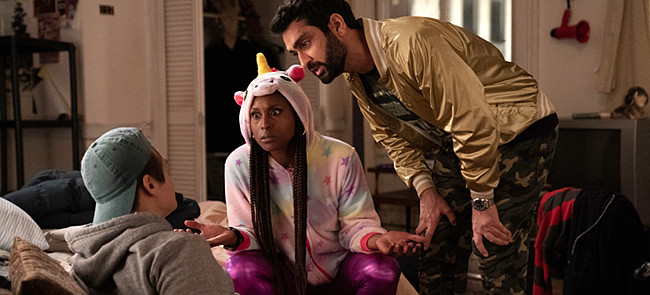 Set in New Orleans, this action romcom is sharp and snappy, even if it's rarely laugh-out-loud funny. The jokes are mainly set within ongoing witty arguments, with some added violent slapstick. Director Michael Showalter gives the film enough propulsive energy to hold the audience's attention as the central characters are flung headlong into a convoluted conspiracy. Unexpectedly, the mix of nasty grisliness and stream-of-consciousness comedy is engaging.
---
Four years into their relationship, Jibran and Leilani (Nanjiani and Rae) are feeling the strain, bickering about almost everything. Then just they agree to break up, their car is commandeered by a moustached man (Sparks) claiming to be an undercover cop. But he's clearly lying, and now their car is a murder weapon. With a detective (Ward-Hammond) on their trail, they decide to follow the clues to clear their names. After being kidnapped by the crazed Edie (Camp), they stay just one step ahead of the Moustache before arriving at a freaky masked initiation ball.
---
Jibran and Leilani are smart people, so their continual banter is pointed and entertaining. But this makes their idiotic decision to solve the crime themselves extremely implausible, leading to a variety of cockamamie ideas. At least the script has some fun with this idea. Through each step of this odyssey, they babble nonstop about their feelings, expressing clashing opinions while of course also discovering that there's still a connection between them. Meanwhile, the body count grows and the mystery deepens.

Nanjiani and Rae are likeable in the central roles, generating some real chemistry as a couple with a sweet romantic past and fiery present. Where they're headed through all of this craziness is never in question. The other characters get just a scene or two each, only registering in their reactions to Jibran and Leilani. But each adds to the film's wildly out-of-control tone, with stand-out scene-stealing from the likes of Camp, Sparks and Ward-Hammond.

The writing and directing have a breezy, freewheeling spirit to them, as this couple's adventure takes one detour after another. While the romance is predictable, each twist in the tale is a surprise. The big mystery takes its time revealing its secrets, which are amusing even if they're not terribly momentous. So while it's engaging to watch this unfold, there's absolutely nothing beneath the surface, and the characters aren't complex enough for the film to resonate on any other levels. But it's enjoyable while it lasts.
| | | |
| --- | --- | --- |
| | themes, language, violence | 22.May.20 |
R E A D E R R E V I E W S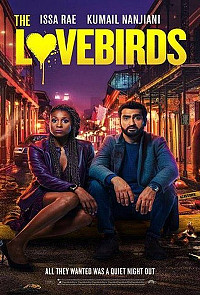 Still waiting for your comments ... don't be shy.