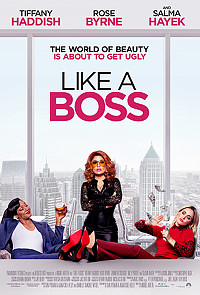 dir Miguel Arteta
scr Sam Pitman, Adam Cole-Kelly
prd Peter Principato, Marc Evans, Nicolas Stern, Joel Zadak
with Tiffany Haddish, Rose Byrne, Salma Hayek, Billy Porter, Karan Soni, Jennifer Coolidge, Lisa Kudrow, Natasha Rothwell, Ari Graynor, Jessica St Clair, Jacob Latimore, Ryan Hansen, Jimmy O Yang
release US 10.Jan.20,
UK 21.Feb.20
20/US Paramount 1h23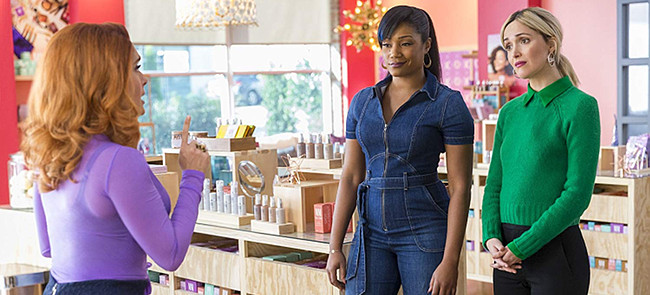 With a first-rate cast and a fun idea, the ingredients are here for a sparky comedy, but the writing and direction never make anything from it. The script feels particularly thin, as if it was eviscerated to remove subtext or interesting character detail, leaving the plot feeling choppy and simplistic and the humour ungrounded. So while the solid actors do their best, the movie is only mildly amusing.
---
Friends since school days, Mia and Mel (Haddish and Byrne) have built their own cosmetics company with their gifted mixer Barrett (Porter) and beautician Sydney (Coolidge). But now the super-powered company owner Claire (Hayek) wants to buy them out. With reservations, Mia and Mel work out a decent deal, but Claire and her assistant Josh (Soni) immediately start switching things up, then engage in conflicting business practices to sabotage both their company and their friendship. Incomprehensibly, Claire seems to be trying to both ruin them and take over their business at the same time.
---
The script is full of this kind of lazy nonsense. Because Claire has to be comical, she's portrayed as just a bit nuts, but not as an outright psychopath, presumably so the audience can smile at whatever cute comeuppance is on its way. But nothing that happens is rooted in logic, including a haphazard attempt to shoehorn in the standard romcom structure without earning the tension, emotion or sentimentality. That said, Haddish, Byrne and Hayek can get the audience laughing at pretty much anything.

They and their supporting players add attitude to the thinly written characters. Haddish and Byrne crackle with a sense of their years as best friends, which helps paper over the script's clunky attempt to drive a wedge between them. Refreshing touches include their love lives (Mia hilariously runs her relationship with Latimore's toyboy, while Mel doesn't need romance) and friendships (Porter and Coolidge nicely underplay their underwritten roles). As usual, Hayek storms the screen hilariously, jostling to steal scenes from the superb Soni.

There's a nagging feeling that a beefier script was hacked back to this brief 83 minute running time. Kudrow's cameo is enjoyable, even with the thinnest possible context. Indeed, there's so little texture that almost nothing has the proper zing. Slapstick moments feel randomly thrown away, key plot points come out of nowhere, side characters are barely cardboard cutouts. But thanks to the adept cast, this vapid movie feels like it's almost entertaining.
| | | |
| --- | --- | --- |
| | themes, language | 13.Feb.20 |
R E A D E R R E V I E W S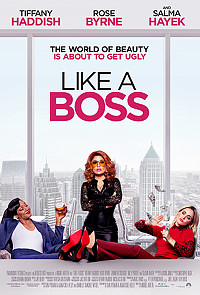 Still waiting for your comments ... don't be shy.