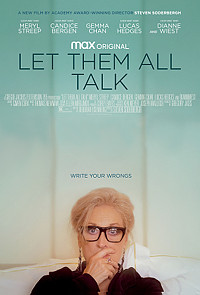 dir Steven Soderbergh
scr Deborah Eisenberg
prd Gregory Jacobs
with Meryl Streep, Candice Bergen, Dianne Wiest, Gemma Chan, Lucas Hedges, Dan Algrant, John Douglas Thompson, Christopher Fitzgerald, Elna Baker, David Siegel, Al Gwilt, Mike Doyle
release US 10.Dec.20
20/US Warners 1h53




---
Is it streaming?

---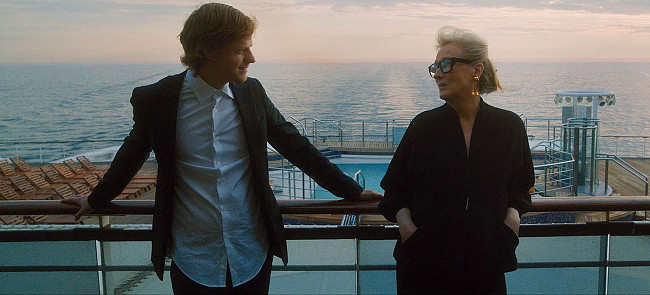 With a screenplay that allowed the actors to improvise their dialog, Steven Soderbergh shot this film in an offhanded documentary style during a cruise on the Queen Mary 2. The intimate photography and intriguing setting are enticing, and the farcical story structure allows its starry cast to deliver relaxed, surprisingly complex performances. The pacing meanders a bit, but there are layers of wit and emotion running through each scene.
---
In New York, famed author Alice (Streep) is struggling to write her next book, fending off pressure from her agent Karen (Chan). When she wins a prestigious prize, she refuses to fly to Britain to collect it. But she agrees to take a cruise if she can bring her nephew Tyler (Hedges) and estranged university pals Susan and Roberta (Wiest and Bergen). They catch up over dinner, while Alice hides during the day to work on her novel and acceptance speech. Meanwhile, Karen is secretly on-board, asking Tyler to get information about the new book.
---
The loose and unstructured approach allows each characters to take his or her own journey. Tyler is caught in the middle, hoping to generate a spark with Karen, while being a sounding board for these three grand dames. He encourages Alice in her work, helps Roberta vet potential male partners and encourages Susan to stop hiding her true self. And Alice more than notices that bestselling thriller novelist Kelvin (Algrant) is also on-board.

The characters are likeable and intriguing. Streep adds mystery to Alice, a pretentious woman with unexpressed insecurities. Bergen is terrific as a woman who hates her department store job and holds a grudge against Alice for basing a book on her. Wiest uses her impeccable comic timing as the soft-spoken Susan. While Chan captures this young professional who has put her career on the line with this crazy plan. And the superbly natural Hedges holds the film together, cycling between the women as a catalyst and sounding board.

As the story gently sails along on its way to a couple of surprises, it touches on big themes that have strong resonance. In addition to exploring the nature of writing fiction, there are telling insights into the ways we connect with each other in a variety of situations, including the impact of lingering feelings over the years, even for old friends who have put thousands of miles between them. Each person is grappling with feelings of regret and resentment, and their interaction finds knowing insight in wonderfully jagged conversations.
| | | |
| --- | --- | --- |
| | themes, language | 10.Dec.20 |
R E A D E R R E V I E W S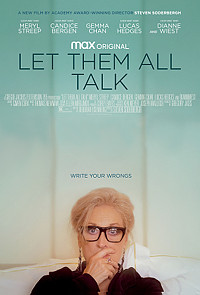 Still waiting for your comments ... don't be shy.