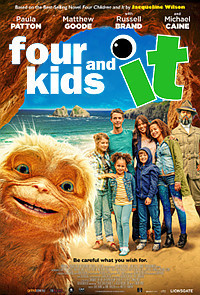 dir Andy De Emmony
scr Simon Lewis
prd Julie Baines, Anne Brogan
with Paula Patton, Matthew Goode, Teddie Malleson-Allen, Ashley Aufderheide, Billy Jenkins, Ellie-Mae Siame, Russell Brand, Michael Caine, Sean Treacy, Ely Solan, Emily Highams, Laura Kate Whyms, Cheryl
release UK 10.Apr.20,
US 30.Jun.20
20/UK Lionsgate 1h50




---
Watch it now...

---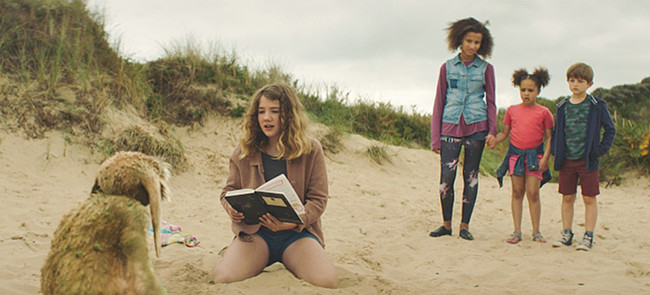 Based on Jacqueline Wilson's novel, itself an updating of E Nesbit's 1902 classic, this family adventure has just about enough snap to distract from the childish story. Set in present-day Britain, the film is picturesque and gently magical, with accompanying fart gags for the youngsters. It's well-shot, with some decent effects work, and even though the editing is somewhat manipulative, the story's fanciful flourishes are enjoyably silly.
---
Two fractured families are on holiday in Cornwall. David (Goode) has his creative teen daughter Ros (Malleson-Allen) and gaming-obsessed son Robbie (Jenkins). And they're surprised to be joined by Dad's secret American girlfriend Alice (Patton) and her two daughters, rebellious teen Smash (Aufderheide) and cheeky youngster Maudie (Siame). While playing in a cove they encounter Psammead (voiced by Caine), a furry sand creature who grants them a wish per day, each of which leads to a misadventure that ends abruptly at sunset. But their quirky-posh landlord Tristan (Brand) has been hunting Psammead for decades.
---
Springing a relationship on children like this is appalling, so it's understandable that the kids are angry with their parents and each other. The simplistically plotted script glosses over this by quickly introducing Psammead, a rabbity-slothy ET-like grouch who warns the kids that wishes never work out. Cue a series of lively set-pieces, including some scary peril, colourful pop-stardom in London, and so on. This provides messy fun along the way, and helps us brace for the requisite surge of sentimentality.

All four young actors are terrific, adding sparky attitude and witty character details. Each child is curious and expressive in his or her distinct way, which makes their respective wishes resonate beyond the formulaic plotting. Goode and Patton are charmingly oblivious to everything that's going on, and then some. Surprisingly, Brand manages to almost underplay his role, which makes him genuinely amusing. And Caine gives a superbly energetic vocal performance as a prehistorical creature with an inexplicable Cockney accent.

There isn't much depth to the film, but at least there are some complexities in the relationships. The message is that usual chestnut about finding your place in life and understanding that it's more important to move forward than back. It's clear from the start where this will all end up, so everything that happens feels like a distraction, a bit of silly fun before the narrative trajectory asserts itself. Then in the final act, things turn unexpectedly nasty before the standard Hollywood finale sets everything right.
| | | |
| --- | --- | --- |
| | themes, language, violence | 28.Jun.20 |
R E A D E R R E V I E W S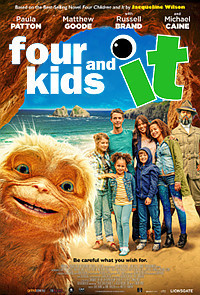 Still waiting for your comments ... don't be shy.