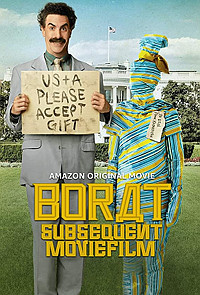 dir Jason Woliner
scr Sacha Baron Cohen, Anthony Hines, Dan Swimer, Peter Baynham, Erica Rivinoja, Dan Mazer, Jena Friedman, Lee Kern
prd Sacha Baron Cohen, Monica Levinson, Anthony Hines
with Sacha Baron Cohen, Maria Bakalova, Dani Popescu, Jeanise Jones, Macy Chanel, Jonathan Bright, Jean Sheffield, Jerry Holleman, Jim Russell, Rudy Giuliani, Mike Pence, Tom Hanks
release US/UK 23.Oct.20
20/US Amazon 1h36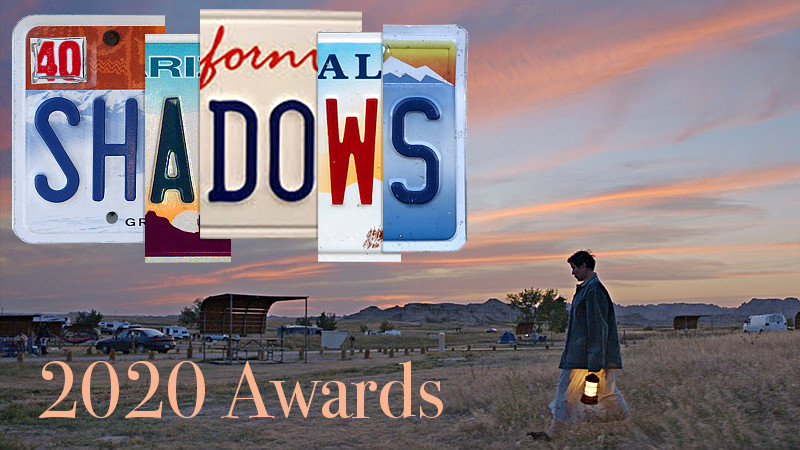 • BEST SUPPORTING ACTRESS:
Maria Bakalova

See also:


---
Is it streaming?

---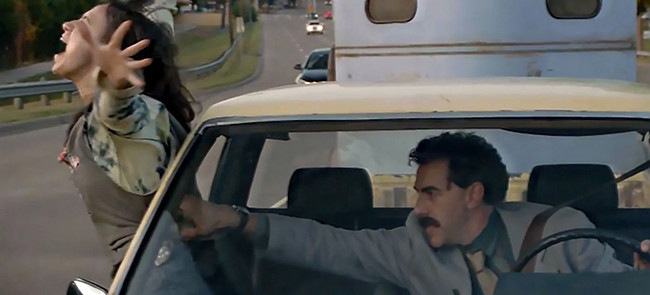 Sacha Baron Cohen is back for a close-to-the-bone sequel that's more of a scripted comedy than before, but it's still peppered with moments of topical pointed documentary mayhem. As before, the goal is to play outrageous pranks that expose complicity and hypocrisy. While it's less outrageous, it saves sharp moments for final act, giftwrapping the film in the craziness that has been 2020 for pretty much everyone on earth.
---
After sullying Kazakhstan's reputation with his 2006 film, Borat (Baron Cohen) was sentenced to hard labour. Now with Donald Trump making America great again, President Nazarbayev (Popescu) sends him to deliver a bribe to Mike Pence. After a mishap with the intended gift monkey, Borat decides to present his teen daughter Tutar (Bakalova) instead. And since her culture treats women like cattle she's delighted: "I will be the next Queen Melania!" To get ready, she has a makeover and studies under a debutante coach. When meeting Pence goes wrong, they decide on Rudy Giuliani instead.
---
All of this is heavily edited for effect, and there are hits and misses along the way. After a broadly slapstick prolog in his home village, Borat lands in America, where he's immediately mobbed by fans. So he buys a range of disguises. He promptly proclaims his insanely bigoted attitudes, which few people question even if some suddenly don't know where to look. Meanwhile, Tutar discovers that she has self-worth, and that most of what her father and her society has taught her her were lies. Then the Covid lockdown hits.

The gifted Baron Cohen and Bakalova fully throw themselves into their improvisational performances in a series of crazy situations that spiral way out of control. The main plot centres on this offbeat father-daughter relationship, which has some remarkable warmth even with all the nuttiness. Several situations could easily turn life-threatening, as these disguises, settings and provocations are carefully planned. The film's final prank is more of a sting, and the footage is indeed jaw-dropping.

Borat has an encounter with two fabulous old Jewish ladies that completely changes his worldview. A sojourn with two die-hard QAnon followers is freaky, but everybody's casual prejudice is even scarier. And the narrative builds to a Republican super-spreader rally, where Borat sings a wildly outrageous anti-Obama song and is cheered by the crowd, who join in the chorus ("Inject him with the Wuhan flu!"). Of course, it's the kindness of strangers that ultimately shines through, which weakens the satire but makes the film more endearing. tt13143964
| | | |
| --- | --- | --- |
| | themes, language, vulgarity | 20.Oct.20 |
R E A D E R R E V I E W S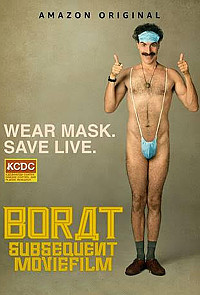 Still waiting for your comments ... don't be shy.