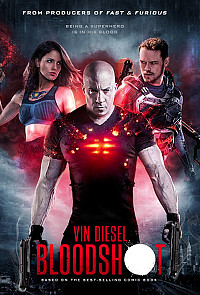 dir Dave SF Wilson
scr Jeff Wadlow, Eric Heisserer
prd Neal H Moritz, Toby Jaffe, Dinesh Shamdasani, Vin Diesel
with Vin Diesel, Guy Pearce, Eiza Gonzalez, Sam Heughan, Toby Kebbell, Talulah Riley, Lamorne Morris, Johannes Haukur Johannesson, Alex Hernandez, Siddharth Dhananjay, Tamer Burjaq, Clyde Berning
release US/UK 24.Mar.20
20/US Columbia 1h49




This meathead action movie is packed with intense violence and shameless hyper-masculine misogyny, carefully edited to allow children to buy tickets. Directed in a slick-but-blunt style by effects veteran Dave SF Wilson from a simplified script by Jeff Wadlow and Eric Heisserer, the film looks good enough to provide some diversion as it hops around the globe. And the gyrations of the story are fun to follow, even if it's impossible to care.
---
After leading a successful black ops mission in Mombasa, Ray (Diesel) takes his hot wife (Riley) to the picturesque Amalfi coast, where they're attacked by goons. Socks-and-sandals-wearing psycho Martin (Kebbell) murders them both, but Ray is resurrected by Dr Harting (Pearce), waking with no memories, a high-tech chest implant and nano-bots as blood, making him indestructible. He also meets fellow cyborg operatives Katie, Jimmy and Tibbs (Gonzalez, Heughan and Hernandez). When his memory returns, he of course sets off to get revenge against Martin. But he doesn't know that he's being manipulated.
---
There's a sense that Wilson merely put everything he thought was achingly cool on-screen, avoiding things like story or character complexity, even though the script actually contains quite a few shades of grey. So while the imagery and action are indeed eye-catching, everything's so silly that it's almost painful to watch. There are some clever revelations and twists along the way that add interest to the premise, but none of this brings any real depth.

Even though this is right in his wheelhouse, Diesel seems a bit bored by it all. So it's left to Pearce and Morris (as another mad genius) to chomp mercilessly on the scenery, adding a badly needed sense of humour that makes it clear that they, at least, didn't take this seriously. Gonzalez also gets some strong attitude along the way, while Heughan reveals a bit of inner madness and Dhananjay (as Harting's tech guy) offers some solid comic relief.

There are all kinds of intriguing ideas swirling around in this script, from identity issues to concepts of perception and free will. But these things are obliterated by Wilson's bombastic approach, which puts whizzy entertainment ahead of personal engagement. The result is a movie that starts out dumb and gets increasingly enjoyable simply because it's so unapologetic about how shallow it is. So despite the rocky start and over-reliance on violent gadgetry, this turns out to be a rather enjoyable bit of guilty pleasure escapism.
| | | |
| --- | --- | --- |
| | themes, language, violence | 25.Mar.20 |
R E A D E R R E V I E W S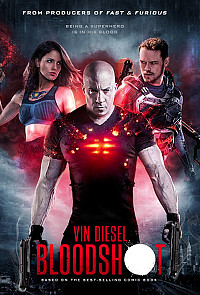 Still waiting for your comments ... don't be shy.