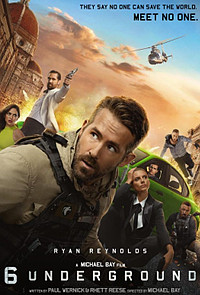 dir Michael Bay
scr Paul Wernick, Rhett Reese
prd Michael Bay, Ian Bryce, David Ellison, Dana Goldberg, Don Granger
with Ryan Reynolds, Corey Hawkins, Melanie Laurent, Manuel Garcia-Rulfo, Ben Hardy, Adria Arjona, Dave Franco, Lior Raz, Payman Maadi, Elena Rusconi, Yuri Kolokolnikov, Kim Kold
release US/UK 13.Dec.19
19/US Netflix 2h07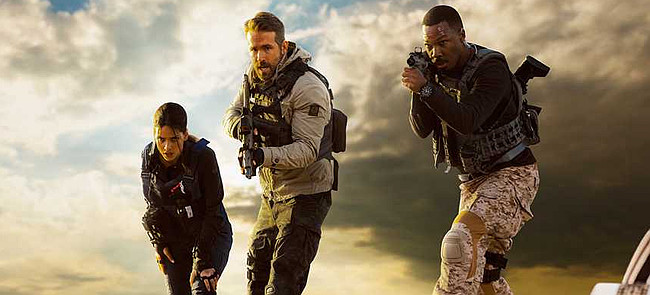 Watching this globe-hopping thriller, you get the feeling that Michael Bay saw John Wick and thought he should be making movies like that. This is essentially one nonstop action sequence, an outrageous combination of chases, explosions, shootouts, gadgets and extreme violence. It's so frenetic that it never manages to engage the audience with the characters or plot. So while it never breaks the surface, it's sassy, garish eye candy.
---
A billionaire named One (Reynolds) leads a team of six operatives who have faked their own deaths so they can operate as ghosts righting wrongs around the world. After an outrageously brutal chase through Florence in a Day-Glo green Alfa Romeo, they turn to their next job: removing despotic dictator Rovach (Raz) of Turgistan and installing his nicer brother (Maadi) in his place. Their convoluted plan takes them from their California desert base to Las Vegas and Hong Kong before they confront Rovach on his own turf.
---
There is never a quiet moment. Even the character interaction is bombastic and rapid-fire, shot and edited in a manic way that makes it impossible to see what's happening. The action sequences are particularly jarring; they seem well-choreographed, but you can hardly tell with the shaky cam and choppy cross-cutting. Settings are glamorous, and the production design uses lurid colours and sleek glassy lines to great effect. But nothing is grounded in anything like the real world.

Thankfully the cast is good fun, even if they're never to add texture to their characters. Each member of this team has one or two quirks to make them interesting. Reynolds' One is a sarcastic, fast-talking magnet magnate. Laurent's ex-spy Two is unflappable, hooking up with Garcia-Rulfo's thoughtful-goofy hitman Three. And then there's Hardy's fearless parkour expert Four, Arjona's snappy doctor Five and Franco's crazed driver Six. As a newcomer-replacement, Hawkins has a bit more to do as military veteran sniper Seven.

All of this is energetic and utterly gratuitous, as Bay deploys cars, planes, choppers, boats and motorbikes into explosive carnage. Plus lots of women in lingerie. The body count is mind-aching, but the pace never slackens for a second while the script, by Deadpool writers Wernick and Reese, flings jagged one-liners like bullets. But it's so over-the-top that it's oddly dull. By the end, it's clear that this is an origin movie for a franchise. Fans of divertingly mindless destruction will already be looking forward to their next mission.
| | | |
| --- | --- | --- |
| | themes, language, violence, sexuality | 15.Dec.19 |
R E A D E R R E V I E W S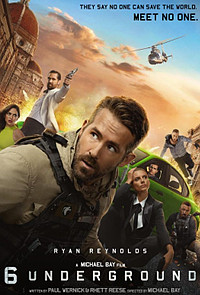 Still waiting for your comments ... don't be shy.