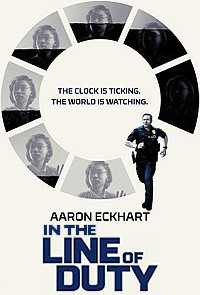 dir Steven C Miller
scr Jeremy Drysdale
prd Myles Nestel, Craig Chapman, Skip Williamson
with Aaron Eckhart, Courtney Eaton, Ben McKenzie, Giancarlo Esposito, Dina Meyer, Jessica Lu, Elijah Cooper, Nishelle Williams, Betsy Landin, James Hutchison III, Nickola Shreli, Mason McCulley
release US 15.Nov.19,
UK 3.Jan.20
19/US 1h38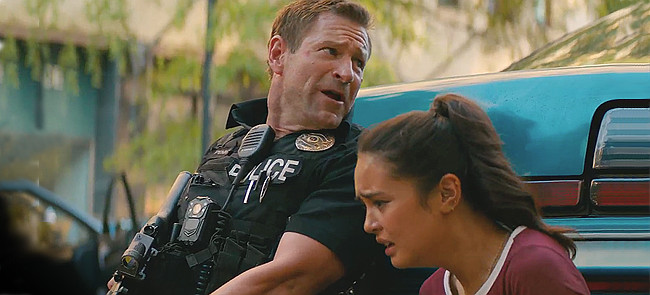 This probably started as a solid genre script with an inventive premise and strong characters. Then as the project developed, random people pushed and pulled at it, and director Steven Miller ditched any nuance. What's left is sometimes very good, with a gifted cast offering a new slant on the police thriller in real time. But it's badly compromised with dimwitted action beats, improbable twists and dopey dialog.
---
In a random American city, Frank (Eckhart) is a cop with a past. Tough and manly (note his early workout, hearty breakfast and refusal to read the news section in his morning paper), he inadvertently charges into an undercover operation to capture a kidnapper (Hutchison), and when it goes wrong he has to go rogue to find the other villain (McKenzie) and rescue the abducted daughter (Williams) of his furiously frazzled Captain Volk (Esposito). Annoyingly, he's followed by intrepid vlogger Ava (Eaton), whose goal is to tell the truth live and unfiltered.
---
While there are clever subjective camera angles here and there, much of the movie is shot like a standard TV cop show, complete with a perfunctory score. Action is staged on a grand scale, with explosive car crashes and crazy shootouts, plus some breathlessly gritty chases. But the villains seem to have superpowers, avoiding injury and turning up in random places at exactly the right time. Meanwhile, Frank and Ava engage in banter that's carefully contrived to shift from prickly to sweet as the peril increases.

Eckhart and Eaton play this double act nicely, never hinting at either romance or a father-daughter dynamic. While Eckhart gives Frank a rather bullheaded machismo, Eaton's Ava is fierce and witty enough to catch him off-guard and change his perception. Surrounding characters are paper-thin, sometimes outrageously over-acted (McKenzie and Esposito are in constant danger of debilitating eye-strain) while others barely register. Meyer's TV producer and Lu's influencer merely stare at screens and nod knowingly.

Thankfully, the film's kinetic energy holds the interest, as the plot plays out without ever pausing for breath. The one serious quiet conversation is hilariously held on an eerily muted helicopter. The action is big and messy enough to distract us from the usual cliches like abandoned warehouses and box-strewn alleyways. And the way the story uses social media feels so current that it almost forces us to rethink how we're given the news and ponder what the future might hold.
| | | |
| --- | --- | --- |
| | themes, language, violence | 15.Nov.19 |
R E A D E R R E V I E W S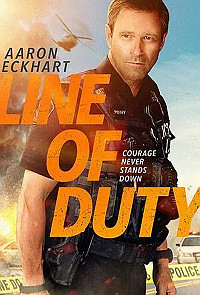 Still waiting for your comments ... don't be shy.