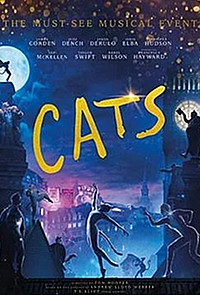 dir Tom Hooper
scr Lee Hall, Tom Hooper
prd Tim Bevan, Eric Fellner, Debra Hayward, Tom Hooper
with Francesca Hayward, Judi Dench, Idris Elba, Ian McKellen, Jennifer Hudson, Laurie Davidson, Rebel Wilson, James Corden, Jason Derulo, Taylor Swift, Ray Winstone, Steven McRae, Robbie Fairchild, Danny Collins, Naoimh Morgan, Mette Towley
release US/UK 20.Dec.19
19/UK Universal 1h50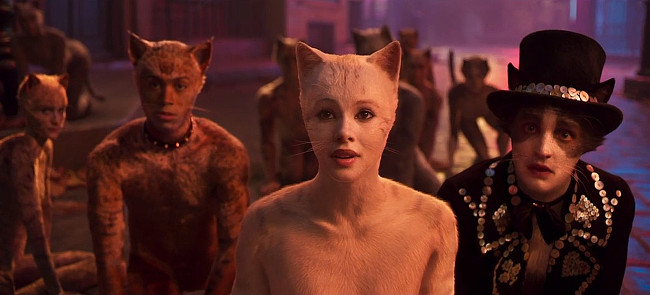 Andrew Lloyd Webber's bonkers musical based on TS Eliot's poems becomes the year's most jaw-dropping movie. A true original, it features a cast of essentially naked performers in digitally painted-on fur onesies dancing in oversized sets. Director Tom Hooper seems eerily unaware how strange this looks, and how disconnected it feels with its inconsistent scale, baffling fantasy touches and uneven digital work. It's awful but mesmerising, and perhaps unmissable too.
---
In 1930s London, abandoned kitten Victoria (Hayward) is rescued by a gang of cats who call themselves Jellicles. Tonight is the Jellicle Ball, when matriarch Old Deuteronomy (Dench) selects one to ascend to be reborn to a new life. Contenders include theatre cat Gus (McKellen), magician Mr Mistoffelees (Davidson), lazy Jennyanydots (Wilson), fat-posh Bustopher Jones (Corden), groovy Rum Tum Tugger (Derulo) and railway cat Skimbleshanks (McRae). But the evil sorcerer McCavity (Elba) wants to be chosen, deploying dirty tricks, thug Growltiger (Winstone) and show-stopping performer Bombalurina (Swift). Meanwhile, Victoria befriends discarded ex-glamour cat Grizabella (Hudson).
---
Essentially, each song introduces a cat using Eliot's quirky phrasing. But instead of stage this as a feline burlesque, Hooper bends it into an action thriller as McCavity zaps cats to his barge-prison to eliminate the competition. Emotional beats come from the snot-sobbing Grizabella and misty-eyed old-timers Deuteronomy and Gus. Victoria is little more than a wide-eyed observer guiding the audience in. Twitching whiskers and bizarrely synchronised tails are distracting, as is the fact that everyone's nude (all too clearly, the boys have been severely neutered).

Hayward has a gorgeous voice, and her ballet experience adds a purring physicality. Hudson certainly knows how to punch the only good song Memory for all it's worth, even if her facial design is a mess. Dench and McKellen offer some proper acting, which helps them get away with their rather rough songs. Elba is as magnetic as ever, even with McCavity's ill-conceived design (viewers don't know where not to look). And Wilson and Corden offer comic relief, including enjoyably rude improvised cat-gags.

A more coherent plot might have helped Hooper make sense of the movie's relentlessly offbeat imagery. Without anything to connect with, the audience has too much time to wonder how the filmmakers made each gasp-worthy decision. It's a brave attempt to do something new, but the result is a movie that will draw an audience (and a likely legion of cult fans) simply because it's such a colossal misfire. And whether you think it's good or bad, the film is packed with unforgettable moments.
| | | |
| --- | --- | --- |
| | themes, violence, innuendo | 17.Dec.19 |
R E A D E R R E V I E W S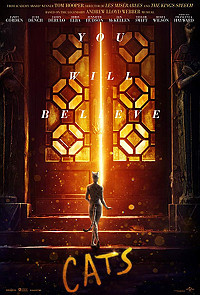 Still waiting for your comments ... don't be shy.