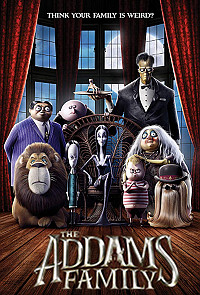 dir Greg Tiernan, Conrad Vernon
scr Matt Lieberman, Pamela Pettler
prd Conrad Vernon, Gail Berman, Alex Schwartz, Alison O'Brien
voices Oscar Isaac, Charlize Theron, Chloe Grace Moretz, Finn Wolfhard, Allison Janney, Nick Kroll, Bette Midler, Elsie Fisher, Tituss Burgess, Snoop Dogg, Martin Short, Catherine O'Hara
release US 11.Oct.19,
UK 25.Oct.19
19/US MGM 1h27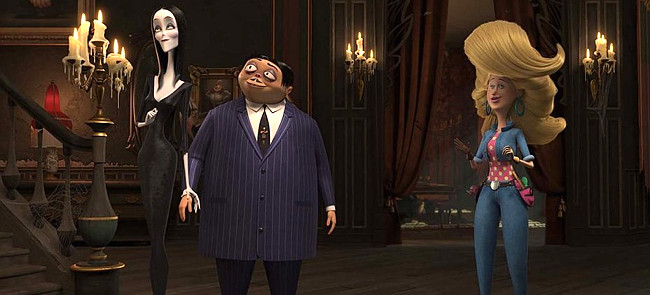 There's frenetic energy in this animated revamp of the iconic comic strip, and it's both engaging and exhausting. The script has its moments, with some fine satirical jokes and vivid characters, but the filmmakers throw everything at the screen, with animation so plasticky and pointy that it's difficult to connect to the imagery. Thankfully, along with the kookiness, the filmmakers make sure the film is creepy and spooky.
---
After setting up home in an abandoned mental hospital, Morticia and Gomez (Theron and Isaac) raise their two children, the rebellious goth Wednesday (Moretz) and the cheerfully murderous Pugsley (Wolfhard). As Pugsley's rite-of-passage Mazurka approaches, they invite the extended family for the festivities. Meanwhile nearby, home-improvement TV star Margaux (Janney) has built a clone-like pink suburb called Assimilation, and she's horrified that Wednesday has befriended her daughter Parker (Fisher). So when the Addams' gothic mansion jeopardises her big reveal show, she offers to give it an extreme makeover.
---
Of course everything devolves into torches and pitchforks, with a cheeky 21st century twist. This gives the film a present-day thematic kick, even though today's children may have little connection to the franchise (the comics, TV shows and movies ran from the 1930s to the 1990s). Meanwhile, the filmmakers have sweetened everything, taking out the darker references to instead be playfully macabre within the limits of a PG rating, which leaves the film feeling mildly rude but never threatening.

In rendering the characters more faithfully to Charles Addams' original single-panel comics, the production design defies all laws of physics. It's stretched out and angular, intriguing but never inviting, even with such enduring characters. Basically, they look more like iconic stick-figures than people. The voice work does add a lot, most notably Theron's sardonic wit and Janney's gleeful control-freakery. And there are constant visual touches that are hilariously deranged, such as placing a sparkly unicorn barrette alongside Wednesday's noose-shaped pigtails.

The film also features some genuinely transgressive gags, such as Thing watching foot-fetish porn, or a schoolteacher outed for putting her underpants in the freezer ("It's refreshing!"). But in general the filmmakers try to make everything so relentlessly fast and silly that nothing has a chance to properly sink its teeth into the audience. Still, the central theme about who the real monsters are is nicely understated. And the constant stream of morbid jokes and movie references will keep older audiences entertained.
| | | |
| --- | --- | --- |
| | themes, violence | 20.Oct.19 |
R E A D E R R E V I E W S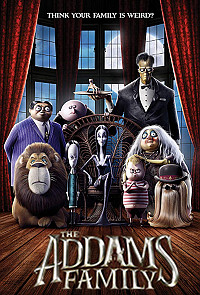 Still waiting for your comments ... don't be shy.